I came here once a couple years ago before I moved to Kansas City. Let me tell you, having a decent Vietnamese restaurant is a big selling point as far as I'm concerned. KC has at least three that I can think of: Hien Vuong, Saigon 39 and the underrated Sung Son in Westport.
Hien Vuong–I always refer to it as "the Vietnamese place in the city market"–does a very nice mid-week lunch trade in spite of its somewhat drab atmosphere. Basically it feels like you are eating in someone's garage. Which, face it, you kind of are. The most interesting aspect of eating here is the possibility that the restaurant will be crowded enough for the "hostess" to seat you with complete strangers. Like many old school lunch spots, they have a couple big tables that are meant to be shared. That being said, it's really no big deal, it's not like anyone talks to me. In general the Hien Vuong is small enough that you may have to wait for a table to open up if you pop in at noon.
And be advised, the woman who runs the show here has an off-putting demeanor and is not necessarily welcoming in the manner most of us are accustomed. I do not think that she is a grumpy person at heart, but perhaps comes across that way more than she should. She generally does the seating and clearing of tables while another person waits tables. You generally won't a get a check delivered to your table, just go pay at the counter and the server will handle it.
The food here is humble in appearance but very tasty. The staples of Vietnamese cuisine such as Pho, Bun and the ubiquitous Vietnamese spring rolls are represented and they do not disappoint.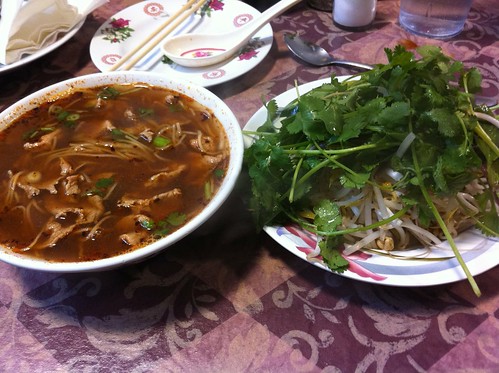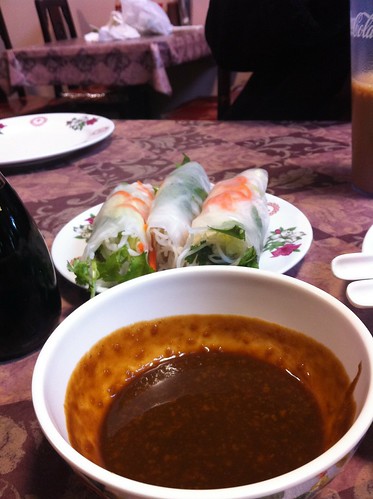 Certainly a classier joint like Sung Son takes full advantage of the visual potential of these foods, but Hien Vuoung simply throws the stuff in a bowl and turns you loose.
The menu is enormous and often includes a list of seasonal specials. During the winter you can get interesting dishes like dumpling soup, which I don't normally associate with Vietnamese cuisine.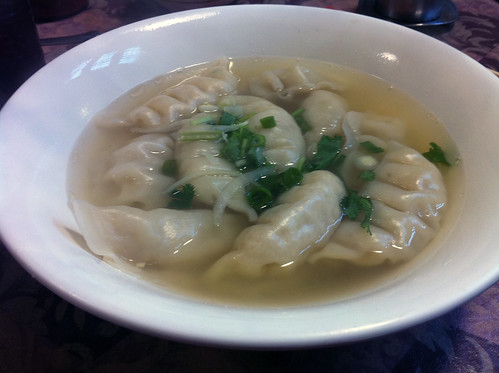 Like most sit-down places, this lunch spot is not geared to the lone diner. For reasons that I will deftly avoid, I find myself eating solo much of the time. If I forget to bring a book or don't want to bother, hate feeling self-conscious. Basically, I am content just staring into space but some restaurants make me feel uneasy when eating alone, and I'm not sure I can explain why. After all the real genius of the coffee shop is not its role as a social center, but its ability to cater to people on their own. In other words, it's fine to go get a cup of coffee and read the paper by yourself, but lunch is a different matter. By the way, why do I see no one reading in this town? Other places I've lived, a lot of folks read on their lunch hours. Well, I'll conduct a more thorough investigation before denouncing Kansas City for yet another shortcoming.
KC needs more spots like Hien Vuoung: a place where you get your silverware from a cup on the table, a place where you feel comfortable sitting inside on outdoor furniture, a place where remnants of the previous diner's meal may be evident when you sit down, a place where you may be seated next to a total stranger. This is the essence of lunch, because the food is good and it's no bullshit. Actually, I've had better Vietnamese cuisine, but you can't ask for any more from a lunch place.
Read more:
[google-map-v3 width="350″ height="350″ zoom="12″ maptype="roadmap" mapalign="center" directionhint="false" language="default" poweredby="false" maptypecontrol="true" pancontrol="true" zoomcontrol="true" scalecontrol="true" streetviewcontrol="true" scrollwheelcontrol="false" draggable="true" tiltfourtyfive="false" addmarkermashupbubble="false" addmarkermashupbubble="false" addmarkerlist="417 Main Street, Kansas City, MO{}restaurant.png" bubbleautopan="true" showbike="false" showtraffic="false" showpanoramio="false"]