Excitement was pretty high before this place opened. Haus planned to focus on good beer served in appropriate glasses, artisan sausages from the Local Pig and Belgian style fritten with dipping sauces. That didn't sound like the typical Martini Corner establishment. Indeed businesses at 31st and Gilham trade in happy hour and late night drinks for young, corporate types and college buddies who enjoy pretty people and a nice setting.
Well it turns out that Haus is pretty much exactly that. While a fine place to grab lunch and a beer, it's not necessarily a place that caters to gourmands or craft beer enthusiasts despite its offerings. It is also a great place to accidentally spend 25 dollars on lunch.
Haus experimented with counter service when they first opened, but every time I've been back they have offered table service which is much better suited to the space. The waitstaff is comprised almost entirely of young women who wear Haus t-shirts that read something like "I love sausage" on the back, an attempt at humor worthy of Spencer Gifts or the average Morning Zoo radio program. The young men who cook and bus table were not similarly adorned, though I imagine their bros might get a laugh out of it if they were.
I doubt the servers are lifers in the service industry and you can tell. Everyone is friendly and gets the job done, but lacks that tacit awareness of when a customer needs attention. Even when when I sit at the bar, the bartenders have a habit of wandering off, talking to customers and taking lengthy orders from outside tables. Call me old-fashioned but I feel that bartenders should at least stay in the same room as the bar. Drinking is serious business after all.
The beer list is pretty extensive with an emphasis on Belgian and German brews with a fair number of American craft options as well. I don't drink a ton of beer at restaurants but the prices seem higher than average. This isn't a beer blog, however, so I'm going to shut up now.
Haus essentially serves sausages, beer and fries. There are a few other things but basically nothing else.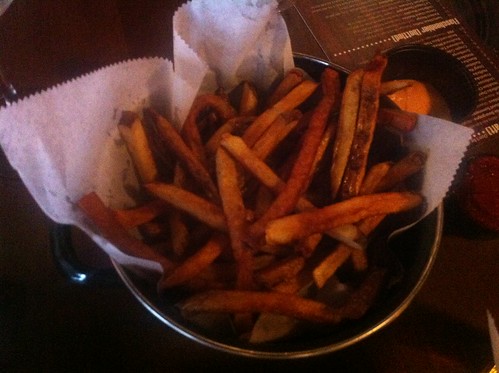 The use of the term fritten gives the impression that these french fried potatoes are classier than your average fries. They are not. They are hand-cut, well-prepared fries but fail to elicit any sort of extra-special feelings from the nether regions. They are presented in a pile within a fairly cute little crock that somehow doesn't manage to appeal to the eye as much as a paper cone, metal milkshake cup, or Blanc's adorable little shopping carts. The cut is rather uneven, with an inordinate number of fries coming in around the one-inch length.
Places that offer an array of dipping sauces make me nervous; it just seems like a gimmick. At Haus, the options are largely adequate if uninspired. Each order of fries comes with your choice of sides: ranch, sun-dried tomato ketchup, sriracha aioli, cucumber yogurt and curry sour cream. Sure, these sound fine but I'd settle for a single choice of great homemade ketchup. Probably the worst aspect is how the sauces are pre-portioned into plastic soufflee cup, plucked ice cold from the refrigerator and dumped unceremoniously at your table as if it were a fast food joint. I assume this is an attempt at portion control and I'm not sure why Haus is so protective. Indeed they offer a few kinds of mustard in large squirt bottles for sausage adorning purposes.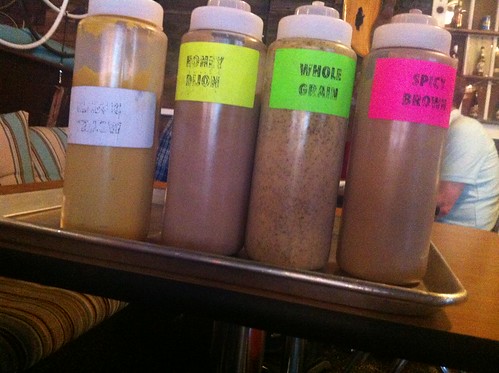 At any rate, with a little more focus and rebranding, the fritten could become a side dish worthy of acclaim. It doesn't help that the fries are basically the only side available. Normally I have no issue with simplicity but I do find myself wishing for another option or two, particularly when I'm in a more health-conscious frame of mind.  Since fries are all they offer, it seems like they are worthy of some extra scrutiny.
The main event here is the sausage menu. You can choose from about a dozen interesting selections, prepared by The Local Pig, which range in price from $5.99 to $7.99 apiece. The sausages themselves are quite good and generally achieve really excellent texture and flavor. I've had most of the options on the menu and found that I really like the traditional bratwurst and the chicken jalepeño pineapple. You should experiment, I don't think you can make a bad choice.
Similar to the fritten, the wurst come with your choice of two toppings. Again, I'm not sure what the thinking is here. I'd prefer a selection of specialty sausages with the toppings pre-selected to fully complement the meat flavors or a whole host of more interesting choices. The options for toppings include jalapenos, sauerkraut, caramelized onions, hot peppers and sweet peppers. They are all somewhat lacking as accompaniments to unusually fine sausages and seem to have been conceived in isolation from the variety of wieners available. The sauerkraut is really more of a quick-pickled, shredded cabbage with none of the briny, fermented qualities of traditional kraut. The onions come in various stages of caramelization each time you order them, but generally should be called "sauteed onions." After sampling all of the options, I would prefer to eat these sausages without toppings other than the mighty mustard.
I'm going on record as not liking the Farm to Market pretzel bun. It's entirely too substantial and dense for these sausages.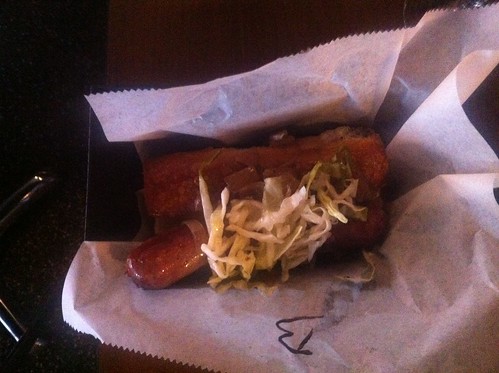 The buns are awkwardly split through the top, leaving wide slabs of bread on either side of the sausage. There is not much room for that little wiener to breathe and it subsequently squirts around a lot. The bun is an impediment. If this upsets you as a Farm to Market enthusiast, go read the 50,000 Yelp reviews that gush over the goddamn pretzel bun to get your fix.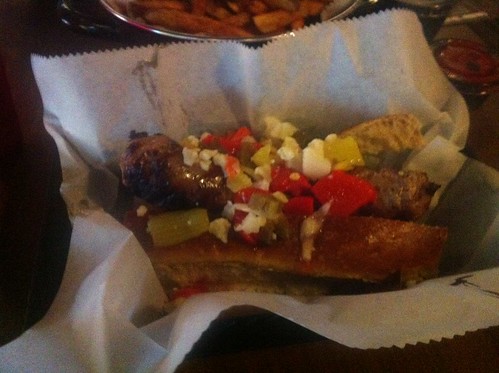 The interior is nice but a little schizophrenic. It desperately tries to combine rustic and modern design sensibilities and only moderately succeeds. The bamboo encircled beer garden is very nice though.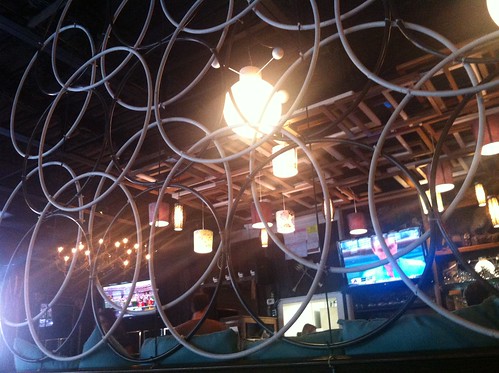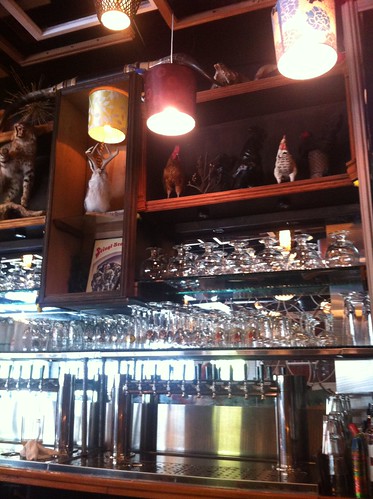 So Haus is fine. Check it out, or don't. If you haven't tried a Local Pig sausage it may be worth a trip. In fact, despite this complainy review, I've eaten there, like, a million times.
Haus
3044 Gilham Rd
Kansas City, MO
http://hauskc.com/