I have eaten at El Salvadoreño a number of times since it opened up across from the Overland Park farmer's market a few short months ago, and as much as I relish complaining, I don't really have anything bad to say about it.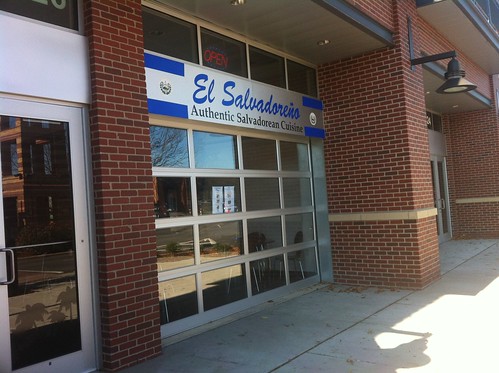 The cuisine is every bit as authentic and tasty as Johnson County's other Salvadoran outlet, El Pulgarcito and is dished out in a much tidier and slicker environment. El Pulgarcito seems to attract a more working class Latino clientèle while El Salvadoreño tends toward curious white people off the street, which makes sense given its location at the heart of a small but viable middle class shopping district. However I will not ruminate farther on this matter because it doesn't really matter. Both restaurants have unique qualities and enough distance between them that I hope they can co-exist comfortably because they are both assets to their communities. El Salvadoreño's Facebook page proudly declares, "Real Central American Food Made By Real Central American People" – and that's what is really important isn't it?
El Salvadoreño offers the familiar assortment of pupusas: cheese, pork, loroco, beans and the glorious mix of pork, beans and cheese, sometimes referred to as revueltas. The pupusas arrive fresh of the grill, not too greasy, and have excellent texture and a nicely griddled crust. On one visit I did receive a pupusa that was a tad less griddled than I prefer but to complain would be splitting hairs.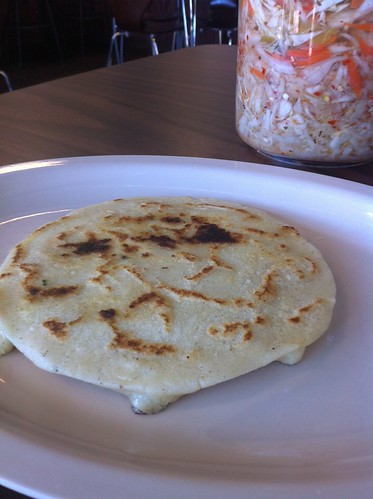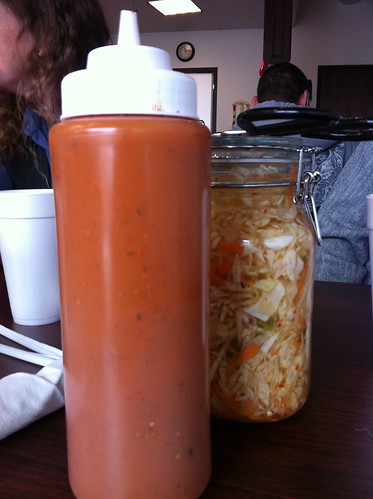 Pupusas arrive with the requisite jar of curtido, a slightly spicy shredded coleslaw accompaniment and red sauce which does not have a strong flavor but does provide much needed moisture to this starch-heavy cuisine.
A particularly delicious starch is the fried yuca which comes topped with chunks of fried pork, curtido and sauce.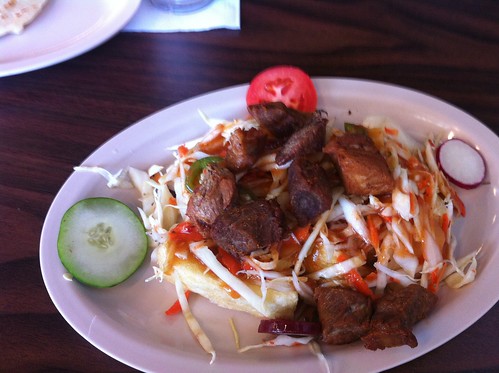 The yuca wedges are expertly fried and incredibly crispy on the outside. At $6.50, yuca frita is one of the cheaper options for lunch if you're crazy you don't feel like having pupusas.
One item that I have not seen at other Salvadoran outlets is the pan relleno ($7.50) which bears the distinction of being somewhat of a preposterous novelty sandwich while not being all that unhealthy.*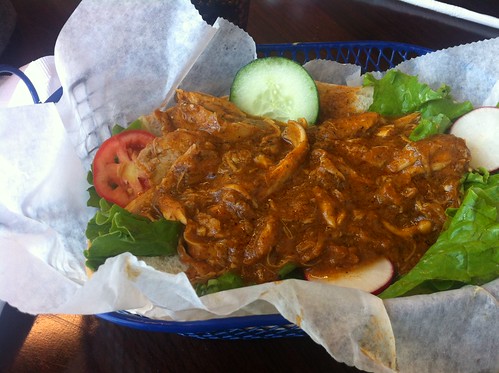 While the menu describes the filling as "roasted, marinated chicken" with a "spoonful of chicken broth" the soft texture and flavor implied that it was poached or stewed, then shredded into a mild, chile-based sauce. This is conjecture as I am completely ignorant of the actual cooking method. A soft French roll serves as the delivery system, along with a few crisp vegetable slices. The pan relleno is also supposed to come with mayonnaise on it, feel free to ruin the sandwich yourself by acquiescing. It is nearly impossible to eat with a knife and fork and even harder to manage with your hands. Like most things wet and sloppy in the world however, this sandwich is worth the effort invested. Spring for the escabeche ($1.50) which is a mix of pickled carrots, onions, cauliflower and cucumbers, pointedly spiced with oregano. It makes a splendid crunchy accompaniment to the mild, softness of the pan relleno.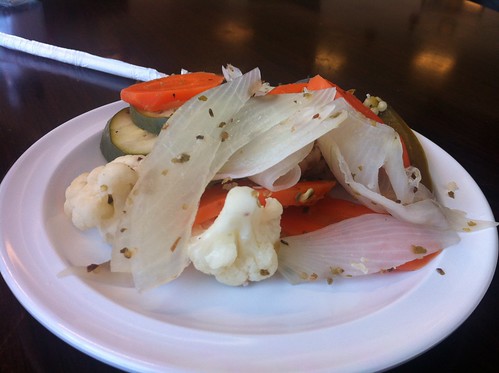 I'd be remiss not to mention El Salvadoreño's superb tamales. The masa has perfect texture: wet but firm, almost like custard. The pork filling is both a humble and decadent option, offering the characteristic tenderness of slow-cooked meats the world over. They have chicken tamales too.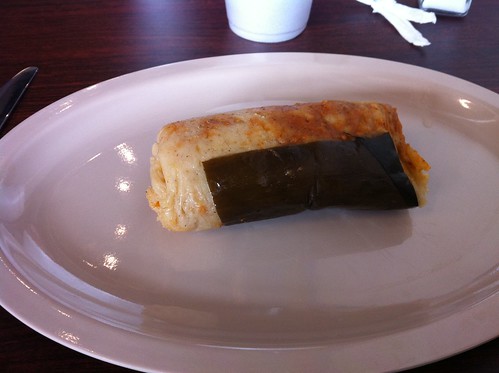 The little deep fried pasteles are great too. The ground beef version lacks the flavor punch of the vegetarian pastel but the tomato-cilantro puree that accompanies both makes them equally enjoyable.
The service is quite friendly. El Salvadoreño seems to be a family run business and it's apparent that each person in the kitchen and on the floor have a stake in its success. While small, it's the kind of dining room that would prove challenging for one server when it fills up. Fortunately there are almost always two people minding the front of the house, something its southerly neighbor, Elsa's, should pay heed to.
The storefront space is quite modern with high ceilings, bright colors, hard surfaces and metal accents. Interestingly the front wall of the place doubles as a garage door that can be opened in warmer months. This can only be a good thing when the farmer's market kicks into full gear and the area is crushed with hungry consumers. I admit that part of me prefers the run-down comfort of El Pulgarcito when it comes to this kind of food but there's no reason to pass it by when you want a good meal in downtown Overland Park.
El Salvadoreño
7926 Santa Fe Dr
Overland Park, KS
(913) 871-6165
9 a.m. – 9 p.m. Sunday – Thursday
9 a.m. – 10 p.m. Friday and Saturday
*For native Salvadorans,the pan relleno is not a novelty but rather a hallmark of their traditional cuisine. To others, the dish may across as a little nuts.