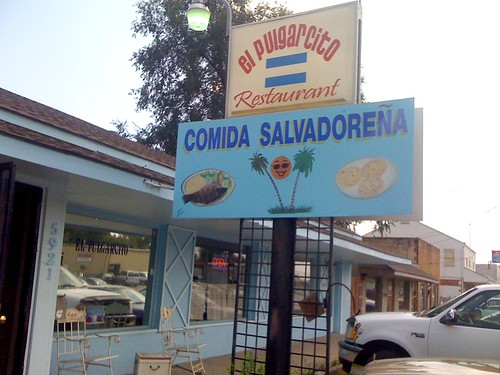 First of all, a big shout out to reader JH, who suggested I try this place out a month or two back. I truly appreciate all the great suggestions I get, and just wish that I could hit them all in a reasonable time frame. The life of an insatiable glutton is never complete.
Merriam Drive is turning into the best restaurant road on the wrong side of 39th street, what with Grandstand Burgers, Coyoacan, Woodyard BBQ, and now El Pulgarcito, which could be my favorite of the lot.
I haven't done any research on the place, I didn't check Yelp or Chowhound or other websites of dubious value to get a sense of what to expect. I have only been to one other Salvadoran restaurant before (now closed) and was pretty impressed at the combination of earthy, spicy, and tangy flavors.
Salvadoran food is analogous to Mexican cuisine, and even features some of the same names: tacos, tamales, burritos, etc. But it ain't Mexican food, certainly not the type we have come to expect in Kansas City. For one Salvadoran dishes make judicious use of cheese, not the overabundance much Tex-Mex fare has made us accustomed to. Many items incorporate a simple combination of starch (tortilla, dough, bread), meat and spice.
Again, don't forget I'm no expert on Salvadoran food, these are just my impressions. Is there a Salvadoran in the house?!
With that in mind I'll go on to say that the pupusa is probably the hallmark of Salvadoran cuisine. El Pulgarcito has a damn good pupusa. It's basically a flat dough pocket filled with your delicious choice of meat or cheese or whatever. On each table, the restaurant places a large canister of spicy cole-slaw type stuff, known as curtido. Unlike cole slaw, this mixture is vinegary and a little spicy with no sweet undertones.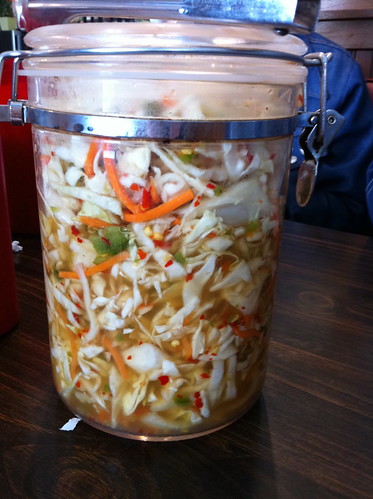 Combined with some mysterious red sauce in a squirt bottle, this was the perfect match for a rich, earthy pupusa (did I just write "rich, earthy pupusa"? ew, yes I did). The pork inside was some seriously delicious stuff, with a deep red color and shredded finely. Ahhh, God it was good.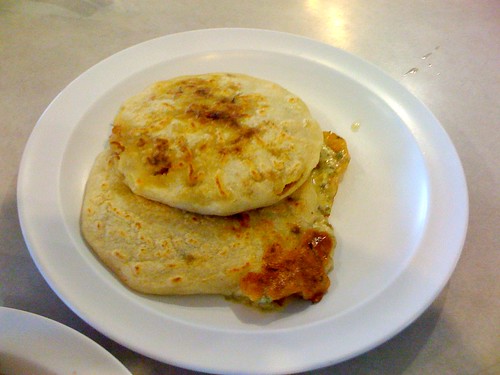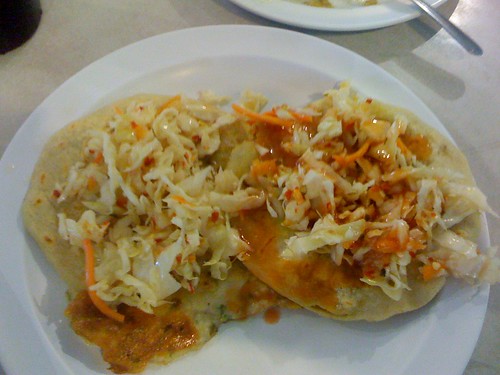 I also ordered a pork tamale, which had excellent flavor but I found the consistency of the masa to be a tad gritty and not firm enough. Basically it was a little mushy. Did I eat the whole thing? you bet your ass I did.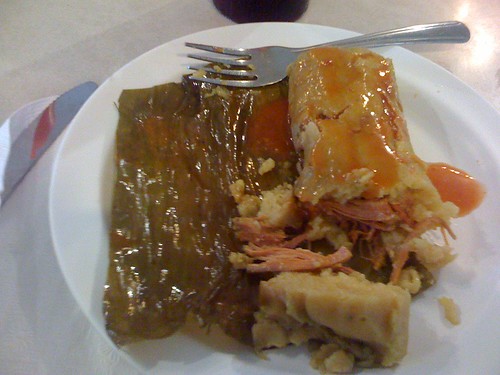 Rice and beans were both great–homemade and well seasoned. The rice was a tad overcooked, but it had probably been sitting in a pot for a while so I'll give them a break on this one.
What about the atmosphere you ask?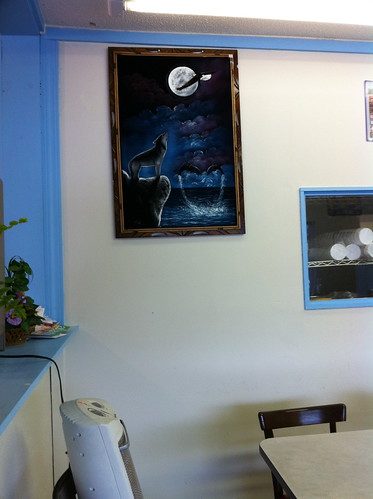 Well, it's charming, not because they try to be charming, but it's just a humble, divey, honest little place. It has windows and booths on three sides with a counter in the center of the room. The whole joint is run by one waitress and one cook. The waitress is very good at her job, much more talkative with Spanish-speaking customers but I think this is just a language comfort thing. I was in and out in less than 1/2 hour. When I left about 1:30, the smallish restaurant was mostly full.
As for clientele, it varies widely inasmuch as a room full of latinos can vary widely. There was a hard-looking guy with a bimbette having a hangover brunch, a young dad and his 3 kids, a single businessman on his lunch break, a middle aged well dressed woman, some guys with repair shop uniforms…you get the idea.
I wish a had a newspaper or something to read while I was there but it was really no big deal. Hell of a lot better than having a television there. Actually, the lack of a TV vastly improves my impression of the place now that I think about it. I'm not a TV nazi, but 99% of the time, if someone else picks the channel, I lose.
Anyhow, El Pulgarcito gets the DLC stamp of approval, for what that's worth. There is a lot more on the menu that I need to try, namely the whole fried fish I saw coming out of the kitchen to several tables. I overheard a conversation in Spanish between a guy who ate this fish and the waitress. Now, I don't understand much Spanish but I'm pretty sure he was saying, "I'd like to put that delicious fish all over my private parts." Yeah it looked and smelled quite spectacular. I'm not big on soup but there were several varieties on the menu and the soup looked homemade, authentic and smelled great.
Oh by the way, prices are good, but not as cheap as your typical Mexican joint. I spent $10 with tip. Of course that included a delicious tamarind drink so you cheapskates can stick with water.
Read more:
[google-map-v3 width="350″ height="350″ zoom="12″ maptype="roadmap" mapalign="center" directionhint="false" language="default" poweredby="false" maptypecontrol="true" pancontrol="true" zoomcontrol="true" scalecontrol="true" streetviewcontrol="true" scrollwheelcontrol="false" draggable="true" tiltfourtyfive="false" addmarkermashupbubble="false" addmarkermashupbubble="false" addmarkerlist="5921 Merriam Lane, Merriam, KS{}restaurant.png" bubbleautopan="true" showbike="false" showtraffic="false" showpanoramio="false"]