I've been putting this review off for a couple of days because I've been thinking of a creative way to make fun of the name.
photo by Mike Haney
I got nothing.
Yeah, it's actually a pretty good name isn't it? I'm pretty sure they picked the name just because the domain name was available. It is fun to say "BIG BAM'S" – even fun to write it in my own inimitable hamhanded style. Kind of like CANCUN FIESTA FRESH! This one's a little more dangerous since I'm overwhelmed with the urge to execute an unskilled but highly performative karate chop whenever I say it: BIG BAM'S!Moreover the items on the kids menu are called Li'l Bam's burger and Li'l Bam's chicken tenders. Preface anything with "Li'l" and it's guaranteed to be cute.
Of course, if the name in any way refers to Emeril Lagasse, it immediately becomes the worst name of all time.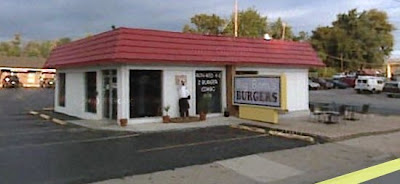 From the exterior, this place looks a little rough around the edges doesn't it? The building and bones of the place are pretty low-brow, but they have done a great job sprucing up the place. Walls are painted a subdued purple, the drop ceiling is painted black to lessen the cheap, institutional feel it can lend. There is some artwork on the walls which, despite having no connection to burgers or KC, is better than nothing. The tables and booths are typical formica fast food furniture, but look clean and new and are (if memory serves) a pleasant orange. Yeah, a lot of color going on here no?
It's a reasonably efficient operation. Order at a counter, your food is made to order, and someone brings it out to you. The menu is posted on the wall above the counter so ordering involves a lot of staring upwards and squinting. It would make more sense to make printed menus available at the counter and leave the staring for the people waiting in line.
On to the burgers. They remind me a little of the Burger Joint. I ordered the "Basic" because this seems like the true test of a place that claims to have great burgers. The Basic came with a single tomato slice, some flaccid leaf lettuce, sliced white onion, and a nice melted piece of American cheese. I have had the "All-American" a number of times and found it to be an excellent, classic burger, topped with American cheese, pickles and onions.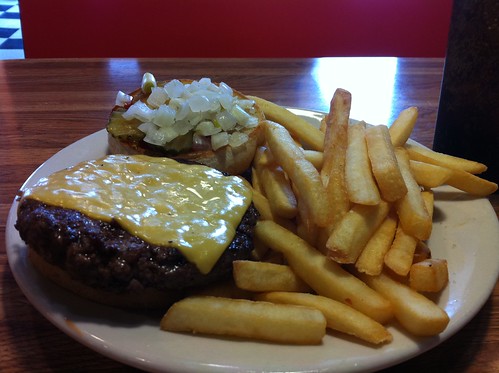 The burger is cooked well, the beef is very flavorful, the bun is unremarkable but fine as are the toppings. Next time I can rectify the toppings situation–I ordered the Basic, did I expect a can o' corn on top of my burger? They have several varieties of specialty burgers a few of which sound intriguing. For instance the "Cowboy Up" burger features ham, cheddar cheese and BBQ sauce. Hmmmm, ham. A couple of their burgers come with sour cream as a condiment. I'm not sure how I feel about this but it can't be worse than mayonnaise. There are some typical permutations like bacon & cheese, grilled onions, chili cheese (!) and sauteed mushrooms.
In addition to burgers, Big Bam's does a lot with chicken. It's nice that they don't offer breaded and fried chicken exclusively–there are a few grilled options. Big Bam's has a commitment to high quality ingredients–their beef is never frozen and food is made to order. So I wonder if they hand-bread their fried chicken items or pull them out of a paper Sysco bag? This is a serious question, and I intend to order chicken next time I'm there. Or better yet, someone else go there, spend your own money, then tell me how it is. Check out the menu, there is a lot to choose from.
I also had a small but inexpensive side of onion rings that were delicious and perfectly cooked. Doesn't it drive you crazy when fries cost like 1.50 and onion rings cost 5 bucks? You know why? Because the restaurant is buying them frozen and there is a lot more processing and production that goes into a batter-dipped frozen onion than a bag-o-taters. Breading and onions are not expensive, so personally I find it a good sign that the rings at Big Bam's are the same price as the fries! Kudos on the rings Big Bam's!

I did enjoy myself at Big Bam's and am convinced they do burgers and other things quite well. In terms of taste, this lunch spot is comparable to most of the other competent, humble little burger places in town. I think it could probably use the business more than wacko right wing Jesus-freaks Grandstand, and it is larger and nicer inside than Burger Joint. It's all about a quick meal here, so I genuinely like the place and will return.
Read more:
Yelp[google-map-v3 width="350″ height="350″ zoom="12″ maptype="roadmap" mapalign="center" directionhint="false" language="default" poweredby="false" maptypecontrol="true" pancontrol="true" zoomcontrol="true" scalecontrol="true" streetviewcontrol="true" scrollwheelcontrol="false" draggable="true" tiltfourtyfive="false" addmarkermashupbubble="false" addmarkermashupbubble="false" addmarkerlist="5930 Nieman Road, Shawnee, KS{}restaurant.png" bubbleautopan="true" showbike="false" showtraffic="false" showpanoramio="false"]
a>