Well, the tamales here blow the lid off any I've had anywhere else in Kansas City. It's clear just from driving through this small stretch of Kansas City, Kansas that this is the area to go for the real deal.
I've always known that, but I just never got off my ass and went to KCK explicitly to eat Mexican food. This will change as of today.
An esteemed colleague of mine introduced me to Ninfa's under the assumption that everyone knew about the place and their fantastic homemade flour tortillas.
"Where?" I asked, "Ninja's? Who eats flour tortillas at a Mexican place?"
This widespread ignorance among my coworkers and me was soon rectified with a departmental outing to Ninfa's under the tutelage of this wise, wise man.
Ninfa's is small and simply decorated. Bright orange walls, large ceramic tile, a semi-open kitchen at one end and some decent-sized windows looking on to the street create a homey atmosphere that offsets the small size and relative cacophony of the dining area.
I hesitate to call Ninfa's a "dive" because the word is vaguely insulting unless
1. You are referring to a bar, in which case it is a badge of honor.
2. It's really, undeniably true.
"Dive" is not a word to be thrown around lightly. Some jackass on Yelp or somewhere referred to Oklahoma Joe's as a dive. Right…the gas station thing, I get it. You know they have Subways and Pizza Huts and other places in gas stations nowadays too? Ever been to, I don't know, a REST AREA? Seriously OK Joe's looks like a Mall food court with really delicious food and a lot of white people.
Anyway, Ninfa's is shacky but delightful. The menu is pretty large, but not the usual multipage tome you see at other Mexican places of dubious quality. This place is all about their homemade tortillas. Before your meal, a container of freshly made flour tortillas are brought to the table. Apparently that is what the bright blue bottle of squeezable Parkay is on the table for. This makes sense; in Chicago Mexican street vendors would put margarine on corn they sold from carts. That or mayonnaise (I think I just vomited a little, sorry).
These tortillas bear little resemblance to the dry, flaky discs that come in the Old El Paso package at the Price Chopper. Ninfa's tortillas are moist, a little chewy and warm. I like the margarine option well enough, but a squirt or two of their salsa seems to be the better option.
A lot of menu items at Ninfa's are fried. This isn't unusual for Kansas City, but here it's a much different affair. The meats are tender, flavorful and well-seasoned. Most of the food appears to be on the greasy side, but don't let that stop you from ordering up a fried corn taco plate or whatever grabs your fancy. I opted for tamales spread, which was covered with cheese and stewed pork.
It was porktacular in the best possible way.
The flavor was not subtle but also not pedestrian in any way. You can tell a lot of care went into the preparation of these delights. Do yourself a favor and get a dozen to-go sometime, a bargain at $14.
The rice was odd–very short grain, and mixed with a tomato-y sauce. This gave it a somewhat mushy texture but I didn't mind the flavor. I do prefer a simply, nuttier Mexican rice.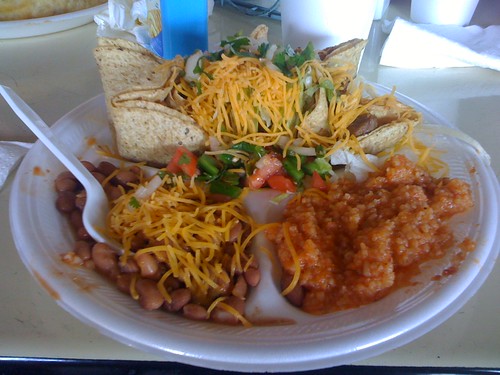 The service is great, Ninfa's has the appearance of being a family-run business though I don't know if it actually is. To add to the home-spun mystique, there is a truly charming, friendly and vaguely unintelligible older woman (Abuela Ninfa?) who seats people, gets drink refills, wipes down tables, cracks jokes; Basically she makes the place work. Our waitress was a 14-ish year old girl who, despite her age was nonetheless quite adept.
Apart from a couple places on Southwest Boulevard, this is my first foray into Mexican food in KCK proper. It won;t be my last. Ninfa's is truly unique for cranking out those really good fresh tortillas everyday. It really raises the quality and fun of the food and the experience.
Read more:
[google-map-v3 width="350″ height="350″ zoom="12″ maptype="roadmap" mapalign="center" directionhint="false" language="default" poweredby="false" maptypecontrol="true" pancontrol="true" zoomcontrol="true" scalecontrol="true" streetviewcontrol="true" scrollwheelcontrol="false" draggable="true" tiltfourtyfive="false" addmarkermashupbubble="false" addmarkermashupbubble="false" addmarkerlist="964 Kansas Avenue, Kansas City, KS{}restaurant.png" bubbleautopan="true" showbike="false" showtraffic="false" showpanoramio="false"]