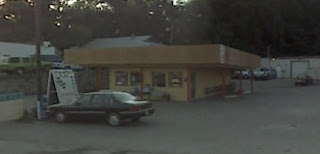 It's getting to the point where I am seriously considering finding an apartment somewhere along this delectable strip of Merriam Lane. Fortunately, I think I've been to nearly every restaurant this humble culinary hotspot has to offer.
The latest installment was brought to my attention by lunch enthusiast and blog commenter Hazrdus last week. I'd noticed the cute little diner establishment on previous trips but kept forgetting about it because my mind was on the restaurant at hand. Thanks to Mr. Hazrdus however, I made a trip and thoroughly enjoyed it.
As the name promises, The Burger Joint features delectable hamburgers at a good price with few frills. You can get a single or a double, cheese or no cheese, bacon or whatever you want (as long as it's not a vegetable).
I ordered a single (3.50), since I'm trying to preserve my dainty figure. Also I saw a double coming out of the kitchen as i sat down, and there was no way that thing was going anywhere near my colon.
Anyhow, the single turned out to be quite substantial, easily 1/2 lb or more. The patty was about 3/4 inch thick, that magical dreamspace between thick and thin. It was also perfectly flat. I do not like "humps" in my burgers or burgers the size and shape of tennis balls. It leads to a condiment/toppings problem that I just cannot abide.
Bad toppings situation
The menu at the burger joint promises that they use only black angus, Iowa beef that is never frozen. In seeming confirmation of this I saw a cook in the back forming patties from a fresh 20lb log of delicious beef wrapped in clear plastic. No Sysco frozen patties here folks.
The burger tastes very good. I don't think they season their meat at all which I appreciate. A simple application of iceberg lettuce (not shredded!) American (hail freedom!) cheese, and a thick slab of white onion (a la Winstead's) rounds out the affair very nicely.
The onion rings were passable, well cooked but obviously not handmade. I wouldn't really expect them to be handmade but they have the darker, crustier breading and not the light, yeasty type of batter (like beer batter) that I far prefer.
The vibe at this place is very friendly and very blue collar (for lack of a better term). There were a number of "working men" with big appetites (and bellies to match) downing those doubles. The woman who takes the orders is great. She makes sure that you enjoy your food and refills your drink before you leave the place. Incidentally she used to help run the Skillet Licker which got the Ferruzza treatment in this week's Pitch. The owner who does the cooking chatted idly with me for a few minutes as well. He told me about apartment buildings he owns in downtown KCK, where he was on 9/11, and the beautiful women at a Wiccan bar in Strawberry Hill. Unfortunately he has yet to be invited to one of their Wiccan naked-dancing Solstice parties.
It's an all around good time at the Burger Joint. The place only has 3-4 tables and a small lunch counter. While more or less full, I could still get a chair at the height of lunch hour. It's a great place for a lone diner which (sob) I am most of the time because people actually talk to you.
The Burger Joint also has daily specials (being Friday it was a fish sandwich), Philly cheesesteaks, burritos and a few other weird items.
yes I did say burritos.
They serve breakfast as well. There is a small menu featuring eggs, omelets, french toast and the like.
This is a perfect place to hit up for a burger almost as good as Grandstand, with a little less hassle, a few more mustaches and a little more hospitality.
Read more:
[google-map-v3 width="350″ height="350″ zoom="12″ maptype="roadmap" mapalign="center" directionhint="false" language="default" poweredby="false" maptypecontrol="true" pancontrol="true" zoomcontrol="true" scalecontrol="true" streetviewcontrol="true" scrollwheelcontrol="false" draggable="true" tiltfourtyfive="false" addmarkermashupbubble="false" addmarkermashupbubble="false" addmarkerlist="3212 Merriam Lane, Kansas City, KS{}restaurant.png" bubbleautopan="true" showbike="false" showtraffic="false" showpanoramio="false"]