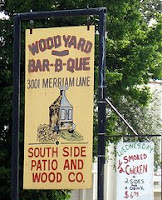 After parking, walking up and inside the Woodyard BBQ I was ready to declare it the King of all Kansas City Lunch Spots. I had heard about this place for a long time, but only recently figured out what the actual name was and where it was located. Well, it turns out to be right down Merriam Lane a bit from Grandstand in that interesting semi-industrial area where Wyandotte and Johnson Counties run together.
Basically the Woodyard is a humble barbecue operation run out of the bottom floor of a semi-dilapidated house on the South side of Merriam Lane. The place doubles as a literal woodyard, and the parking lot is basically a big gravel pit surrounded by piles of various kinds of chopped wood. The owner waved at us as we drove in. People were parked every which way, redneck style.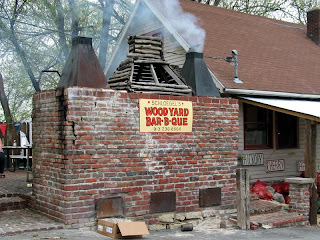 As we walked up the steps to a good sized wooden deck we were greeted by the owner who was fiddling around with some wood or something. We were also greeted by a gigantic brick smoker, puffing out great clouds of deliciosity right there next to the seating, which is on the deck. There is a small room with a counter through the front door. That's where the ordering and condimenting happens. There is a cooler where you can grab the beverage of your choice and a small selection of cheap domestic beers (and corona) available cheaply. My meal came with my choice of drink, and apparently, that includes beer. Gotta love that. The prices are excellent, two of us got out for less than $18 and the portions are large.
The staff brings out your food to you on the deck or wherever you happen to be. The lady at the counter told us we could wander around, hang out, sit wherever and they would find us. There is a separate large pavilion with seating a stone's throw away from the deck proper, complete with a roof and ceiling fans but it was empty at the time I visited. The Woodyard could throw a serious party with a lot of people if they were so inclined.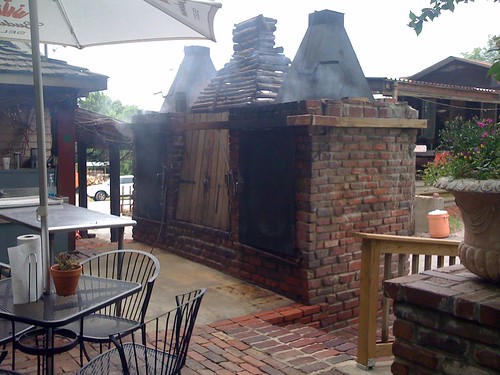 So there we were, with our car parked awkwardly in a gravel lot, drinking budweiser from a can, sitting on a deck watching a dude who looks like an ex-con flip ribs on the smoker. In other words, it's a lot like how I spend the rest of my free time. No really, it was like going to a friends summer BBQ, or more like the summer BBQ of someone who you don't really know that well. There was a even a set of horseshoes sitting on top of the trash can–I was tempted to set up shop there all afternoon.
On to the food:
Let's get this out of the way first. Woodyard is NOT the best barbecue in Kansas City. It just ain't. I've read and heard glowing things about it all over the place but the truth is that it does not compare favorably to Oklahoma Joe's, Bryant's, Jack Stack or (insert your fave bbq place here). But the food is prepared well and the experience is thoroughly enjoyable.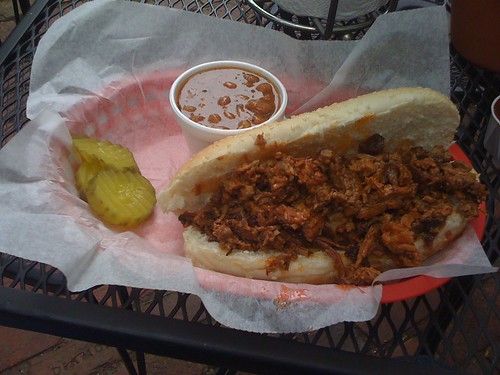 Beans were very good but almost certainly dressed up canned beans. The potato salad was run of the mill. The cole slaw was average. The pulled pork, however, was extremely interesting. It lacked the bite that hickory smoked woods give to meat, and was most likely cooked with some sort of fruit wood. But it had an amazing, buttery consistency and very good flavor. The ribs were similarly smoked but a little fatty for my taste. I think they could have used another hour on the smoker, because the texture of the meat was a little too…real. not that I didn't eat them all. I liked the brisket but it was shaved so thin that it dried out quickly. Plus, I just like a thicker slice of beef, akin to that at Bryants or LC's.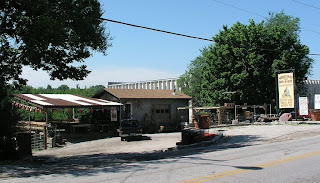 But I have to say, these are some of the most friendly and easygoing people I have ever encountered in a lunch spot. And the atmosphere is quite compelling. This is a very special place to have in KC and would be really fun to hang out at for a long while with friends. But as a lunch spot? I don't know if it works. It seems like a place much better savored over a long time than quickly before your 1:30 meeting. It's a destination place, and everyone should try it.
Read more:
[google-map-v3 width="350″ height="350″ zoom="12″ maptype="roadmap" mapalign="center" directionhint="false" language="default" poweredby="false" maptypecontrol="true" pancontrol="true" zoomcontrol="true" scalecontrol="true" streetviewcontrol="true" scrollwheelcontrol="false" draggable="true" tiltfourtyfive="false" addmarkermashupbubble="false" addmarkermashupbubble="false" addmarkerlist="3001 Merriam Lane, Kansas City, KS{}restaurant.png" bubbleautopan="true" showbike="false" showtraffic="false" showpanoramio="false"]