KC Grill & Kabob is a nice little Middle Eastern lunch spot situated in the back of a shopping center off 87th Parkway in Lenexa. Despite its unassuming locale, it manages to create a friendly, bustling ambiance with a small sea of tables, some fresh plants in the window and a small buffet at the back of the place. On nice days, the door is propped open allowing a nice breeze to filter through. There are also a couple tables outside on the sidewalk. Inside there were two TVs quietly showing a DVD called "Belly Dancing Divas." This certainly set the mood, but I found the mild titillation somewhat distracting.
It seems to be a buffet-only affair at lunchtime. Buffets are weird because you walk in and aren't sure whether to hit to food line, sit down and wait, wait to be seated…whatever. These are details that irk insecure Midwestern diners. There is only one waitress working the place, and she seems to be hustling quite a bit even though there are no orders to take, and no food to deliver. But between seating people, taking drink orders, refilling glasses and busing tables she keeps busy. This is not really an issue until you need your check.
But I'm happy to report that the food here is generally quite good within certain boundaries. Basically, it's good to experiment with the authentic items on the buffet, which most of them are. Some of the staples of Middles Eastern food are lacking (no hummus?) but there are some interesting things with names that I've forgotten, like an interesting lentil and tomato dish, some kind of sauce reminiscent of tzatsiki, and a small, flat, vegetable patty that tastes like an Indian pakorah.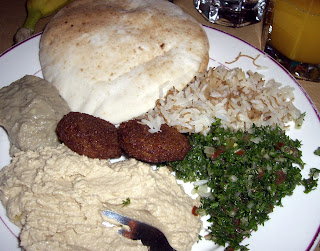 I thought I overheard from the owner that this place reflects an Afghan perspective on middle Eastern food, but I have since learned that it is Persian. The first time I visited, a big round table was occupied by some native Iraqis who expressed great pleasure in the food. The owner tends to wander around the place, joking with people, checking up on whether they like the food. So you tend to overhear lots of things. Since I had not dined there before, the owner instructed the waitress to show me the buffet and explain what all the items were. A nice touch, but a tad awkward. The owner is quite a character, though. He was constantly making jokes I only half understood, and constantly talks to the assortment of regulars that eat there. The restaurant business attracts very colorful people. That's my way of saying that you'd have to be crazy to open a restaurant, much less a Persian place in a Lenexa strip mall.
I'm happy to report that KC Grill & Kabob attracts a very nice lunch crowd and I'm not worried for its immediate future. Basically I like the place because the buffet makes it fast, it has a local owner who's kind of a nutter, and some of the food is very good. I did have a couple of disappointing things on one visit. One chicken dish was basically cooked with cheap BBQ sauce and another with something reminiscent of Frank's Red hot. It was probably Frank's Red hot.
My advice? Stick with the kabobs and rice dishes (of which there are several). The cabbage rice in particular is excellent, something I've never had before. They always have grilled tomatoes, too which are a nice accompaniment to cooked meats. The Baba ghanoush is quite tasty, too but the pita (if that's what it is) is thin and kind of cracker-like.
If it looks authentic, eat it. If it looks like BBQ chicken, don't.
Read more:
[google-map-v3 width="350″ height="350″ zoom="12″ maptype="roadmap" mapalign="center" directionhint="false" language="default" poweredby="false" maptypecontrol="true" pancontrol="true" zoomcontrol="true" scalecontrol="true" streetviewcontrol="true" scrollwheelcontrol="false" draggable="true" tiltfourtyfive="false" addmarkermashupbubble="false" addmarkermashupbubble="false" addmarkerlist="8611 Hauser Court, Lenexa, KS{}restaurant.png" bubbleautopan="true" showbike="false" showtraffic="false" showpanoramio="false"]