This is the same outfit as the Jerusalem Cafe in the heart of Westport and a newer place on 39th Street, but is located down the road apiece toward State Line Road.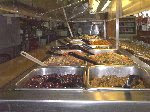 Jerusalem Bakery is like the Cafe's older, cooler sister. Maybe a little uglier and less friendly, but the payoff is more satisfying. Rather than a typical restaurant, this place combines a very nice Mediterranean buffet with a retail operation, selling fresh baked goods, foodstuffs by the pound and grocery items. It's a great place to pick up a pint of hummus or some olives for sure, but the buffet is what keeps me coming back.
This is one of the few buffets that just looks good at first glance. Believe me it's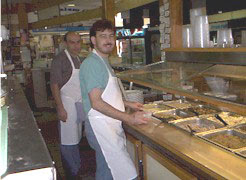 difficult to make vats of meat, rice, sauces and casseroles look even remotely appetizing. The steamtable is not a vessel conducive to fine presentation. But they do a good job here. Options typically include gyro meat, bone-in chicken, falafel, rice, hummus, baba ghanoush, pita bread, tabouleh, moussaka, as well as some other things that either rotate, or I'm forgetting.
The moussaka is excellent, there's just no getting around that. I also had something that I think was called "Jerusalem Meatloaf" which was very delicious. It was basically a meat roll with a texture very similar to good Italian meatballs. Light, lots of breadcrumbs and seasonings, probably includes veal or other meat besides beef. It was covered in a nice chunky tomato based sauce. The falafel is also good here, but not as tasty as fresh out of the fryer.

The buffet of course is a serve yourself affair, and you pay down at the end of the line. It costs 9 bucks for all you can eat with drink and 5.99 per pound for take out. I think those prices are right. There are several tables both inside and outside at which to eat. The atmosphere isn't great but at least they don't try overly hard. This is just a very solid and dependable Middle Eastern place.
Now, many of you have probably seen or visited "Golden Wraps." This silly-named establishment is located at the far end of the Jerusalem Bakery but has a separate entrance and it's own little kitchen. This is where you can get a falafel fresh out of the fryer or a kebab, gyro or whatever. I assume that the owners are the same, but my opinion of Golden Wraps is totally opposite that of the Bakery/Buffet. Of course I've never technically eaten at Golden Wraps, but I just don't like the name and the sign. I'm perfectly willing to change my mind. But when I come to this location, I can't see passing up this delicious buffet.
Read more:
[google-map-v3 width="350″ height="350″ zoom="12″ maptype="roadmap" mapalign="center" directionhint="false" language="default" poweredby="false" maptypecontrol="true" pancontrol="true" zoomcontrol="true" scalecontrol="true" streetviewcontrol="true" scrollwheelcontrol="false" draggable="true" tiltfourtyfive="false" addmarkermashupbubble="false" addmarkermashupbubble="false" addmarkerlist="1404 Westport Road, Kansas City, MO{}restaurant.png" bubbleautopan="true" showbike="false" showtraffic="false" showpanoramio="false"]