First spotted by Pomegranate, This place is now closed and has been replaced by "Pollo Loco."
I have a problem with tamales.
Every Mexican joint I visit, I have order at least one. There is something about the texture of the masa, aroma of the leaf wrapper and the succulent meat filling that is unparalleled when done correctly.
It's typically the old people who get together and make them, usually for special occasions. It's a multi-hour process wherein kids can play with dough, grandmas can talk trash about their good for nothing kids, and lazy men can drink beer and watch sports. Like pierogies to the Polish, dumplings to the Chinese, and cucumber sandwiches to the WASPS, tamales are a simple but classic aspect of Mexican (and incidentally other Latin) cuisine.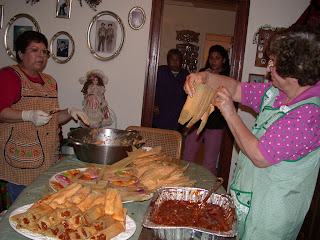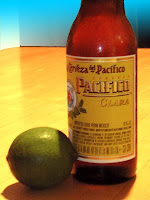 And I've tried to make them a few times before. It wasn't pretty, although one time they turned out well. It's really best done with some help, cold Mexican beer, and serious humility because the whole thing can take hours and still utterly fail. Too much cold Mexican beer will do that.
At a delightful lunch a few weeks back with some fellow bloggers someone (Waldo?) brought up some kind of tamale place on Merriam drive. We discussed it for a minute or two then I sort of forgot about it.
Until the hankering hit me. I decided to find it, having never seen it, not knowing the name or even really where Merriam Drive was.
Turns out that this was a bad move. I'm not a JoCo boy, I only work out there, and Jesus it's easy to get lost. There's a perfectly good grid in place that gets ruined by streets like Merriam, Santa Fe, Shawnee Mission Parkway not to mention I-35. I'm also kind of an idiot, it turns out.
So by the time I found Coyoacan nestled in what I discovered was "downtown" Merriam, I had to get my meal to go due to time restrictions. Some of us work you know. Anyhow, Coyoacan has two business enterprises going on here, a small and very cute looking dine-in establishment that shares a kitchen with a glorified take-out window next door. The carryout side has a sign that reads "Tamales To Go" so it almost seems like a different place altogether. It's not.
I expected a simple menu, but it actually is a full, standard looking Mexican assortment: tacos, enchiladas, burritos, the whole nine yards. But I saw the "tamale dinner" for 6.95 and decided it was mine. After shouting my order to a nice couple preparing food behind the counter, I waited for approximately 3 minutes before a styrofoam container full of deliciousness was delivered into my hot little hands.
I'm not gonna say that this is the best Mexican food in town because it ain't. But this place is pretty special. Nothing disappointed me, particularly the tamales which were not covered in cheese sauce, ground beef or any other gross variation I've seen at other KC establishments. Yes there was a small amount of red ranchero sauce, tomato-y and subtle. The rice was well-cooked but fairly bland. The refried beans were very good, not too thick and certainly made from scratch.
The tamales themselves were small, which most authentic tamales are in fact. They were perfectly cooked but also not overly seasoned, but the filling of shredded pork was very nicely flavored, albeit subdued. Maybe my taste buds were having an off day. My brain does that some days too. In general I was very happy with the tamales, though it is disappointing (but much more convenient) not to unwrap them yourself.
Anyway, I really want to go back and dine-in. It looks small, but cutely decorated. Kind of like your Mexican grandma's living room. Don't have a Mexican grandma? Neither do I, and I regret it every day because she'd make way better tamales than I do.