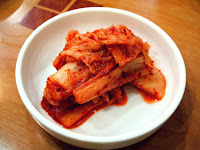 We got a no-frills little Korean diner here that is the perfect joint for an informal lunch whilst running soulless, horrible shopping errands in the JoCo. Rainbow is located in that rambling and not particularly well-aging series of strip malls at Metcalf around 103rd. Directly across from the Sprawl-Mart. The restaurant itself is tucked back off the street in a smaller strip that includes a florist, liquor store, and a Jose Pepper's Border grill and cantina.
For the record, I have never been, nor do i plan to ever eat at Jose Pepper's Border grill and cantina. There is kind of a funny bio of the mythical Mr. Pepper on the front page of their website. But it only goes to prove that this place is about as Mexican as Chili's. But they are local, which I didn't realize. I'm thinking it's like Taco John's with beer. But believe me, I would LOVE to hear impassioned defenses of Jose Pepper's on this blog. Why?
Because I love when people love crappy places, it makes me me laugh. at them.
Being unapologetic and self-deprecating about one's tastes are attractive traits, and indeed are the hallmark of my generation.
Sometimes I'm actually convinced.
Back to the matter at hand: a really drab, tiny little Korean lunch spot that sits down the walkway from Pepper's. While the white people are down there eating deep fried tortillas filled with crap and covered in queso sauce, there are usually one or two tables of Korean folks enjoying a meal at Rainbow. Unfortunately for Mr. Rainbow, that's usually about it. I've never seen the place even remotely crowded and I've been about 3 or 4 times.
Here's where I fess up: I don't know a hell of a lot about Korean food so I usually just guess at what sounds good. One time I went for something adventurous and wound up with a seafood stir fry in a black sauce made from what I can only assume was squid ink. Seriously. It was actually decently prepared but just not my personal taste or texture preference.
Yesterday I went safe and ordered bulgogi which is one of the more famous Korean dishes, along with Bi Bim Bop (which is great hangover food by the way).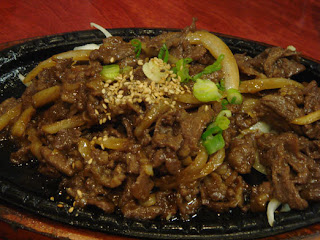 Bulgogi is basically a beef and onion stir fry. Mine was really quite delicious and was accompanied by some steamed rice, and of course bok choy and daikon kim chi varieties. Korean food is really distinguished by its used of these pickled delicacies and really can't be appreciated unless you partake. Korean dishes also have an affinity for the raw or lightly cooked egg which is another really great feature.
The atmosphere at Rainbow is…well…a little depressing. The booths came straight from an auction at a failed early 90's Shoney's restaurant and the decor is basically nonexistent.
However there is one highly entertaining and exciting exception: DORAEMON SAUCE BOTTLES! Who the hell is Doraemon? Shit I had no idea, but that's what Google is for, unless you are some kind of creepy Japan-o-phile manga loving freak with a furry costume and some ilicit polaroids secreted in your mom's basement. Anyhow, Doraemon is an insanely popular Japanese animated character who appeared in a series of 60's-70's cartoons. His charm and jaunty spriti quickly spread like wildfire across parts of Asia.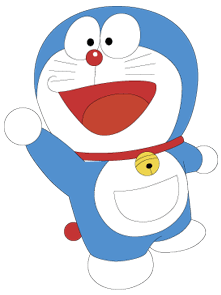 So every single table of the restaurant has a Doraemon-themed soy sauce bottle, rice vinegar bottle and matching tray. They are very informative as to who this Doraemon character is. The bottles read:
Doraemon the cat-like robot. he measures 129.3 cm around the belly. he was born on 3rd September 2112. He has many fantastic tools
Ok that explains it right? Well, check out the Doraemon episodes on Youtube, they are very inventive and funny. And he does have some crazy-ass tools.
Not sure if his birth in 2112 is related in any way to the most hilarious multi-part epic suite Canadian wackoids Rush ever made, but I'd be willing to guess that it is not. Doraemon would have a tool to destroy the Priests of Syrinx.
Back to lunch spots. Service here was extremely friendly and efficient. Kim Chi and water came out immediately, the food emerged lightening fast out of the kitchen and the bill was delivered as soonas I put the chopsticks down.
This is the only Korean place I've tried in the metro and I know there are others, so let's hear about em.
Oh, and sorry for all the tangents, but you realize that rather than a restaurant blog, this is only a joke/humor blog, right?
Further reading: an more informed, discriminating and knowledgeable review over at Yelp
Read more: