Sobahn on Shawnee Mission Parkway west of Metcalf is probably the best of the five or so Korean restaurants the Kansas City metro has to offer. Cho-sun, Choga, Rainbow and Kokoro Maki House are the only other places that offer decent Korean dishes in town, but I think Sobahn surpasses them all.
I was privvy to an off-menu private dinner at Sobahn earlier this year which enabled me to experience the full extent of their skill, but rest assured the regular offerings present a number of enticing options for casual lunch diners. As is the case for most Korean restaurants, lunch at Sobahn will cost a few dollars more than your average lunch spot, and it may take a little longer to get in and out.
Fans of meat will find plenty of pleasing items on the lunch menu including the region's most delicious beef bulgogi, pork (jaeyukk bokkeum) and short ribs (tong galbi) which arrive on sizzling cast iron trays, accompanied by rice and banchan, the traditional side dishes that typically include kimchi among other pickled or fermented foodstuffs. Banchan are never quite the same on each visit, and recently I've found them a little less pungent and spicy than I prefer. Sobahn does prepare delicious Korean pancakes which can be stuffed with any number of items, including kimchi, and is usually served with a thin, tangy sauce.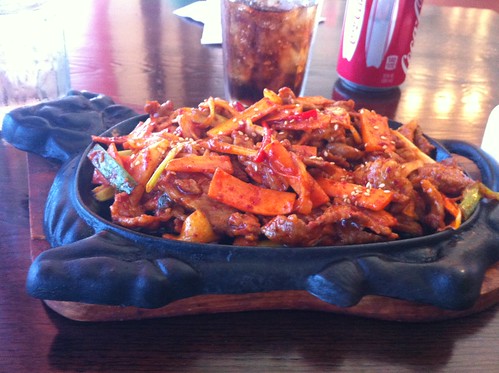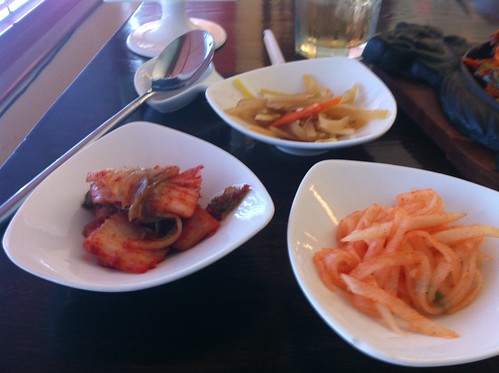 Service can be hit or miss at Sobahn. On my last visit, I had to wait a full ten minutes before being seated, and a good fifteen minutes to get my check after plates had been cleared. I was also charged dinner prices during lunch hour, which was hard to argue with since I received the large portion due to a misunderstanding and ate it all. Regardless the server was eager to please that day, and talked to me at some length about the food and my personal tastes with regard to Korean cuisine. Perhaps I'm not the average diner, I don't know, but most ethnic restaurants would do well not to assume the worst about their white American patrons. In general, Sobahn does well in this respect.
While I've eaten a fair amount of Korean food over the years and tried a number of items at Sobahn, this strikes me as a menu that contains many pleasures for the uninitiated diner.


[google-map-v3 width="350″ height="350″ zoom="12″ maptype="roadmap" mapalign="center" directionhint="false" language="default" poweredby="false" maptypecontrol="true" pancontrol="true" zoomcontrol="true" scalecontrol="true" streetviewcontrol="true" scrollwheelcontrol="false" draggable="true" tiltfourtyfive="false" addmarkermashupbubble="false" addmarkermashupbubble="false" addmarkerlist="Korean Restaurant Sobahn, 7800 Shawnee Mission Parkway, Overland Park, KS{}restaurant.png" bubbleautopan="true" showbike="false" showtraffic="false" showpanoramio="false"]