When I posted about the pedestrian but serviceable Rainbow Korean Restaurant earlier this year, a few commenters suggested I try Cho-ga across Metcalf. Not long after, I had lunch there with Meesha, the award-winning, benevolent Czar of the KC blogosphere and his delightful daughter. I think it's fair to say that we were all pretty happy with the food–even the youngin'. I've made a repeat visit or two by my lonesome and have found the food to be quite consistent.
First of all, it's located at 105th and Metcalf which is pretty much my definition of hell. Yeah I know, all I do is complain about the suburbs while consistently working, eating and spending my money there all the freakin' time. I'm the worst kind of hypocrite. Anyhow, the shopping center that houses Cho-ga has not aged well (what shopping center does?), it has a drab color and a wan-looking cedar shake roofing. The center is comprised of several "islands" of shops, each surrounding a perfectly charming little courtyard. Some shops have entrances on the outside and some on the courtyard side.
Surprisingly it houses some pretty successful business, notably the OP version of D'Bronx which by most accounts is not as good as its 39th street counterpart. I also stopped by a business called "A Touch of Asia" because I was looking for…well you know, a touch of Asia. To my dismay I found it to be yet another JoCo Indian lunch buffet. I guess I'll be back when I'm less hot and bothered.
Cho-ga is located at the East edge of the shopping center, and faces north. The interior is nothing special, a virtually undecorated mid-sized room containing a mix of tables and booths. This place get fairly busy at the height of lunch hour and the service is typically pretty mediocre. It took me at least 5 minutes to get seated on one trip, another time the waiter forgot my drink order, another time I waited insanely long to get my check. But of course, commenter Tze Yuin warned me about this so I was prepared. Yes this is the same gentleman woman who insisted I try the Chinese menu at Lucky Wok and I think he she is my new hero.
But the food at Cho-ga is excellent. As I've mentioned previously I am not an expert on Korean food, but the value, presentation and taste are all top-notch in my own humble, esteemed, infallible, totally kick-ass opinion.
The menu offers a number of things to choose from: beef, seafood, chicken, pork, soups and more. There is a regular lunch menu and a list of "lunch boxes" on the flip side. Here's a terrible photo of the regular menu: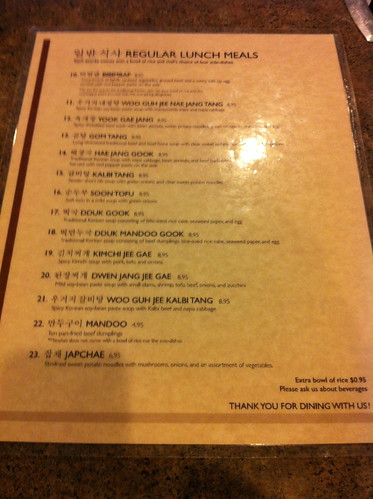 And the boxes…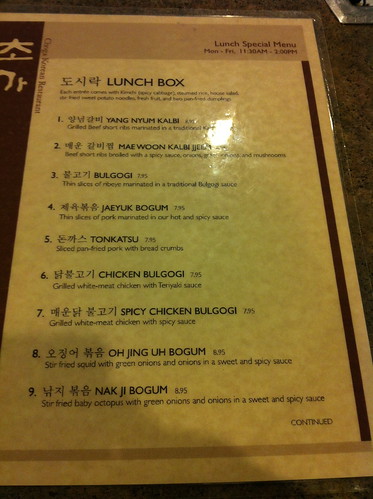 I usually get the boxes because they are cute. I have eaten the pork, beef bulgogi and short ribs and they are all very tasty. The short ribs are sliced cross-wise and still attached to little pieces of bone, making them quite challenging to eat with chopsticks. But it's worth it.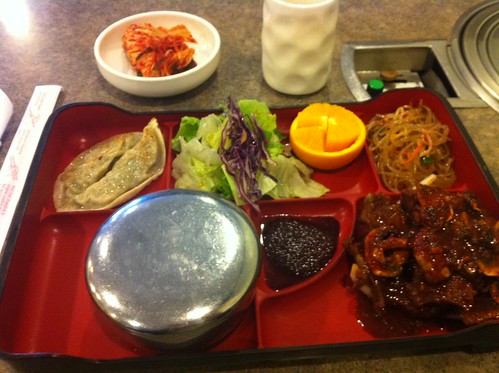 In addition to the primary offering, lunch boxes come with steamed rice, two dumplings, a small portion of noodles, salad (mostly lettuce) cabbage kim chee, and a few slices of melon to calm the palate at the end of the affair. That's a lot of food! Most of them run $8.95 so expect to pay a several dollars more with beverage and an unextravagant tip for subpar service.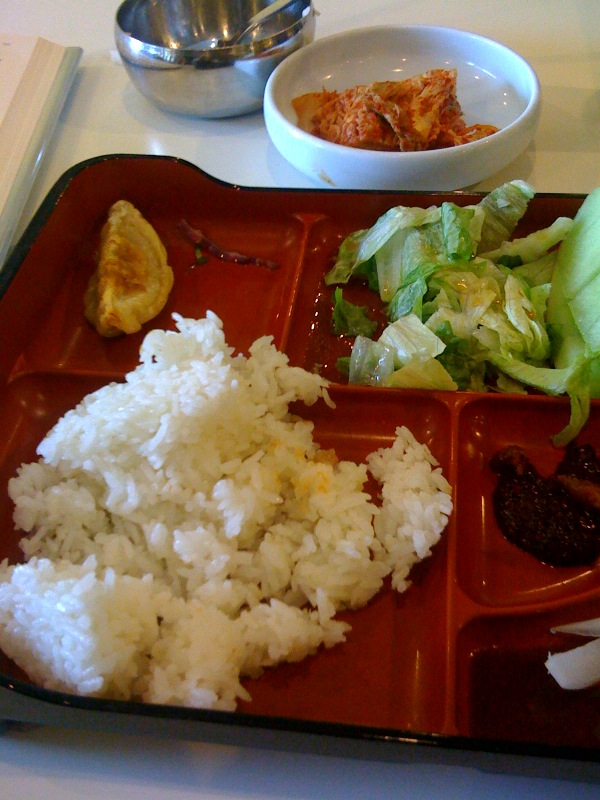 So if you're looking for Korean chow, go pay them a visit. You won't be alone, you won't be the only non-Korean there (assuming you know, that you're not Korean) and the food is well worth it.
PS: Well crap, I just checked out the Pitch for info on Cho-ga and found a typically top-notch Charles Ferruzza review dated TOMORROW (Oct.9 2008). Ferruzza is bending the laws of space and time people! If this is not some mistake, there will be plenty of info about Cho-ga to go around. If only I had published this two months ago when I started it. Anyhow, read his take. I found Cho-ga somewhat less exotic, but I haven't been for dinner. I don't blog about dinner.
Read more:
Yelp

[google-map-v3 width="350″ height="350″ zoom="12″ maptype="roadmap" mapalign="center" directionhint="false" language="default" poweredby="false" maptypecontrol="true" pancontrol="true" zoomcontrol="true" scalecontrol="true" streetviewcontrol="true" scrollwheelcontrol="false" draggable="true" tiltfourtyfive="false" addmarkermashupbubble="false" addmarkermashupbubble="false" addmarkerlist="6920 West 105th Street, Overland Park, KS{}restaurant.png" bubbleautopan="true" showbike="false" showtraffic="false" showpanoramio="false"]