Don't ask me why I thought this place would be good.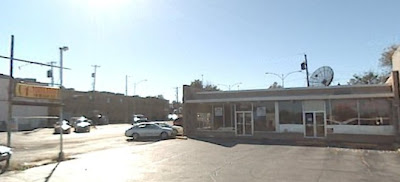 It is literally steps away from Mi Ranchito at 80th and Metcalf, which is a perfectly fine (but overrated) local Tex-Mex chain. Mi Ranchito is well-priced, very consistent, and has generous portions. Whatever.
When it comes to Mexican food, that's not good enough for me. Unfortunately I don't work very close to any good Mexican lunch spots. I'd love to hit up the Boulevard or downtown KCK on a regular basis, but I can't swing it. So I was having lunch at Mi Ranchito one time and noticed another little Mexican place across Floyd street that I had never noticed: Torreador.
Welcome to my thought process. It's small, a little ratty looking, I've never heard of it, and it's right by another successful Mexican restaurant. Gee, I think I'll give it a try.
I pulled up in the parking lot and saw a skeezy looking dude and a middle aged waitress smoking cigarettes by the front door. The dude looked like a more down and out version of Mark Borchardt. Turns out he was one of the "cooks" in the kitchen. One side of the entrance door had a high chair sitting on the stoop in front of it. This apparently works better than a "please use other door" sign.
I walked into a space that is essentially a decent little darkly lit bar, with tables on one side and a lounge area on the other. My waitress was sitting at a front table chatting with a couple of ladies who were having margaritas.
I took a look at the menu and was not overly impressed. There were only 2 lunch specials, one of which was Taco Salad.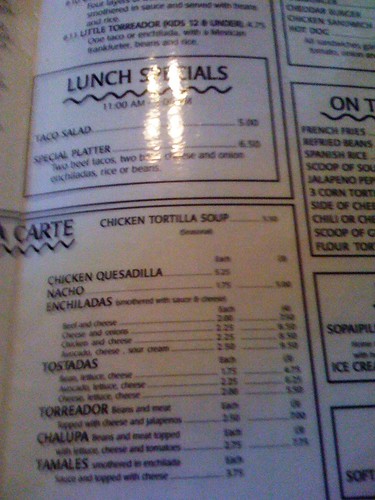 So I ordered the "Special platter" and began to have the feeling that yellow cheese and ground beef was in my future. There was a little table top display advertising something called "Southwest Egg Rolls." I didn't have the cojones to try them.
While I waited, my waitress brought out some chips and a little dish half full of salsa. She laid them down saying, "I'll be right back to fill up the salsa, I have to open a new one."
"That's fine, I don't need any more," I replied.
"It's no problem, I don't want you to think I'm trying to cheat you."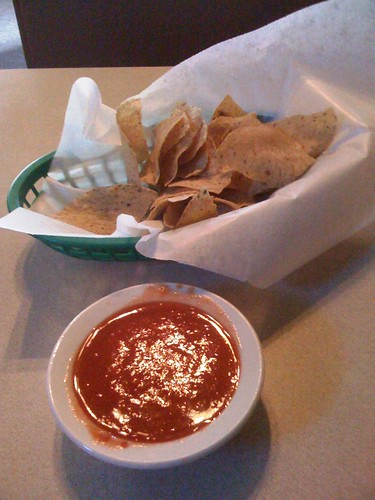 So she comes back with a plastic bar pitcher full of this salsa and pours it into the dish.
By this time I had eaten two chips already and had decided not to have any more. Good move.
Then my food arrived! Hey, do you remember those Old El Paso Taco kits? I'm sure some of you still use them, especially those of you with children. I used to make taco dinners for my family when I was a kid using those kits. You just brown some ground beef, add the seasoning packet, and serve them in the taco shells with the packet of "hot sauce" that came in the box. Do you see what I'm getting at here?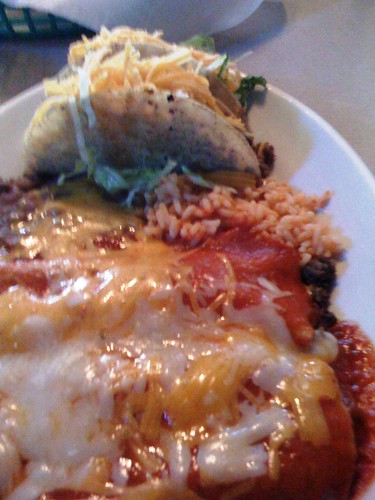 Torreador has, without a doubt, the worst Mexican food in the Kansas City metropolitan area.
Yeah, not good. They havn't even figured out the trick I learned when I was 10, which is to bake the taco shells a few minutes before using to make them crunchier and more delicious. The enchiladas were made with flour tortillas and were covered in the same sauce that the chips came with. And the rice? Here are my thoughts on the rice:
Everything comes from a can, a box or a bag, and you can tell. The thing is, people who eat at Torreador probably think it tastes good because that is what they are used to. Why else would anyone go there? And really, who am I to argue; I'm just another white guy with a blog.
The server was actually extremely friendly, and I have no complaints about her demeanor or skill. The owner or manager person checked on me a couple times, then made sure I got my check and my change quickly.
The clientele seems to be the lower-middle class, upper middle-aged JoCo set. In my mind they are hard drinking secretaries, retail managers, and waitresses. They buy lottery tickets and drive American cars. I'm sure the scream from the Torreador was audible miles away when the Overland Park smoking ban passed. I'll wager that it gets some business in the evenings from regulars looking for a post-work bottle of beer, and more still from folks wanting to meet friends or watch a game at night. It's just a local hangout for a certain kind of person. A hangout with terrible food.
In other words, the food probably isn't the important part. At least it sure doesn't seem that way. I'm sure the owners are proud of their business, but I simply can't count it among the spots I will visit again.
Don't take my word for it, read more:
Y
[google-map-v3 width="350″ height="350″ zoom="12″ maptype="roadmap" mapalign="center" directionhint="false" language="default" poweredby="false" maptypecontrol="true" pancontrol="true" zoomcontrol="true" scalecontrol="true" streetviewcontrol="true" scrollwheelcontrol="false" draggable="true" tiltfourtyfive="false" addmarkermashupbubble="false" addmarkermashupbubble="false" addmarkerlist="7926 Floyd Street, Overland Park, KS{}restaurant.png{}Toreador" bubbleautopan="true" showbike="false" showtraffic="false" showpanoramio="false"]
elp