Don't even try to go here on a Sunday afternoon unless you have time. The place is packed with whatever the Hindu equivalent of the "after church crowd" is. I'm telling you, it's stuffed to the gills with Indian families hitting the buffet en masse. During the week it's a somewhat different affair, though still largely patronized by Indians. It doesn't take a genius to know that this is a very, very good sign.
Johnson County is full of good Indian restaurants. I'm not going to venture a guess as to why JoCo seems to have better Indian grub than the city proper, but rest assured it is true. KC has Taj Mahal on Wornall, Korma Sutra in Westport and that place on 39th street that no one I know has ever been to (any place I'm missing?). JoCo has Paradise India, India Palace, Ruchi, Touch of Asia (!), Kabob & Curry and now Masalas, which could be the nicest of them all. This is not a low-brow Indian buffet, but rather a very classy looking establishment with decor that knocks the socks off any other place in the vicinity.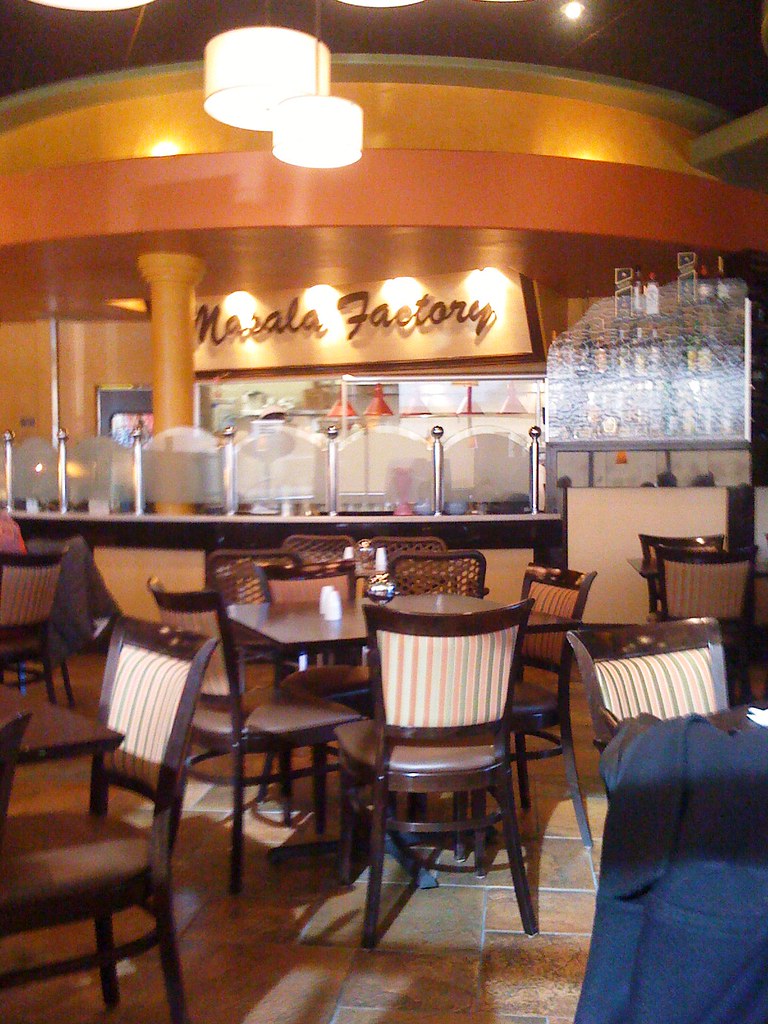 For those who haven't seen it, Masalas is located in the old Ohana Grill building right in front of Whole Foods. It takes up half the building; the other half is clearly under renovation. Since Masalas' windows are tinted, I wouldn't blame you if you thought it wasn't open yet. You can't see inside at all, so when you approach the doorway and draw aside the heavy curtains it is like entering a secret little world. A secret world that everyone knows about, because this place is doing very good business so far.
The buffet is tucked away in the corner. Dishes are presented in fancy, shiny silver chafing dishes. Several cooks work behind a counter curiously labeled "Masala Factory." I don't think the choice here is much larger than any other buffet, but it does seem like there are more vegetarian options. The usual suspects appear: Tandoori chicken, pakorahs, Dal Makhani, Aloo Ghobi, Chicken Tikka Masala, a couple soups, the usual chutneys, two kinds of rice, fruit and other desserts. There was a strange chicken dish that looked just like a Chinese stir-fry that I didn't even try. No samosas that day either.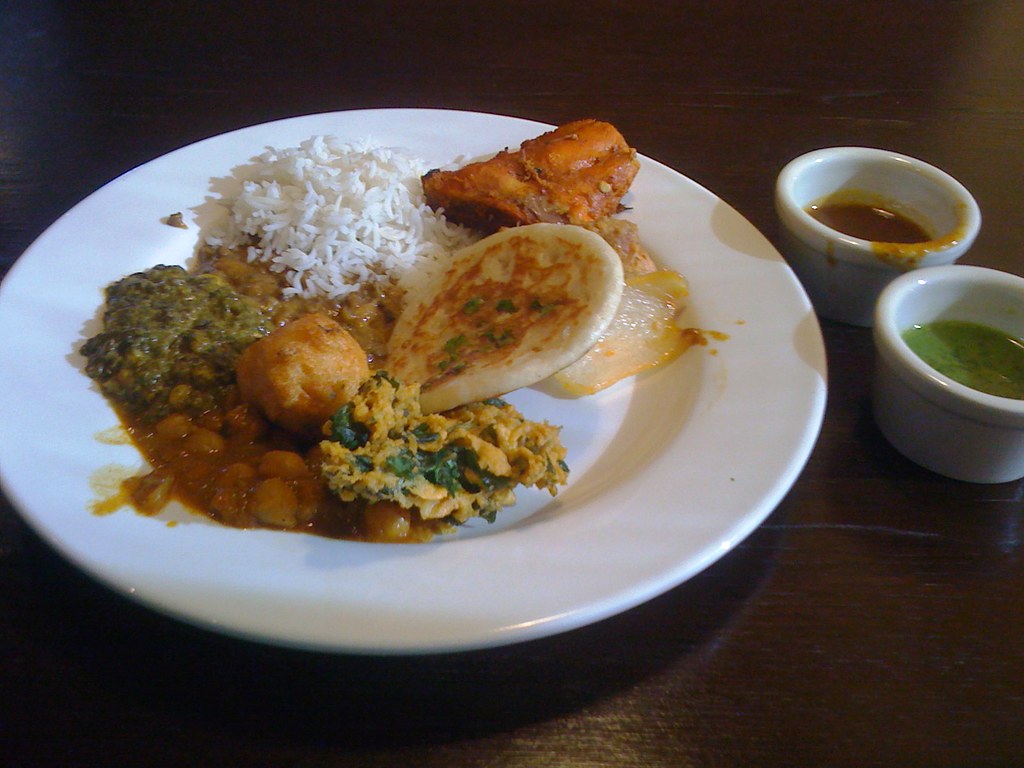 One odd omission on the buffet was Naan, the delicious fluffy bread that is a staple of Indian cuisine. I went back to my table and the server immediately brought out a large basket of freshly baked naan. They do this at Taj Mahal too, and it really makes a huge difference to have it freshly baked.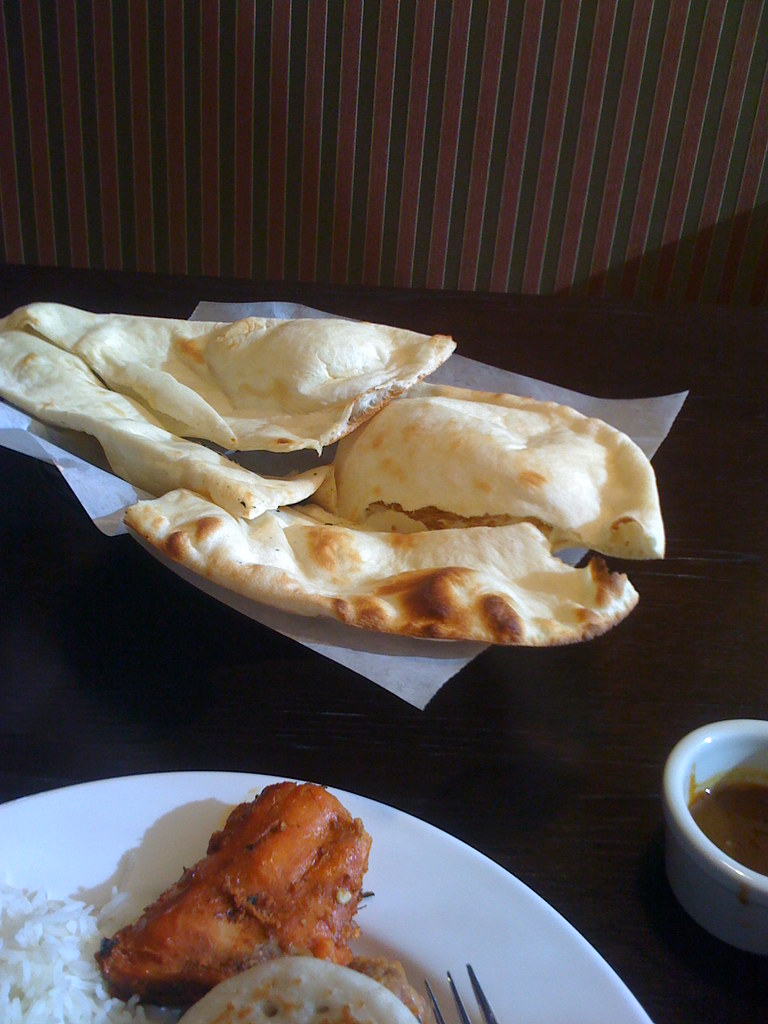 I tried a number of dishes and I'll try to remember what was what. The tandoori chicken was excellent-the only comparable tandoori appears on the India Palace buffet. Chana masala, a delicious chick pea dish was actually surprisingly spicy. I had two helpings. The sweet corn and spinach was also excellent. The ubiquitous butter chicken was way too rich for my taste, and I couldn't finish it. I had some chicken dish (can't recall the name) where the meat was all hacked and shredded to hell. Naturally I had high hopes, but it wasn't all that flavorful. I remember some of the food being a tad on the sweet side. Undoubtedly the high point of the meal was the goat curry. Mind you there is a little gristle and bone to content with, but it is worth the effort to experience the slightly spicy, tangy gravy with a touch of anise flavor.
In general, this is a very good lunch buffet. The service was excellent too. When I came back from a second trip to the buffet, my dirty plate had been cleared, and I had a re-fill and a new napkin. The buffet will set you back $10, a drink another $2, but I really think it is worth the price. If the lunchtime crowds persist, it may become a slight annoyance given the availability of other quality Indian buffets in the area. But anyone who likes Indian food should try Masalas.
Read more:
[google-map-v3 width="350″ height="350″ zoom="12″ maptype="roadmap" mapalign="center" directionhint="false" language="default" poweredby="false" maptypecontrol="true" pancontrol="true" zoomcontrol="true" scalecontrol="true" streetviewcontrol="true" scrollwheelcontrol="false" draggable="true" tiltfourtyfive="false" addmarkermashupbubble="false" addmarkermashupbubble="false" addmarkerlist="7301 West 91st Terrace, Overland Park, KS{}restaurant.png{}Masalas" bubbleautopan="true" showbike="false" showtraffic="false" showpanoramio="false"]