Taste inhabits the space formerly occupied by Tonic, a night-clubby joint in old downtown Overland Park. It has been reinvented as a moderately highbrow but casual restaurant with an ambitious menu. Indeed there is little to no overlap between the dinner and lunch menus.
It is a nice looking place, though a little more bar than restaurant.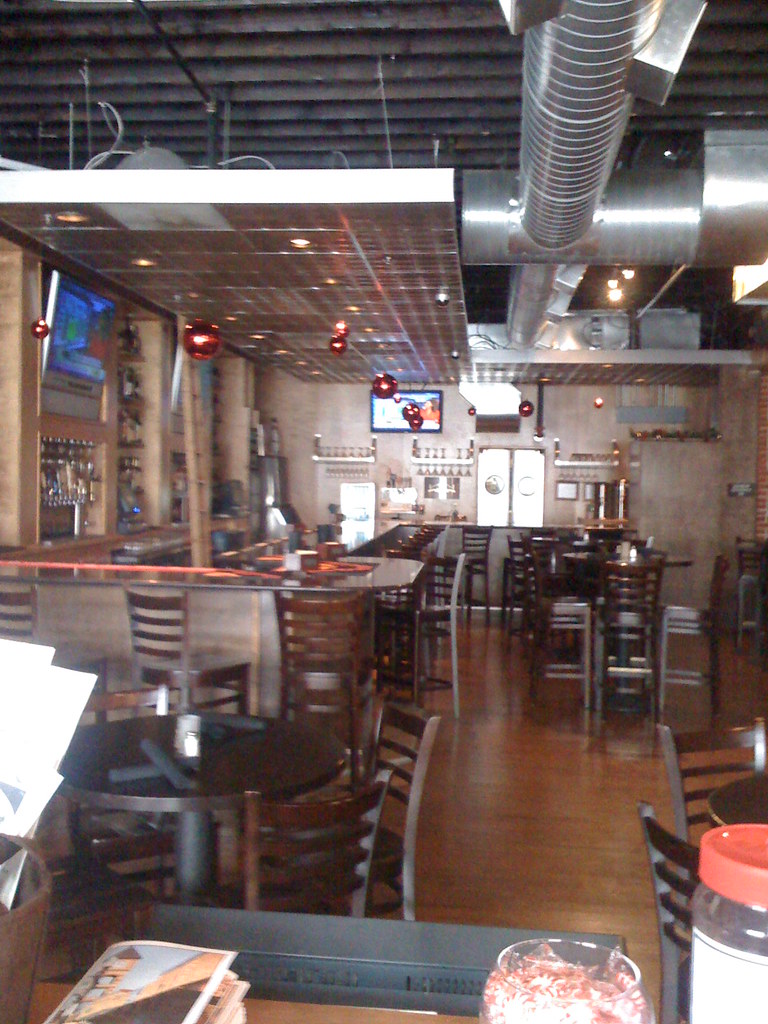 For lunch they specialize in a lunch trio consisting of 3 small dishes on one plate ($11). You get to choose from a list that is impressive both in its size and selection. Nearly everything sounds delicious. Mini fried crabcake burger with spicy remoulade, Thai chili scented chicken wings with sesame seeds and spicy ginger dipping sauce, –screw it there are too many things to name, so just go look at the menu. I'll wait.
See what I mean? That is a hell of a lot to choose from, and each item sounds meticulously thought-out and presented. As a result, the process of ordering can be a mess, particularly if you have a large group. Regardless of the size of your group, the servers have clearly been trained to provide a painfully thorough and unnecessary introduction to the menu. I am very skeptical of places where the first words of of the waiter's mouth is "Is this your first time dining with us today?" It's a restaurant for chrissakes, not adventureland. Stop trying to explain things and let the food speak for itself. His spiel was complete with a few recommended dishes which the The Big Book of Waitstaffery must say is a good idea in case your diners are complete idiots.
For this reason and others I would almost prefer to see less choice. That's right, fewer available items for the Choose Three lunch special. You know why? I think the preposterous amount of specialization leads to unrealistic expectations of how perfect and delicious everything will be.
It turns out I was underwhelmed by everything tastewise. The little buns used to hold the mini burgers were too large and easily masked any subtlety evident in the tiny little patties or the condiments for that matter. If the blue cheese burger couldn't take it, the rare piece of "seared coriander tuna steak" was utterly helpless.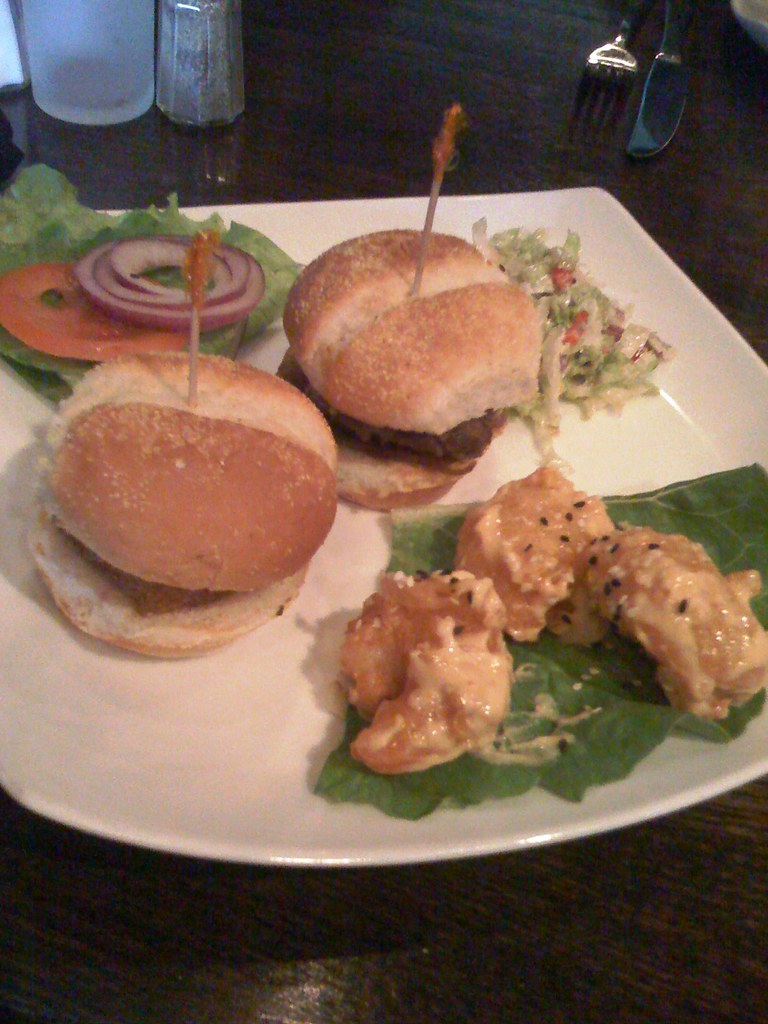 It turns out that I would rather have a really good full sized entree or sandwich than an overcooked miniburger accompanied by 2 other mediocre dishes. And they have those, but they are not nearly as appetizing as the small plates: Cheeseburger, steak sandwich, pork tenderloin, grilled cheese…is this the Westport Flea Market all of a sudden?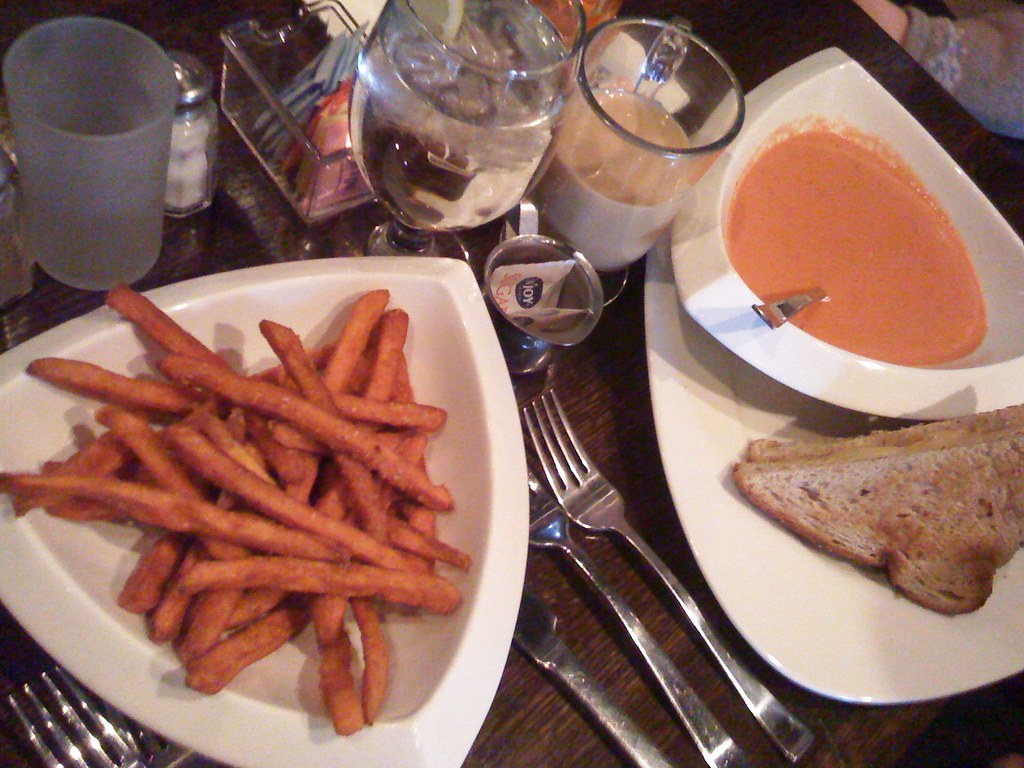 It took a little longer than usual for food to arrive, but given the nature of the menu I full expected it. The various permutations that are available to each patron are dizzying in their variety; I can see how a kitchen would be totally overwhelmed during busy times. But I certainly tip my cap to these folks for churning out this complicated menu day after day.
I can honestly say that I will try Taste again, because it is impossible to rate the place accurately based on one experience. More than that, I am eager to try a few other items. But I wish they would reign in the overzealous servers, focus on fewer, more delicious small plates, and oh yeah, get rid of the totally obnoxious tv that advertises stuff to my face while I pee.
Read more:
[google-map-v3 width="350″ height="350″ zoom="12″ maptype="roadmap" mapalign="center" directionhint="false" language="default" poweredby="false" maptypecontrol="true" pancontrol="true" zoomcontrol="true" scalecontrol="true" streetviewcontrol="true" scrollwheelcontrol="false" draggable="true" tiltfourtyfive="false" addmarkermashupbubble="false" addmarkermashupbubble="false" addmarkerlist="7938 Santa Fe Drive, Overland Park, KS{}restaurant.png{}Taste" bubbleautopan="true" showbike="false" showtraffic="false" showpanoramio="false"]