A few days ago, The Library notified me that there was a book on hold for me. I had come across a review for Asian Dining Rules by Steven Shaw a while back but had frankly forgotten about putting a hold on it. In a nutshell, Shaw explains how to order and eat various Asian cuisines at restaurants. Although not perfect, I love the way the author rebukes American culture for the stereotypes and misinformation about Asian foods.
For instance, he says it is not just silly but insulting that doctors recommend pregnant women avoid sushi. He also says there is no proof whatsoever that MSG has significant adverse effects. He chastises the media for periodic horror stories about the unhealthiness of Chinese food. Aahh, I love me some controversy!
But this ain't a book review blog. So what's my point? Well, after reading the Japanese chapter this weekend, I was hungry for some sushi!
I've eaten at Matsu several times before, as well as other places like Domo, Friends, Nara, Juns and whatever that place is in Town Center. I think they are all pretty good, I just happened to choose Matsu because it was the closest place at the time.
After reading Asian Dining Rules, I was excited to partake, but still didn't follow Shaw's recommendations to the letter. But I will select, condense, misremember and pass them along to you here:
1. Always eat at the sushi bar. You'll get better stuff if the chef is right in front of you. Pieces of fish have better and worse parts so guess who's gonna get the ass end of the tuna? Right, the dudes way across the dining room drinking beer. Plus, Shaw contends that sushi is best from chef's hand to your mouth with as little time as possible in between.
2. Order the combo platters/chef specials. Allowing the chef to decide is always the best way. This will save you some serious dough and you'll also get the best, freshest fish.
3. Talk to the sushi chef. This is a recurring theme in the book. If you are non-Asian it really helps to get to know the owners and employees. No one knows the good stuff better than the guy touching it all day.
4. Go during off hours. This will give you time to ask questions of staff and the food will be better because they are not rushed.
These are not exclusive to Japanese/Sushi establishments, though he does offer another whole procedure for getting the very best meal at the sushi bar, promising that it would be exorbitantly expensive.
When I walked in and was seated, I passed the sushi bar only to notice a piece of sushi and a half sliced maki roll on the cutting board: no sushi chef in sight. Did he go take a leak? Did he pause for a cigarette? Having recently read that sushi should be eaten as quickly as possible, I started to get a bad feeling. Fortunately the chef returned as we sat down at our table. For a minute there I was worried that our server doubled as sushi chef.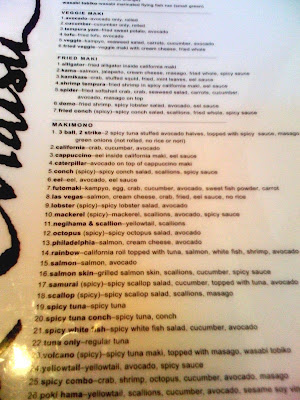 On my meager salary, I went for the Chef's lunch special, a good deal but still a chunk of change at $14.50. For those insane people among you who do not like sushi (and vegetarians I suppose) there are a few interesting options in the $9-10 range. The donburi in particular looked very good, and Matsu had a few different kinds.
The miso soup is great. It's much darker and richer than that at other Japanese restaurants. They have the usual assortment of intriguing starters such as daikon pickles, edamame, seaweed salad and even tempura alligator. The salad had a nice tangy dressing, but was virtually drenched in the stuff. The flavor was strong enough that they should have used half as much.
Unfortunately the sushi looked a little limp and sad when it arrived. It tasted good and was well cut but I suspected it was not the freshest available. The pieces were also on the small side. My piece of tuna had what looked like a little soy sauce fingerprint on it. That what I get for not sitting at the sushi bar, see?
The decor here is kinda funny, sort of like what a Japanese restaurant looked like 20 years ago. Various parts of the interior are meant to resemble pagodas. . There is a wooden crisscross frame across the entire ceiling, just below a bunch of exposed duct work and some painted tin. Some tables had funny tray stands carved out of tree trunks decorated with monkeys or zebras.
Our server was very friendly and did a nice job. He was way too apologetic about interrupting us to pour tea or clear dishes. Dude, just don't say anything and pour the damn tea. A large white man started wandering around about halfway through our meal. He was puttering in the kitchen, the dishwashing area, and periodically perched himself at the sushi bar. I got the feeling he was the owner, since was wasn't really doing anything productive.
After this visit, I find that I prefer most other sushi restaurants in the metro, although the Westport location is convenient. I know sushi has come up in previous posts, so where do you all like to go for really good sushi? Or quick, affordable sushi?
For more info on Matsu check out this a very good Yelp review.
Read more:
[google-map-v3 width="350″ height="350″ zoom="12″ maptype="roadmap" mapalign="center" directionhint="false" language="default" poweredby="false" maptypecontrol="true" pancontrol="true" zoomcontrol="true" scalecontrol="true" streetviewcontrol="true" scrollwheelcontrol="false" draggable="true" tiltfourtyfive="false" addmarkermashupbubble="false" addmarkermashupbubble="false" addmarkerlist="427 Westport Road, Kansas City, MO{}restaurant.png{}Matsu Sushi" bubbleautopan="true" showbike="false" showtraffic="false" showpanoramio="false"]