Johnny's is a place that has been around forever (since 1977) but hadn't received much attention or respect, at least in my circles. That may have changed a little when His Doucheness Guy Fieri dropped by a while back on his "Kansas City Barbecue Tour" for Diners, Drive-Ins and Dives.  This place came across very well on the program and the food looked great on TV, but everyone I know who had been there said Johnny's just wasn't very good.
Apparently not everyone feels that way, because when I stopped by recently, this fairly spacious BBQ joint on Broadmoor was full of people at the lunch hour. There is nothing to alarm the discerning barbecue diner upon entering. You order at a counter, jauntily accented with an old school menu board and a display of barbecue sauces that is dizzying in its comprehensiveness.
The staff persons are very friendly and helpful, particularly the owner who is typically present behind the counter expediting orders or out in the dining room delivering food. Simpler dishes like sliced meat sandwiches are presented right at the counter soon after ordering. Others are delivered to you out at your table.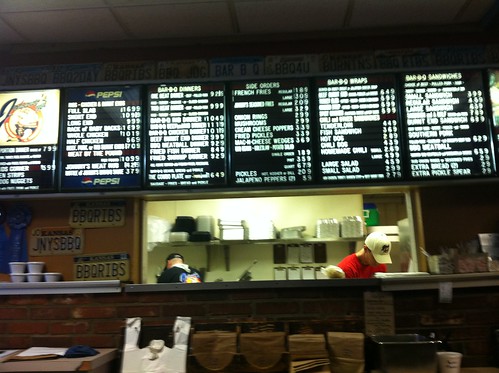 The highly touted barbecued chicken is probably one of the better versions around town. As seen in the DDD video, it is smoked and then deep-fried to give the bird a relatively crisp crust. As a result, the chicken is much moister and has a pleasantly crunchy skin, unlike chickens I've had at other BBQ joints such as Zarda, who recently served me a dry-ish, flabby chicken that looked better but tasted worse than this one.
That being said, poultry is one of the most forgiving meats to smoke and I was hoping for more wood flavor from Johnny's bird. While not among the best barbecue I've tasted, Johnny's chicken had a hypnotizing effect on me, and I found myself stripping every piece of meat and gnawing on the bones. The portion is good too-a half chicken seems like a lot but really is only a pound and a half of meat which is rounded out perfectly by Johny's decent baked beans which are cooked in the smoker but come across as a very traditional, molasses-flavored Boston-style baked bean.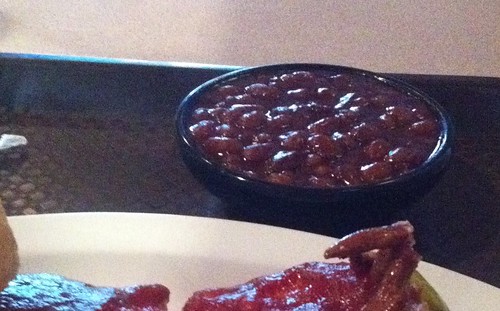 I suspect that the sauce turns a lot of barbecue purists off. It is extremely red, more pronounced than the color of ketchup and is applied liberally to most dishes unless you request that it be left off. While not particularly assertive, it has a distinctive tanginess that complements lighter meats better than beef or ribs. Some diners assume that the sauce is inferior because of its color while I find it acceptable, certainly better than the oddly sweet stuff at the otherwise superior RJ's up the road.
The fries are nothing special: crinkle-cut frozen numbers that get the job done but really should be better considering the competition from other barbecue joints like Arthur Bryant's and Oklahoma Joe's who dish out superb, hand-cut fries.
The burnt ends are prepared well but lack the smoky punch that I expect from the best barbecue. The sandwich comes on a soft hoagie roll, topped with red onions and pickle slices, all of which are utterly unnecessary and ridiculous. At my core I feel that barbecue should be meat, sauce and white bread.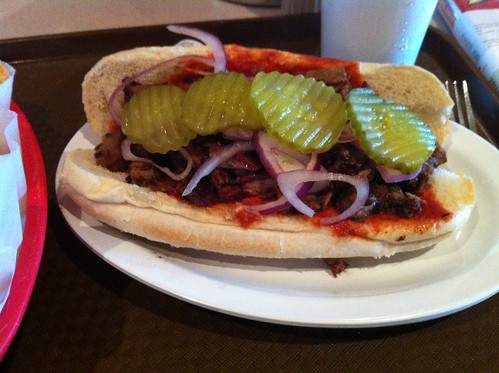 The decor is alas, drab as hell, reminiscent of a chain diner like Waid's. The walls are sadly devoid of much artwork and the furniture is pure, cheap commercial dreck: Formica tables, vinyl booths, industrial carpeting.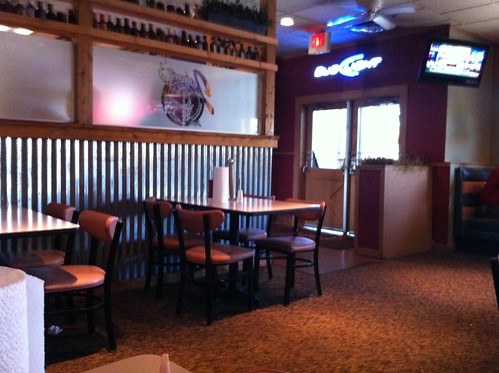 The service is great here all around. The owner is very active in the daily operations and is typically out on the floor delivering food and making sure people are happy. At the risk of being indelicate, I should point out that Johnny's employs a couple of developmentally disabled bus-people, a practice that I whole-heartedly endorse and appreciate. Those who have worked with such people (as I have have) or have them in your family (which I do) realize that providing a source of income is extremely important in contributing to their quality of life and promoting independence and self-sufficiency. One of the bus-women noticed that my paper towels had run out and chatted with me while replacing them with a fresh roll. I've never had a bus-person introduce herself to me before, but she did, and I found it a delightful exchange. Johnny's gets big kudos for giving an opportunity to people who are often overlooked.
In general, this place is a lot better than I was led to believe, but not among the brightest lights of KC barbecue. I think Johnny's is legitimate and probably unworthy of ridicule. It's certainly worth a visit for those who want to familiarize themselves with the range of barbecue available in the area.
Johnny's hickory House Bar-B-Que
5959 Broadmoor St
Shawnee Mission, KS 66202
www.johnnysbbqkc.com
(913) 432-0777
[google-map-v3 width="350″ height="350″ zoom="12″ maptype="roadmap" mapalign="center" directionhint="false" language="default" poweredby="false" maptypecontrol="true" pancontrol="true" zoomcontrol="true" scalecontrol="true" streetviewcontrol="true" scrollwheelcontrol="false" draggable="true" tiltfourtyfive="false" addmarkermashupbubble="false" addmarkermashupbubble="false" addmarkerlist="Johnnys B-B-Q, 5959 Broadmoor Street, Mission, KS{}restaurant.png" bubbleautopan="true" showbike="false" showtraffic="false" showpanoramio="false"]