Here it is, the granddaddy of them all.
It's been a while since I stopped by Kansas City's most illustrious BBQ joint for lunch. I have found Bryant's to be a little inconsistent which tempers my enthusiasm for their smoked meats. Sometimes they dish out a less than stellar meal, but when Bryant's is good, it's better than anyone else in town.
Unlike Oklahoma Joe's and Gates, the original Bryant's location has a natural ambience, one that hasn't been calculated and cultivated.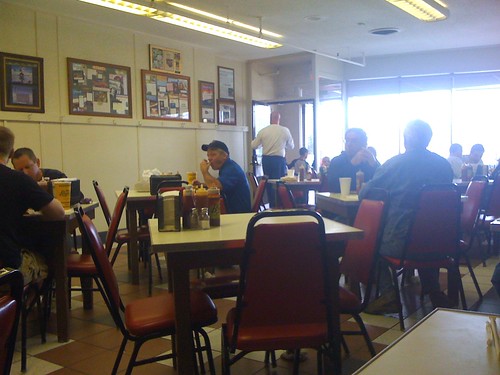 Plenty of celebrity photos hang crookedly from the south wall, which doesn't serve to class the place up so much as give folks something to look at while they wait in line. Yes, during lunch there is often a line to the door, but it moves quite quickly. The size of the lunch crowd pales in comparison to Oklahoma Joe's.
Like Joe's, Bryant's is destination barbecue for many, but still has the hallmarks of a neighborhood joint. It is close enough to downtown to attract business people and also situated close enough to light industry to attract a blue collar crowd. Just a stone's throw from 18th and Vine, it's a popular lunch spot to combine with a trip to the Jazz or Negro Leagues museums. As a result, Arthur Bryant's is perhaps the most racially integrated restaurant in Kansas City. At any given time, the restaurant is half-filled with people from out of town as well.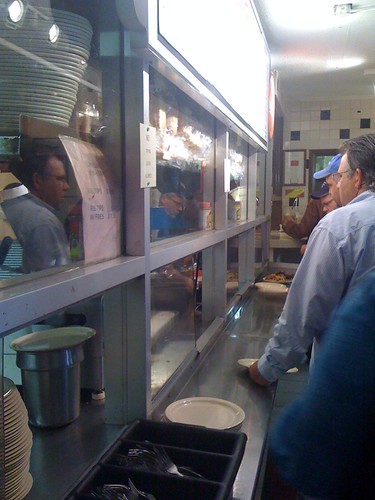 I have never particularly enjoyed the ordering experience at AB's. As the line moves to the front of the counter, you can pick up a plate and silverware. One of the hangdog gentlemen behind the window will take your order, and the plate as well if he feels like it. Sometimes he will decline the round plate in favor of a longer platter kept behind the counter. Lest you think it's ok to skip the plate, know that the employee may chastise you for not having one to give.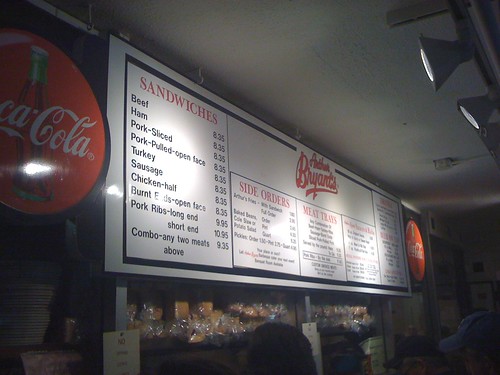 Nonetheless, the process works pretty well, despite theoccasional screw-up with your order . This is not nearly the problem that it is at Gates. The folks at the end of the counter will take your money and serve you drinks. Be sure to get plenty of beer for your whole meal because it's a hassle getting back up there again for more drinks.
Bring your appetite because the portions are huge. For $8.35, you can get a sandwich the size of Jesus. For $9.95 you can get some terrific fries with your sandwich. Unfortunately you may also get some disappointing fries; they are the most inconsistent item on the menu. Sometimes they are undercooked, sometimes cold, sometimes mind-blowingly perfect.
A "combo" costs $9.35, and allows you to sample two meats. This results in a larger order than normal since they basically add half a sandwich to a full size sandwich.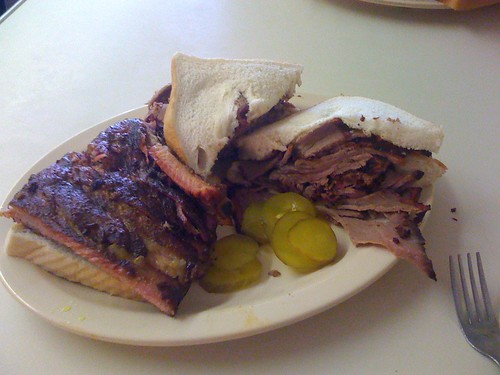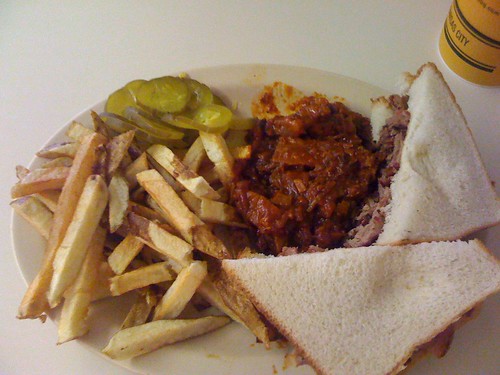 Order the beef, I think it's the best in town. It is quite smoky and considerably juicier than other versions. The ribs are a darn near perfect texture, not fatty and supremely flavorful. I'm not a huge fan of the pulled pork which they serve finely shredded and mixed with sauce. The burnt ends are roughly hacked and also mixed with sauce. I don't think they are the finest in town (LC's gets that distinction) but I wouldn't turn my back on them because the beef is just that good. Bryant's is one of the few places to offer sliced pork, which I have greatly enjoyed in the past. Not having eaten in recently, I recommend it with only the slightest hesitation.
Bryant's original sauce is perhaps the strangest barbecue sauce I have ever tasted, and many folks will tell you that they do not care for it. Absolutely bitter, thin and riddled with spices, it is certainly a surprise if you are expecting KC's typical sweet stuff. I find that the original sauce tastes best on ribs. Bryant's also offers "rich and spicy" and "sweet heat" varieties which are both great.
Arthur Bryant's was the first restaurant I visited in Kansas City. I was expecting a tourist trap, and instead found an honest, humble gem of a place, deserving of all the accolades it has received. This place is proof that tourist attractions are darn near impossible to manufacture. Readers of this blog occasionally ask me what my favorite barbecue restaurant in KC is, and I usually have a diplomatic response along the lines of "well, it depends." But now, I can comfortably and whole-heartedly endorse Bryant's as my favorite of them all. While not without its problems, their meats are just head and shoulders above the rest.
[google-map-v3 width="350″ height="350″ zoom="12″ maptype="roadmap" mapalign="center" directionhint="false" language="default" poweredby="false" maptypecontrol="true" pancontrol="true" zoomcontrol="true" scalecontrol="true" streetviewcontrol="true" scrollwheelcontrol="false" draggable="true" tiltfourtyfive="false" addmarkermashupbubble="false" addmarkermashupbubble="false" addmarkerlist="Arthur Bryants Barbeque: 1727 Brooklyn Ave. Kansas City, MO{}restaurant.png" bubbleautopan="true" showbike="false" showtraffic="false" showpanoramio="false"]