To most folks outside of Kansas City, the Stonewall Inn refers to the landmark New York City nightclub that saw a 1969 riot by its gay patrons during a police raid. The Stonewall riot is often heralded as the event that put gay rights into the public consciousness. Out in Lenexa, Kansas, The Stonewall Inn refers to a supremely old school restaurant serving up traditional homestyle American cooking without flash or pretension. I imagine homosexuality plays very little part in what they are serving up and its name is just a happy accident.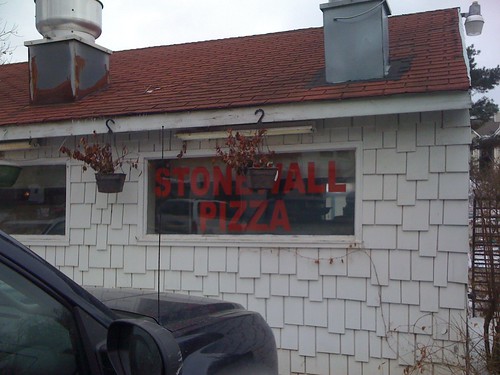 While I have not eaten at the Stonewall's main restaurant, a smaller old home sits just south of the original restaurant at Pflumm and 103rd and houses Stonewall Pizza. This is a smaller, more affordable joint with a limited menu. While the big restaurant is open for lunch, Stonewall Pizza makes a little more sense for a quick midday bite so that's what I'll focus on here.
I have been to Stonewall Pizza many times over the course of three years, having first been introduced to it by local blogger Goofy Girl. As I said, it lacks pretension but I've found that the pizza is really quite good.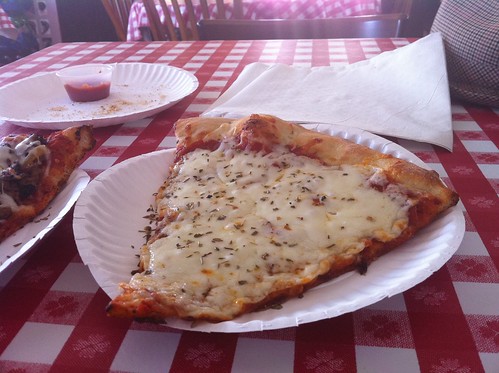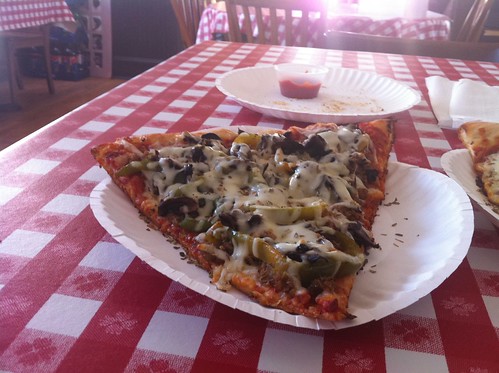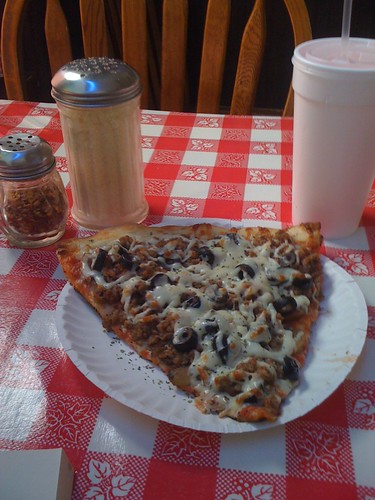 You order at a counter just inside the front door. The menu offers slices, whole pies and a few sandwiches. The best bet for lunch is the special: a 3-topping slice, side salad and fountain drink for $6.48. I have opted for the two-slice lunch but found it to be too much food and slightly too expensive, approaching 10 bucks with drink. As each slice is made to order, it can take 10 minutes or so to get your food.
These are large slices with a fairly thin crust that remains delightfully crispy on the bottom and edges. While slightly more rustic in appearance, the pizza slices at Stonewall remind me of those at D'Bronx, and are a little bit cheaper.
The salads are typical unremarkable pizza parlour offerings with iceberg and romaine lettuce, a handful of shredded mozzarella cheese and a couple of pepperoni slices. I've never understood why pizza places love putting odd pizza toppings on salads. It's not like they don't have a a whole slew of fresh vegetables on hand, so why put pepperoni and cheese on the salad? Yet another truism for you: shredded cheese never belongs on a salad.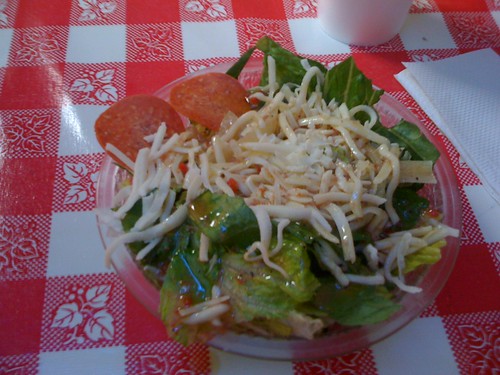 Stonewall Pizza is not a restaurant for people who like to keep to themselves. You see, this is perhaps the friendliest place I have ever eaten. It's friendly to a fault. If you want to show up, order food and mind your own business, you may be disappointed since the staff will talk to you continuously throughout your stay. Not a minute into my last visit, I knew the name of the woman at the counter and the name of the owner who was sitting at one of the tables in the empty dining area. Throughout the meal, each staff person referred to me by my first name, frequently checking up on me to make sure everything was okay and making small talk. One woman even asked me if it was alright to change the music, which played from a portable stereo by the front window.
I don't have a lump of coal for a heart, so I appreciate the hands-on treatment at Stonewall Pizza, but it's not everyone's cup of tea.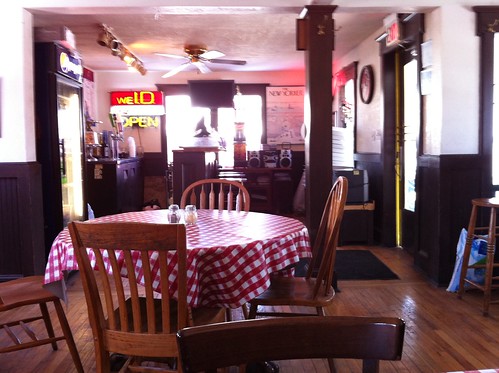 The interior is small and a little wonky but it's an interesting space to have lunch. There is a back dining room that is typically closed or empty and a sizable patio out front that is nice in warmer climes.
All in all, Stonewall Pizza is a decent spot to put on the lunch rotation if you live or work in that part of Johnson County. It took me a while to warm up to the place but the good crust occasionally calls my name, which put it over the top for me. Stiff competition from Pizza Man which sits right next door may make this a less appealing option. But since Pizza Man recently started pre-making Chicago Dogs and Italian Beefs for lunch service, you may want to give Stonewall Pizza a try one of these days.
Stonewall Pizza
10244 Pflumm Road Lenexa, Kan. [Map it >]
[google-map-v3 width="350″ height="350″ zoom="12″ maptype="roadmap" mapalign="center" directionhint="false" language="default" poweredby="false" maptypecontrol="true" pancontrol="true" zoomcontrol="true" scalecontrol="true" streetviewcontrol="true" scrollwheelcontrol="false" draggable="true" tiltfourtyfive="false" addmarkermashupbubble="false" addmarkermashupbubble="false" addmarkerlist="10244 Pflumm Road, Lenexa, KS{}restaurant.png{}Stonewall Pizza" bubbleautopan="true" showbike="false" showtraffic="false" showpanoramio="false"]