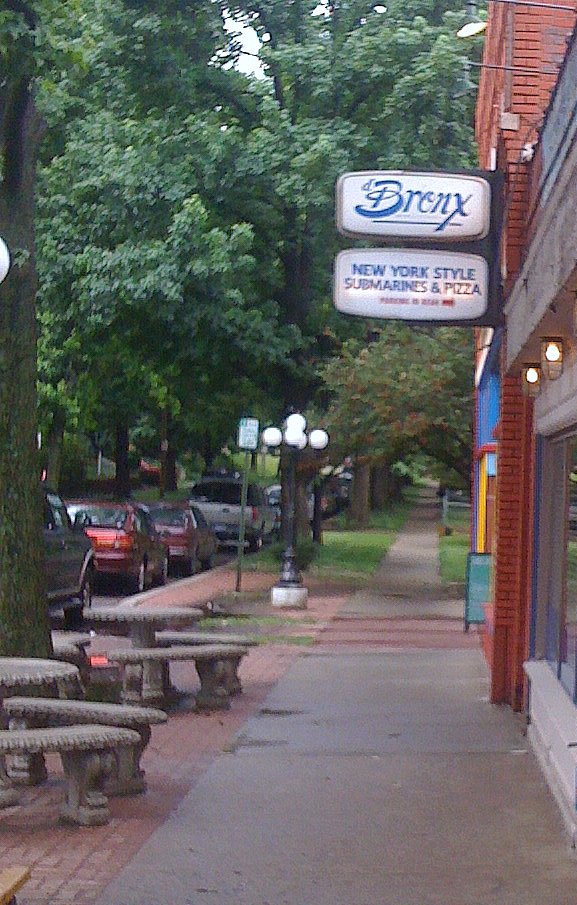 I'm not sure what the history of D'Bronx is in Kansas City, but the 39th Street and Bell location has all the hallmarks of a local institution. Occupying a couple storefront spaces, the interior is bustling and little crusty. It features well-worn hardwood floors, utilitarian seating, a chalkboard menu and lots of graffiti on the stone walls.
It always seems fairly crowded and boisterous. You walk through the dining area to place your order at the front counter. After paying, collecting napkins and silverware and procuring a beverage you find a seat in one of the little dining areas and wait for your food to come out. And wait. And wait.
Yes, it takes a while to get even a slice here, and I assume that's because they put everything together to order, not to mention the fact that they do a high volume. Pizza is one of those foods that you should expect to wait for unless you're getting it from under a heat lamp.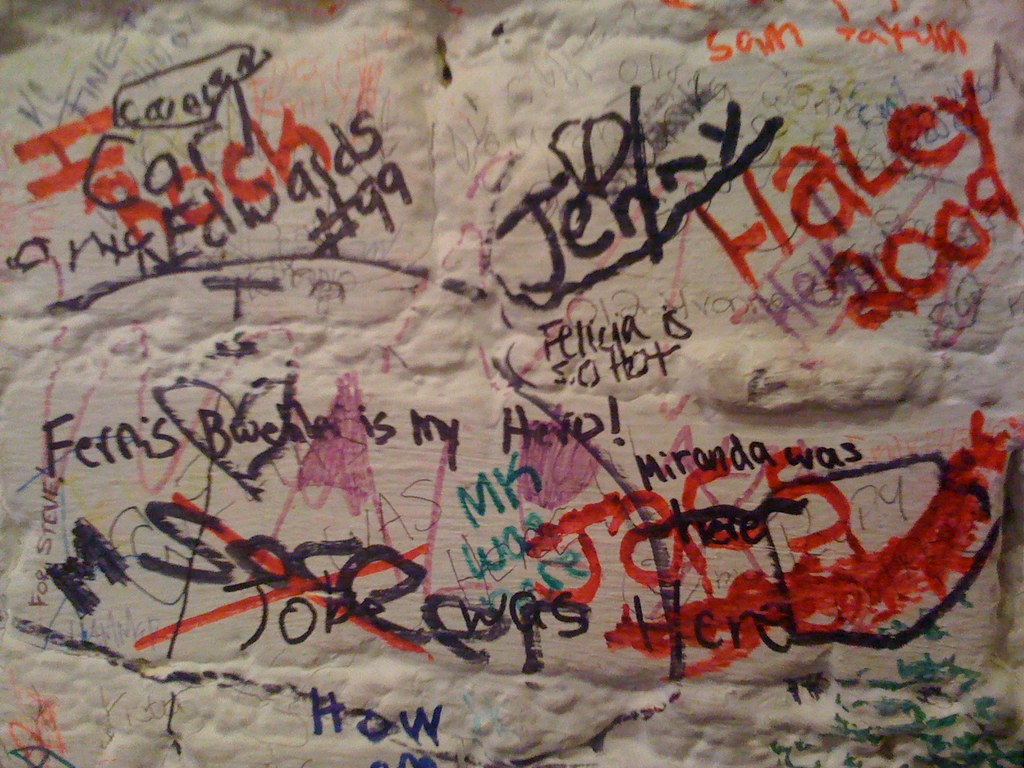 But it actually tastes very good, despite looking a little haphazard. The toppings are applied in great quantity but don't really melt into the slice; they kind of rest there in a little mound.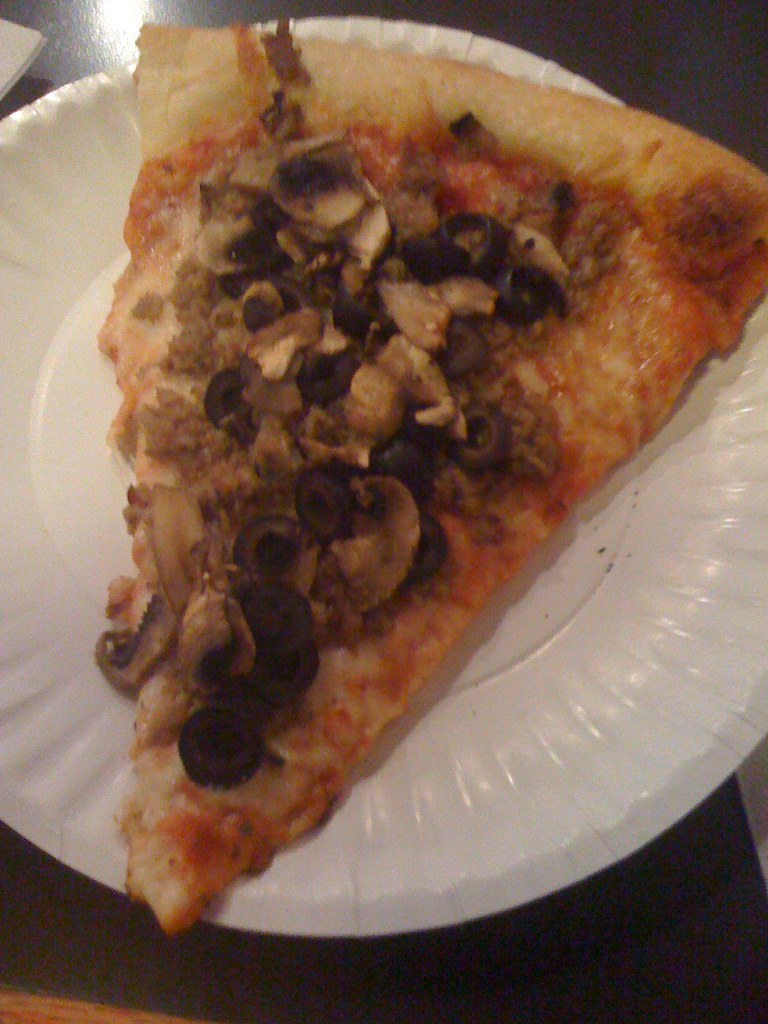 The relatively thin crust manages to stay quite crispy and is a very pleasant texture. In short, this is good pizza. The "D'Bronx Special" is a veritable shit-ton of ingredients. A slice will cost you $5, but it is a huge meal, easily worth the money.
The Overland Park location of D'Bronx gets kind of a bad rap because the atmosphere is so completely different (i.e. lamer) than the original. It is located in a strip mall at 105th and Metcalf, the same complex that houses the serviceable Korean spot, Choga. Despite what you may have heard, this location serves up the same delicious slices and sandwiches as its KC counterpart.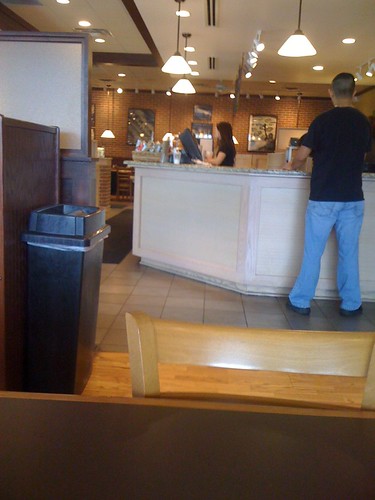 I'd even venture to say that the service is better in JoCo; there are a number of folks running food and clearing tables. On each of my visits, the owners or managers were there fetching refills for people. Moreover, the food runners don't shriek at the same annoying, earsplitting volumes, undoubtedly because it is much quieter. Of course, the atmosphere really is terribly boring compared to the 39th street original, and the clientele is distinctly more douchesque.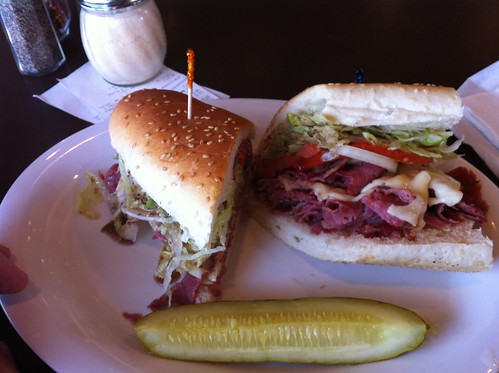 Always a fan of the Reuben I tried the version at the Overland Park D'Bronx and while it was tasty, I can't say it's close to the best I've had. While they should be lauded for not falling into the dreaded Marble Rye trap, their rye bread is barely recognizable as such. It is a well-prepared, grilled sandwich with plenty of melted cheese but in my mind a reuben should be a gigantic sandwich, overflowing with corned beef. The reuben at D'bronx is good but not great.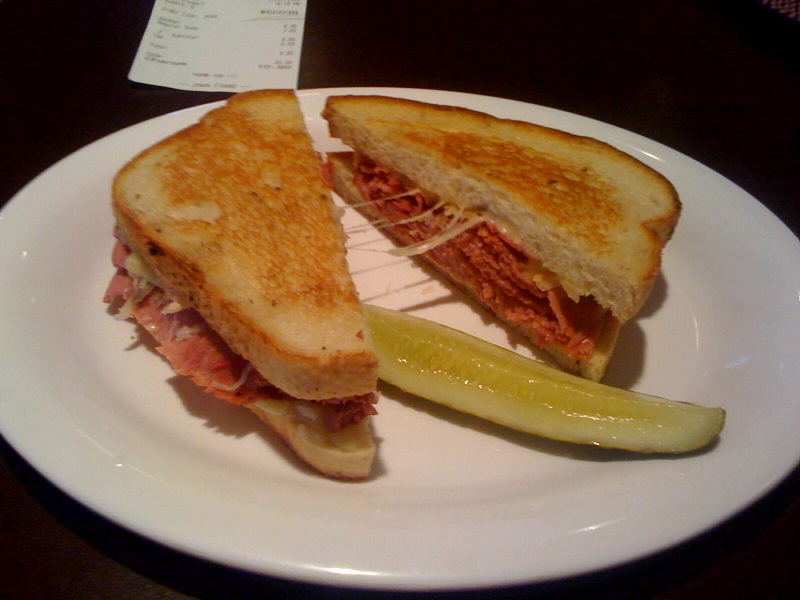 All in all, I'm a fan of this place. I know opinions differ as to the quality of their pizza, but I personally find it quite pleasing. The crust remains crisp despite the preponderance of toppings. While I don't always approve of pizza that requires a fork, this is good stuff, though not quite the New York style that their name implies.
D'Bronx has a whole host of sandwiches, salads and soups as well, including matzoh ball soup which is a rarity in this area. My impression is that everything on the menu is of high quality and well-prepared. The 39th street location is far superior in terms of ambience but both outposts will do when it comes to food.
[google-map-v3 width="350″ height="350″ zoom="12″ maptype="roadmap" mapalign="center" directionhint="false" language="default" poweredby="false" maptypecontrol="true" pancontrol="true" zoomcontrol="true" scalecontrol="true" streetviewcontrol="true" scrollwheelcontrol="false" draggable="true" tiltfourtyfive="false" addmarkermashupbubble="false" addmarkermashupbubble="false" addmarkerlist="DBronx Pizza, 7070 West 105th Street, Overland Park, KS{}restaurant.png|DBronx, 3904 Bell Street, Kansas City, MO{}restaurant.png" bubbleautopan="true" showbike="false" showtraffic="false" showpanoramio="false"]