Taco Factory set up shop early this year in the old Sweet Guy spot in the heart of Waldo near 75th and Wornall. I was honestly prepared to never set foot in this place. Everything I had heard and read about Taco Factory made it sound like a middle of the road, cheapish whitey taco place that caters to boring people and drunks.
It turns out I was completely right, but I did enjoy my meal to a reasonable degree. The interior is brightly lit and brightly colored. Like a fast food joint, you order at a counter and pick up your order when your number appears on a monitor mounted high in the dining room.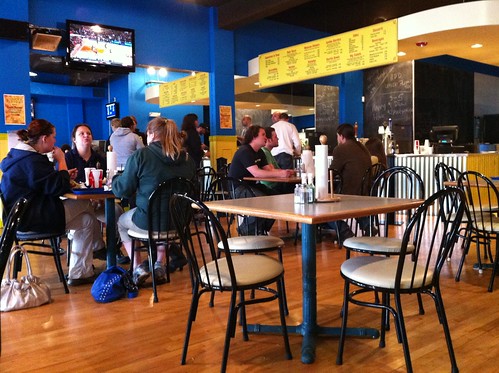 I haven't seen the number method deployed in this manner before, and I far prefer it to obnoxious shouting via loudspeaker or food runners shouting people's names in the dining room.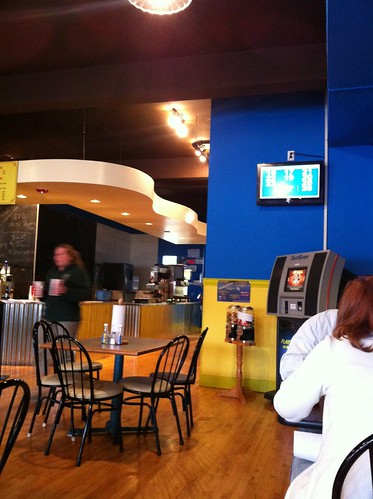 The menu is reminiscent of popular fast food chains like Chipotle or Pancheros but I think the quality and flavor are a bit superior at Taco Factory. The shredded beef was succulent and delicious, despite a distinct over-reliance on salt. And the tempura battered fish was great; I would go back just for that.
Unfortunately, there are no corn tortillas to be had, only premade flour ones. They may be softened slightly on a grill, but are a little dense and chewy by the time you take the first bite. Each taco is attractively, if inauthentically adorned with shredded lettuce, red cabbage, feta cheese crumbles, some pale tomato and a generous handful of some tepid "Mexican shredded cheese mix" – probably Monterey Jack and Cheddar.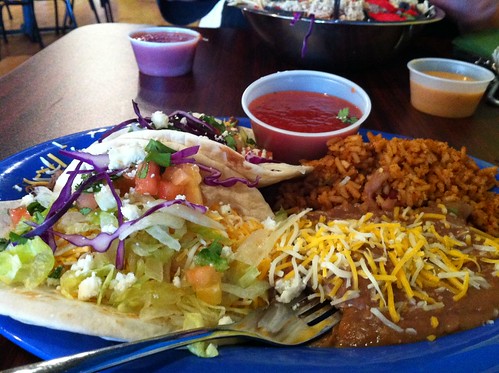 Don't bother with the rice and beans. The rice is over-seasoned and has the consistency of minute-rice. The beans are too salty and seem to come from a can.
The entree salads are large and attractively presented in metal bowls with multi-colored fried tortilla strips. The finely shredded chicken was likely cooked in-house and was well-seasoned and pleasant in texture. The salad dressing has the appearance of having come from a Sysco gallon jug, but you may prefer the judicious use of salsa instead. You have the choice of hot or mild salsa but I was unable to detect any heat whatsoever in either one.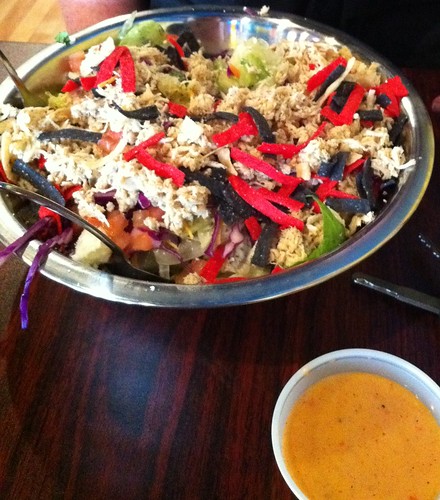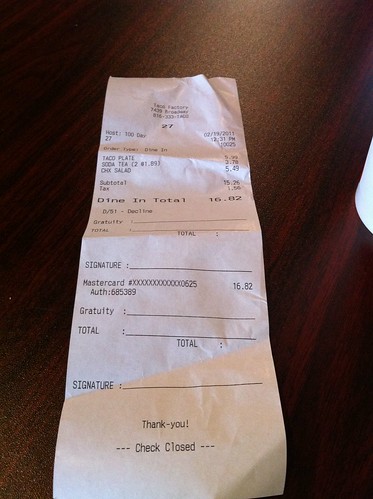 A highly publicized Happy Hour from 3-5pm advertises $1 Bud Lite draws and $2 margaritas. The signage is sponsored by none other than Pepe Lopez tequila which, along with the bottles of Hiram Walker triple sec I saw behind the counter probably creates a hell of a cheap-ass wallop in a margarita. By the way, what's up with happy hours that end at 5pm? Happy Hour used to be a way to compete for after-work business, hasn't this gotten a little out of hand?
Basically, Taco Factory is a fast food restaurant well-poised to succeed in Waldo, home to some of the city's oldest and most mediocre restaurants. It is also aptly-named, since every ingredient in the place probably came out of a factory of some sort. It will appeal to college students, people who can't get in to Waldo Pizza, and drunk people (it's open very late at night). I'd love to tell you more about their hours and their menu choices, but Taco Factory doesn't have a website.


[google-map-v3 width="350″ height="350″ zoom="12″ maptype="roadmap" mapalign="center" directionhint="false" language="default" poweredby="false" maptypecontrol="true" pancontrol="true" zoomcontrol="true" scalecontrol="true" streetviewcontrol="true" scrollwheelcontrol="false" draggable="true" tiltfourtyfive="false" addmarkermashupbubble="false" addmarkermashupbubble="false" addmarkerlist="7439 Broadway, Kansas City, MO{}restaurant.png" bubbleautopan="true" showbike="false" showtraffic="false" showpanoramio="false"]