Don't be afraid. The scariest thing about Chelly's is the interior decorating.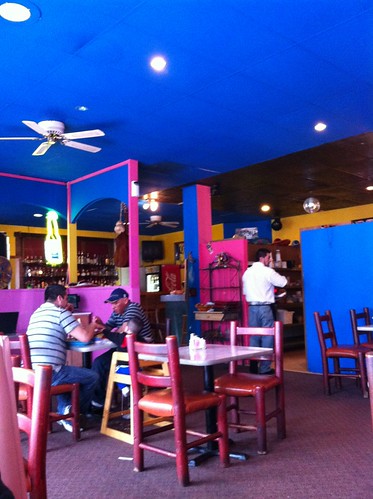 Isn't this place dreadful inside? When reader JaySoy suggested it a year or two back, I had never really noticed it, nestled on the end of a haggard strip mall around the corner from Swagger at 85th and Wornall. The shopping center is anchored by the excellent neighborhood bar, Walsh's Corner Cocktails which apparently has a cheeseburger I need to try.
A cheeseburger you don't need to try is at Chelly's, because Chelly's is a Mexican restaurant. Mexican restaurants don't need burgers. If anyone feels strongly to the contrary, feel free to tell me how great Chelly's burgers are in the comments.
That being said, I did enjoy my meal in this curious little place much more than I anticipated. It is a familiar and popular genre of restaurant: slightly Americanized Mexican fare with a broad appeal but not the utterly gross kind. They serve up hearty plates of food along with mass-produced Mexican beers and perfectly good unnaturally green margaritas. Think Mi Ranchito, Dos Reales, Los Corrals and the like.
I was pleasantly surprised by a delicious pork tamale covered with a red chile sauce that they seem overly fond of. Tacos get the traditional corn tortilla, onion and cilantro treatment. I had carne asada and chicken and the meats, from what I remember, are just fine. These tacos aren't going to knock your socks off but sometimes you just need a fix.
The menu advertises an accompaniment called the "Mexican flag," which I assume is the centrally located piles of green guacamole, sour cream, onions and tomatoes on each plate.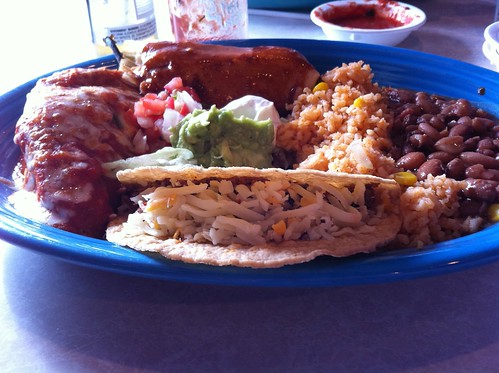 As you can see, Chelly's serves whole pinto beans rather than the more common refried variety and though I prefer the latter when they are good these are perfectly tasty and a refreshing chance of pace.
Waldo is not a particularly good locale for Mexican food, with the supremely mediocre anglocized Cantina del Ray and Taco Factory up north. Paparico's is the newest addition to Waldo's Mexican family which has very favorable reviews around town, with a notable exception. So in this climate, Chelly's succeeds, even though it may not be up to the highest standards.
[google-map-v3 width="350″ height="350″ zoom="12″ maptype="roadmap" mapalign="center" directionhint="false" language="default" poweredby="false" maptypecontrol="true" pancontrol="true" zoomcontrol="true" scalecontrol="true" streetviewcontrol="true" scrollwheelcontrol="false" draggable="true" tiltfourtyfive="false" addmarkermashupbubble="false" addmarkermashupbubble="false" addmarkerlist="Chellys Cafe, 218 West 85th Street, Kansas City, MO{}restaurant.png" bubbleautopan="true" showbike="false" showtraffic="false" showpanoramio="false"]