Swagger has inhabited a nondescript little storefront on South Wornall Road for about a year but I had no idea it was there until it started to get a little media coverage around town. Swagger sits at the northernmost end of the strip mall across from Price Chopper that houses Mike's liquors. The narrow stretch of asphalt between the entrance and Wornall appears designed for parking, but it's used as a frontage road, sidewalk and idling area all at once. Since it's a little awkward, you may opt to cruise down the alley and park in back. Swagger has a well marked rear entrance (insert joke here).
Let's get one thing straight: Swagger is a bar. I popped in early one afternoon to find a typical crowd of middle aged singles and good-natured drunks. There was a small group playing pool and a few folks nursing post lunch beers at the bar. Despite the warmth and brightness of the day, it was dark inside. A video jukebox played tired tributes to classic rock artists like Eric Clapton and Three Dog Night. At any given time, half the bar is out back smoking cigarettes.
With that caveat out of the way let's get another thing straight: Swagger is much more than a bar. It features 42 beers on tap, seven of them boulevard beers including the lovely Tank 7. Check out the whole list here.
The menu is really something to behold. I'm gaining weight just thinking about it. It appeals to bright and bold flavor palates with higher concept versions of burgers, chicken sandwiches, wings and barbecue staples. It's the kind of food that appeals to a grittier, down to earth crowd with adventurous sensibilities. Take the Dead Texan:
Two texas toast grilled cheese sandwiches with a 1/3 lb burger, 1 egg, 3 bacon, lettuce, tomato, onion, jalepenos and peppercorn mayo in between
This is fine dining for bikers and metalheads and they do it well. The ingredients are high quality and treated with care. For instance they cut their own steaks, hand-bread their onion rings and use only freshly ground beef for their burgers. I wanted to try their hand cut and pounded pork tenderloin when I visited but they were out of it that day. So I opted for the Suribachi burger, a concept so absurd that I had to try it.
The process goes thusly: First they take a sizable angus beef patty and cook it. Then they dip it in tempura batter and deep fry it. It is then placed on a bun topped with pepperjack chese, spicy Asian mustard, wasabi cole slaw and hot chili sauce. It looks a little something like this: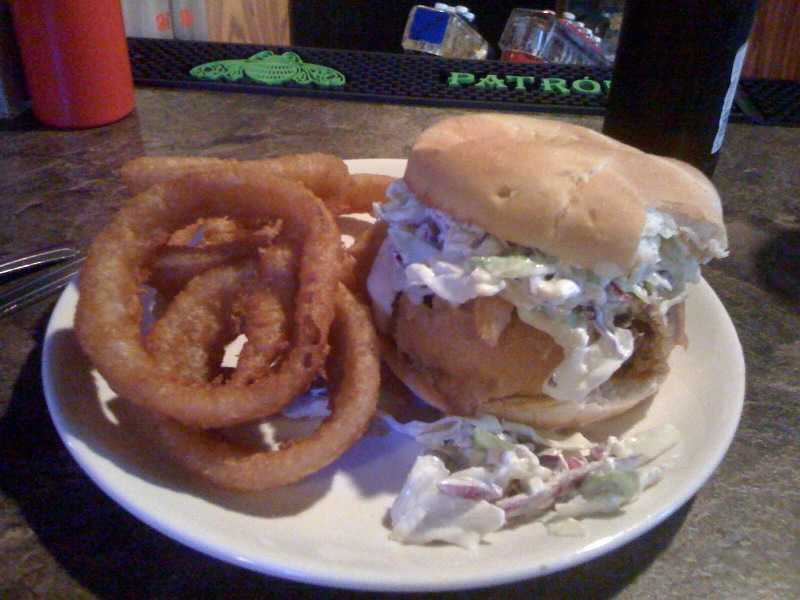 The photo doesn't do justice to the size of the thing. Everyone at the bar gasped when it came out, joking that I'd never be able to get my mouth around the thing. I made a valiant effort with the eyes of the bar upon me and succeeded in getting a respectable bite of the burger.
And it was fantastic. I would have liked the beef to have been more rare–this would have catapulted it into the pantheon of fabulous local sandwiches–but the overall effect was tremendous, and quite unlike a typical burger. The tempura batter is an absolutely inspired choice. It was super crispy and light, adding an explosively salty crunch that knocked my socks off. Yes it was spicy, but not as much as I could have handled. The wasabi cut through more than the other ingredients but I really like the cole slaw as a topping.
The onion rings were simply perfect. I ate them all.
Other places masquerade as dive bars in order to promote some popular idea about their menu (the Foundry). Either that or it's an owner's lame attempt to recapture the excitement of a misspent youth now that he has a wife and kids. Swagger is the real deal. I don't think they care that the core clientele (for the time being anyway) is made up of bud light swilling bar patrons. They are really doing their own thing when conventional wisdom would have them completely change the tenor of the business from its days as a simple neighborhood bar.
I'm not sure if they have table service (though I would assume so) since I sat at the bar, but I'm sure you won't experience the typical hostess/server/bartender division of labor. As a result, I'm not sure it's a great place to take granny to Sunday dinner but it is a good option for those looking for an excellent meal and a few drinks any night of the week.
[google-map-v3 width="350″ height="350″ zoom="12″ maptype="roadmap" mapalign="center" directionhint="false" language="default" poweredby="false" maptypecontrol="true" pancontrol="true" zoomcontrol="true" scalecontrol="true" streetviewcontrol="true" scrollwheelcontrol="false" draggable="true" tiltfourtyfive="false" addmarkermashupbubble="false" addmarkermashupbubble="false" addmarkerlist="Swagger, 8431 Wornall Road{}restaurant.png" bubbleautopan="true" showbike="false" showtraffic="false" showpanoramio="false"]