George's Pizza has closed.
As if the world really needed another style of pizza, I started to hear about the St. Louis variety upon moving to Missouri three years ago. I don't get really excited about specific pizza styles, probably because of my experience with the Chicago deep-dish stuff. Seriously, I think it's rather gross, like an overpriced cheese brick. And it's not even as prevalent as Chicagoans and television shows would lead you to believe; the vast majority of neighborhood pizza places serve really lame, standard fare. In fact, I would venture to say that Chicago overall is a lousy pizza town.
Anyhow, who knew St. Louis had its own style? And that it is so incredibly weird? People who read this blog probably know more about St. Louis pizza than I do, but for those who don't, here's an overview:
It has a thin, crackery crust, sparse use of sauce, and is topped with something called provel cheese–a creamy, processed mixture of provolone, swiss, and cheddar, kind of like a white velveeta. It is often cut into squares rather than triangles.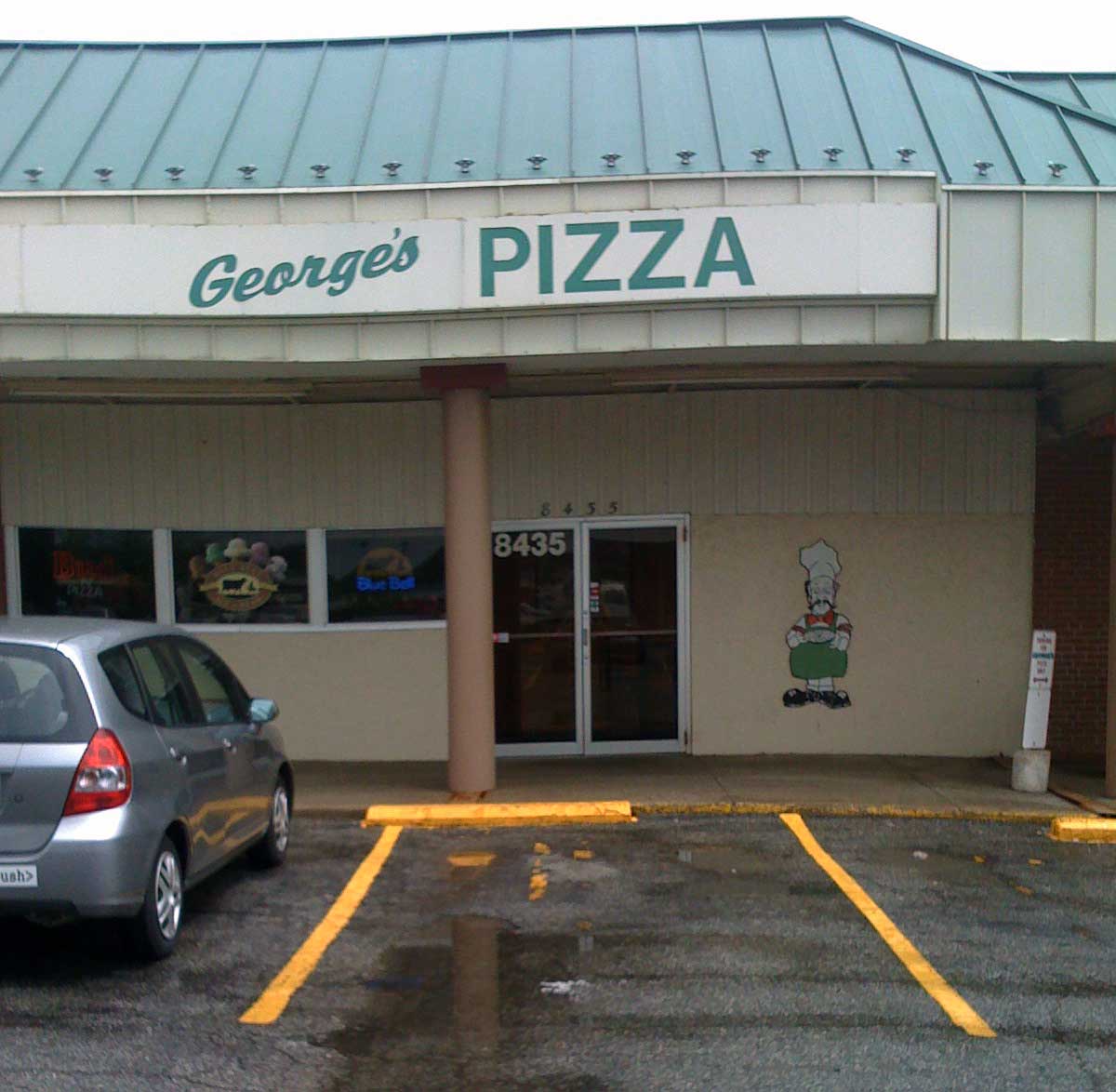 One of the most loyal and helpful commenters to this blog is JH, and he (I'm assuming it's a "he") recommended Georges Pizza to me not once, but twice. I dutifully visited a couple months back and ordered the lunch special with his recommended mix of provel and mozzarella. It's a nice deal at $6.95. The special came with a tepid little salad accompanied by these weird homemade croutons.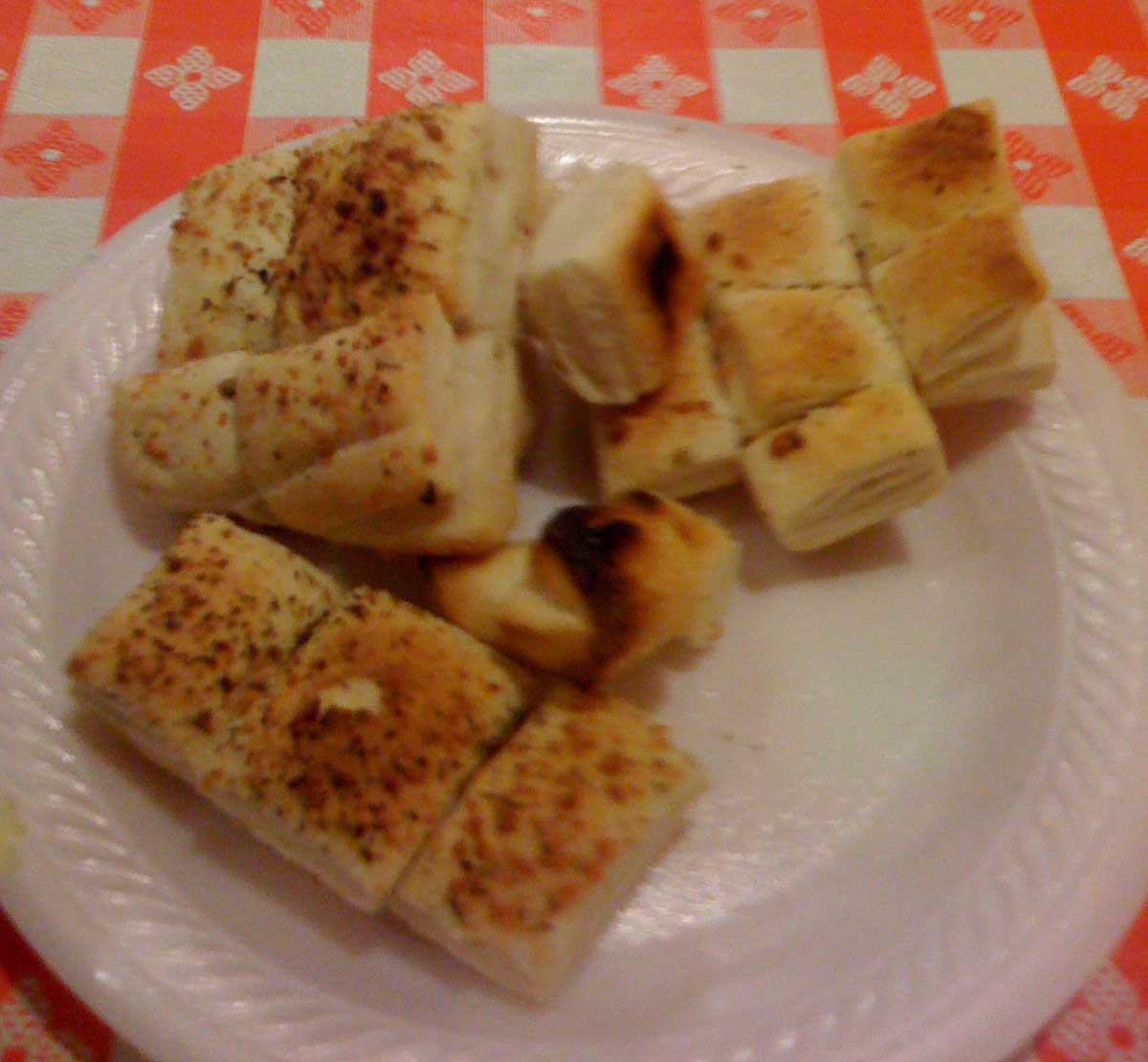 What is it about pizza parlour salads? Do they not understand fresh vegetables?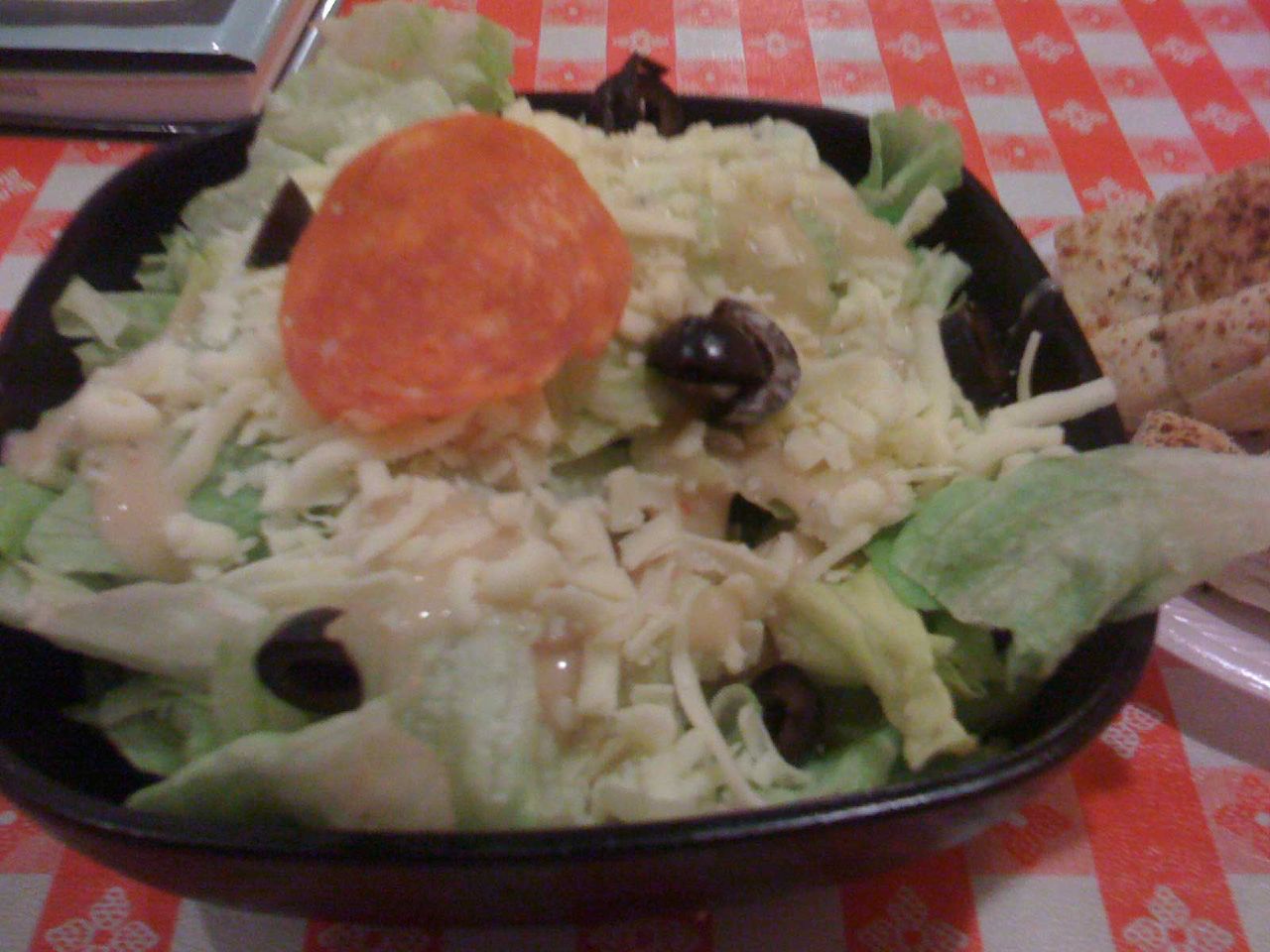 Seriously, it's like these places try to make the salad as much like a pizza as possible. This one, as you can see, has cheese, pepperoni and black olives.
George's is interesting because it is owned and operated entirely by Asians. And the place has a locomotive theme. Train memorabilia decorates the joint and a track runs along the perimeter of the ceiling, though I saw no little train car up there.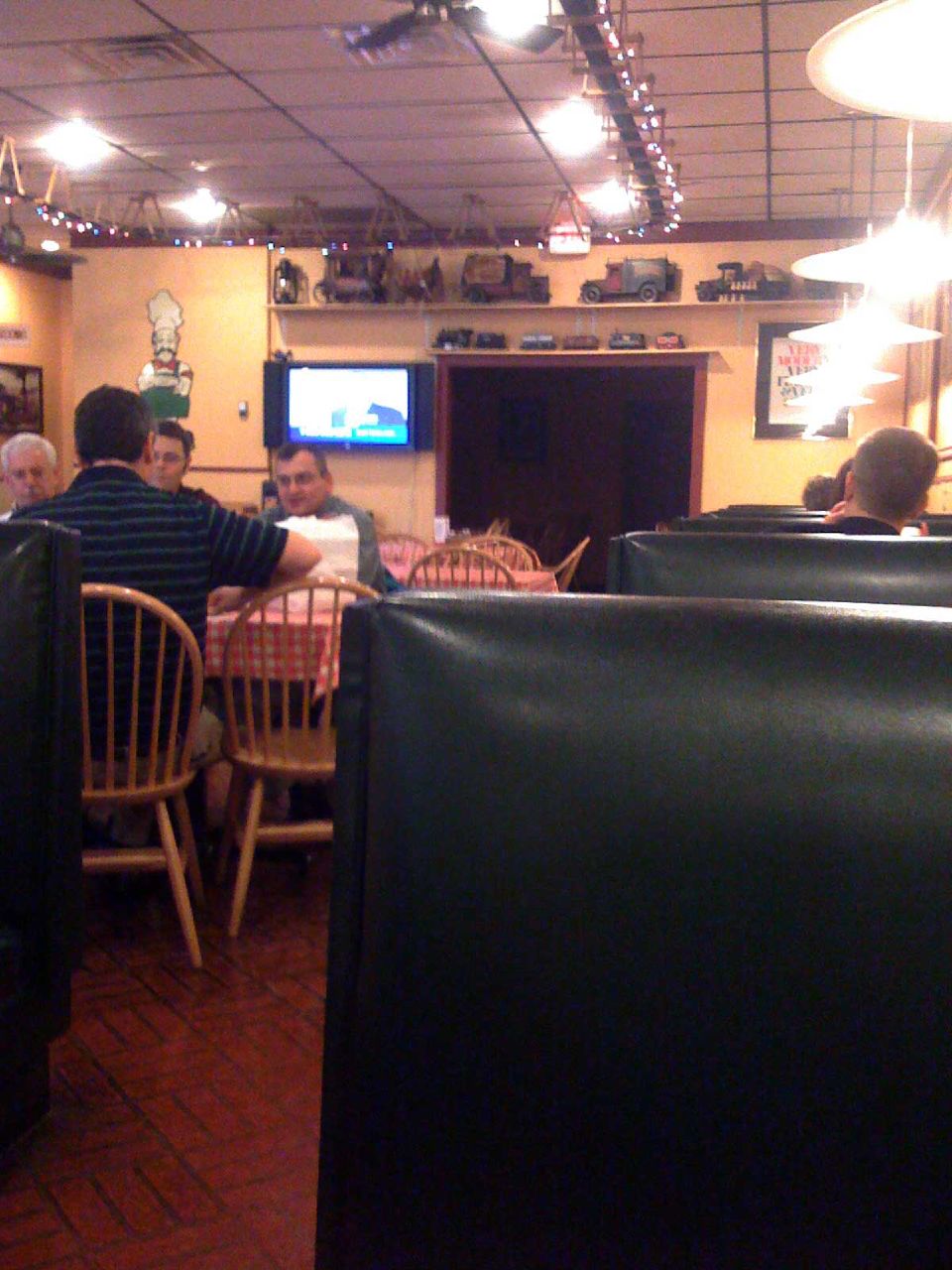 I was not crazy about Georges pizza to be honest. I can't find the photo I took at the time but it was a 10″ little pie with lots of cheese and a few chunks of sausage. The dry, thin crust reminded me of those cheap Totino's frozen pizzas that cost $1.09 at Price Chopper. The sauce was essentially nonexistent and the provel was mildly off-putting. It smells odd and has a sharp undertone to its flavor. Like JH, I liked the sausage quite a bit, but there was so little of it on the pizza that it didn't really make up for the overall weirdness. In all fairness, JH did indicate that the larger pies were better.
But sorry JH, I put off writing about this place because you like it so much and hesitate to piss you off. However it turns out that there's probably nothing wrong with George's, I just don't like St. Louis pizza that much.
You see I paid a little visit to Johnny C's recently, which is another St. Louis pizza parlour at 75th and Nieman. I did this at the urging of local blogger and food lover Goofy Girl. Indeed, she was the first to really explain St. Louis pizza to me comprehensively. Johny C's seemed like the kind of place that, love it or leave it, I had to try.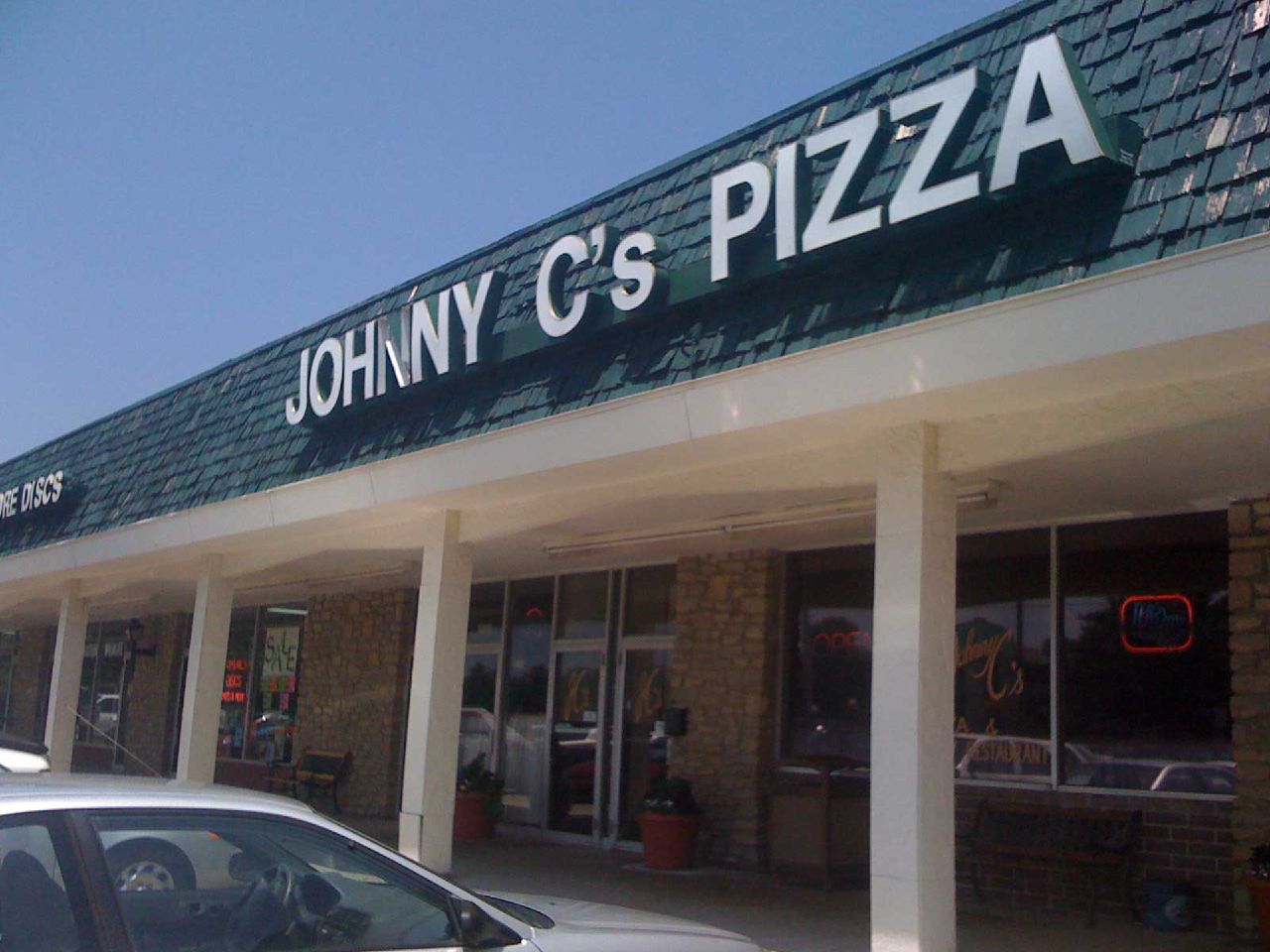 Johnny C's is a classic pizza parlour in a lot of ways, with a bar, pool table, video games and those traditional hanging lamps you used to see at old pizza huts.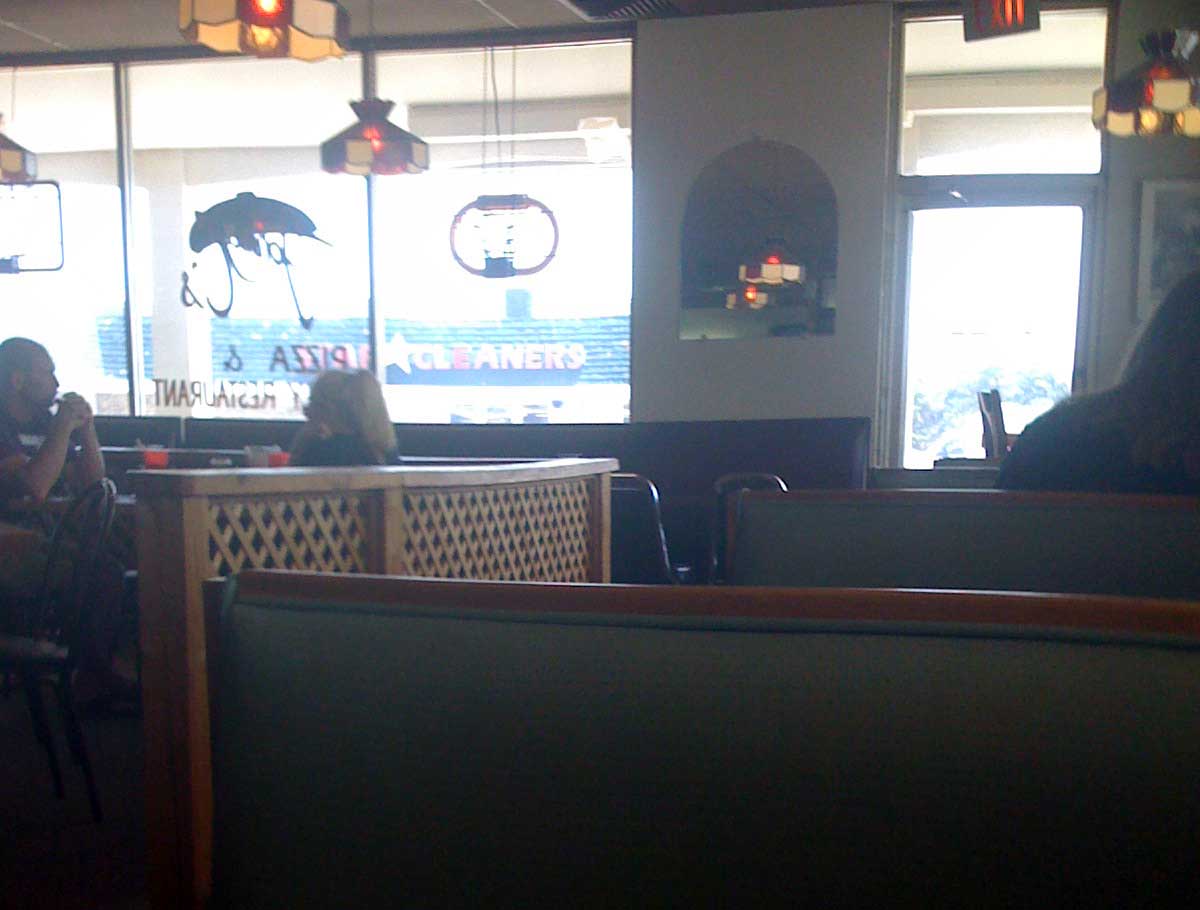 Their lunch special involves your choice of two of the following: a pizza slice, salad, half sandwich, toasted ravioli or garlic bread (there may be other choices I'm forgetting). I opted for the slice and a salad to make a proper comparison to George's. I got the full provel treatment, and it was pretty strange.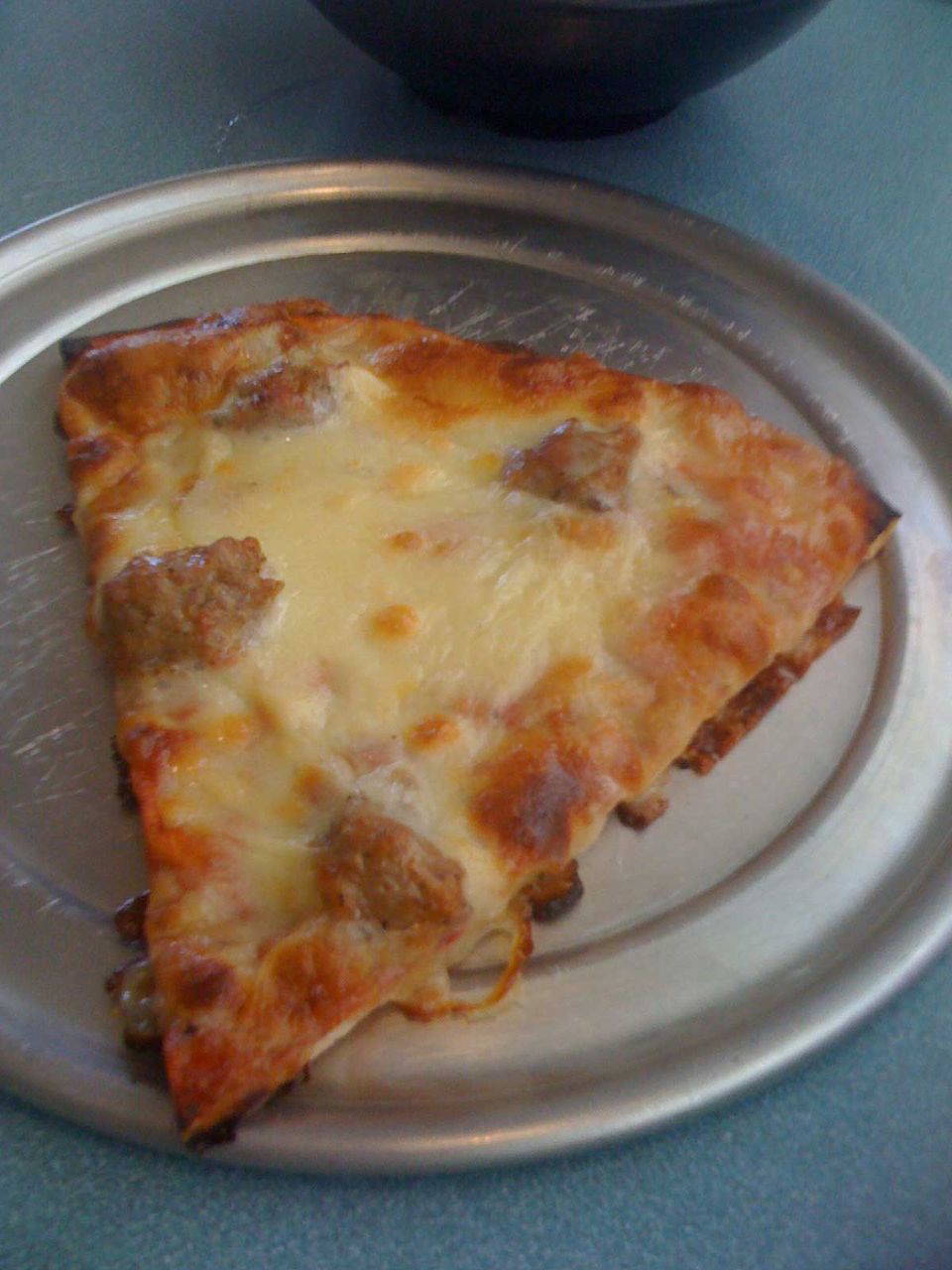 The odor of this cheese is just a little intense for me, and I'm no shrinking violet. The salad was almost exactly like Georges: shredded cheese, a pale tomato wedge and a couple pepperoni slices. It was topped with a couple of odd, dusty crackers.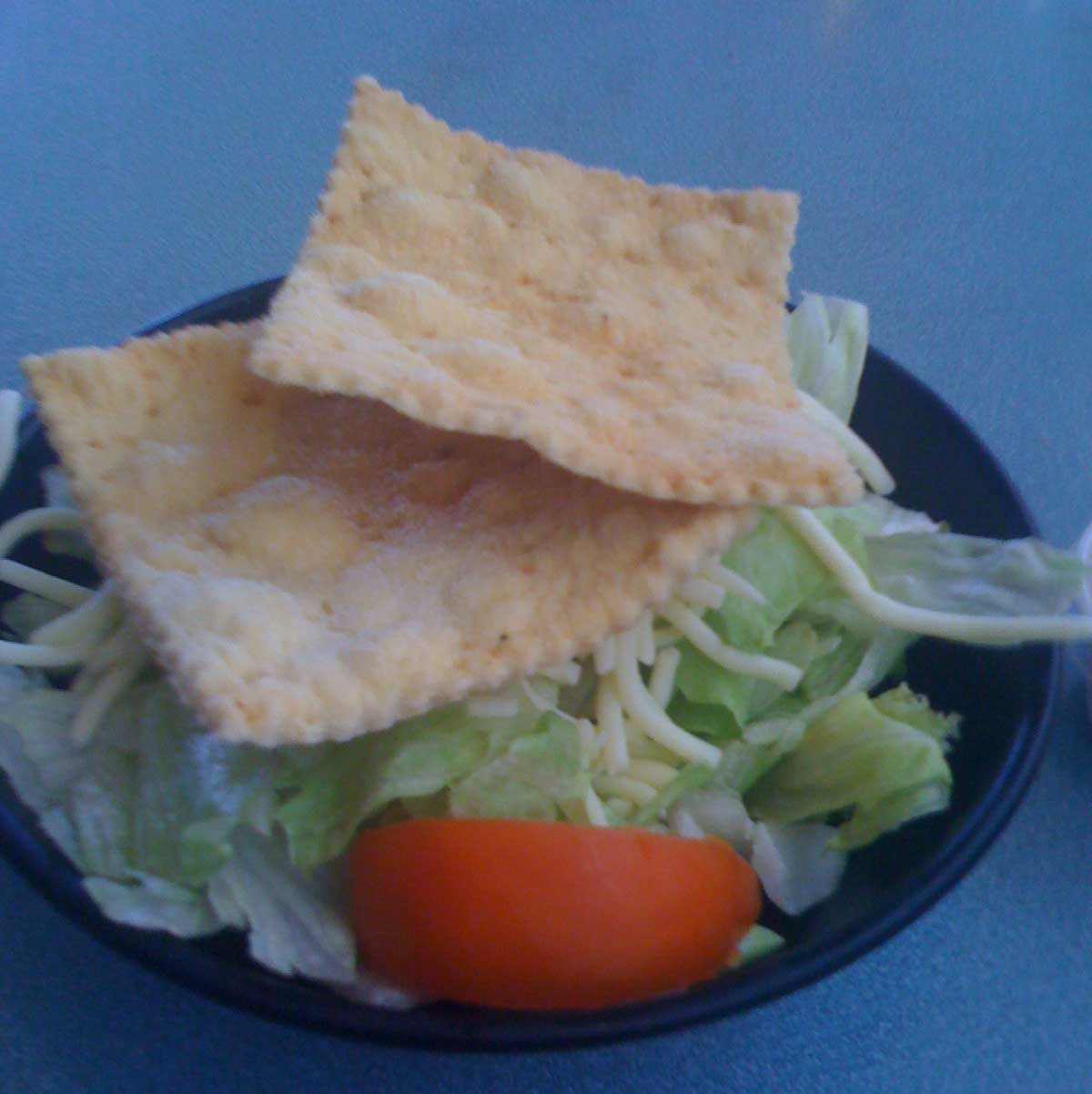 Service at both George's and Johnny C's was excellent. At both places you order from the counter and wait for your food at a table. Value is likewise very good: you can't beat a $5 lunch special which is what you get at Johnny C's but George's gives you more food for the money since there is a whole little pie. The ambiance at both places is pretty unique and cool, far exceeding that of chain pizza restaurants around the metro.
In general I preferred the pizza at Johnny C's, mostly because of the crust which tasted more substantial and homemade than George's. Both had excellent Italian sausage. I think both places warrant repeat visits, but I probably won't get the full-on St. Louis pizza experience next time. Indeed Johnny C's advertised an Italian beef lunch special that I'm eager to try. You all know how much I love Italian beef.
I probably should have done more research on the St. Louis pizza phenomenon but it was hard to muster the motivation. I just don't like it that much. I'd love to hear from you all about your opinion of St. Louis style pizza and your favorite places to get it.
UPDATE: I located the George's pizza photo. Here is is.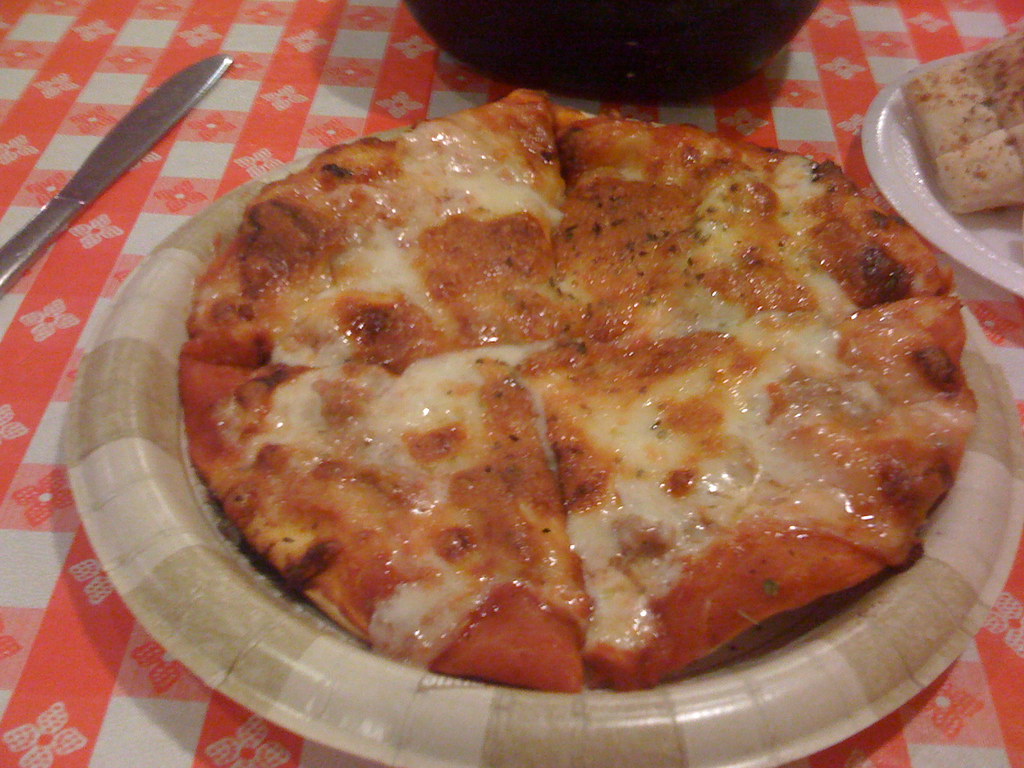 [google-map-v3 width="350″ height="350″ zoom="12″ maptype="roadmap" mapalign="center" directionhint="false" language="default" poweredby="false" maptypecontrol="true" pancontrol="true" zoomcontrol="true" scalecontrol="true" streetviewcontrol="true" scrollwheelcontrol="false" draggable="true" tiltfourtyfive="false" addmarkermashupbubble="false" addmarkermashupbubble="false" addmarkerlist="Johnny Cs Pizza & Family Restaurant, 11200 West 75th Street, Shawnee, KS{}restaurant.png|8435 West 95th Street, Overland Park, KS{}restaurant.png{}Georges Pizza" bubbleautopan="true" showbike="false" showtraffic="false" showpanoramio="false"]