This building has housed more decent Mexican restaurants in the last five years than I can count. Actually, wait, I can count them. Tarahumara started there and later moved to 87th and Farley before closing a year or two ago. Later Coyoacan/Tamales to Go moved into 5816 Merriam Drive, giving way to Pollo Loco, then La Cabana del Pollo, and now, Carmen's Cocina. I have been a somewhat muted fan of all of these establishments over the years, but I think Carmen's may actually survive longer than a year because it demonstrates a little bit of business savvy and some very good, if slightly adulterated Mexican fare.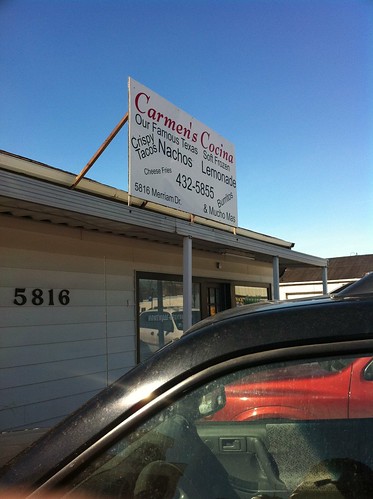 First of all, this place is cheap. I went there last week and got three soft tacos, a Mexican Coke and a basket of chips and salsa for $5.95. The menu is significantly scaled back from previous incarnations: tacos, gorditas, enchiladas, burritos, and cheese fries, wait–cheese fries? Yes, this is an extremely curious addition to an otherwise authentic Mexican palette but don't let it bother you, just ignore it.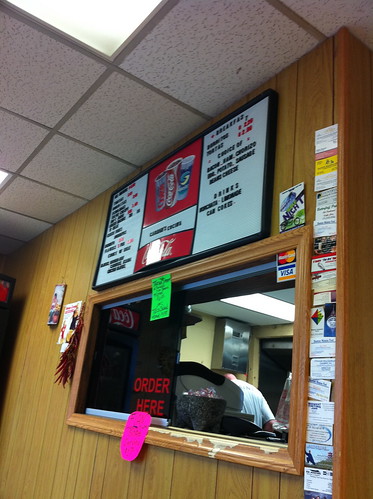 Unlike other restaurants in this space, Carmen's asks diners to order and pay at the counter. Table service never worked really well in this joint since the dining area is out of view of the kitchen. After you order, one of the nice folks will bring a basket of freshly fried corn tortilla chips and a generous bowl of salsa to the table. These are among the best chips and salsa you will experience in Kansas City. The chips, as I mentioned, are fried to order or shortly before, and are thicker and more lightly salted than those from a bag. The salsa is a thinner variety with good heat and a nice tomato and chile flavor. Truly excellent and free.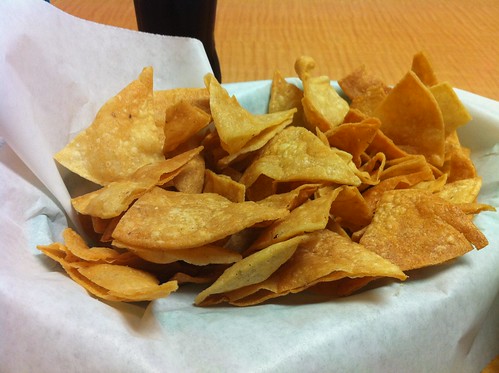 Carmen's typically offers a special (of which the aforementioned 3 taco deal was one) and they are sometimes quite enticing. For instance while tamales are not typically on the menu, they do offer them periodically as specials. I'm kicking myself for not trying them when they were offered on a visit a couple months ago.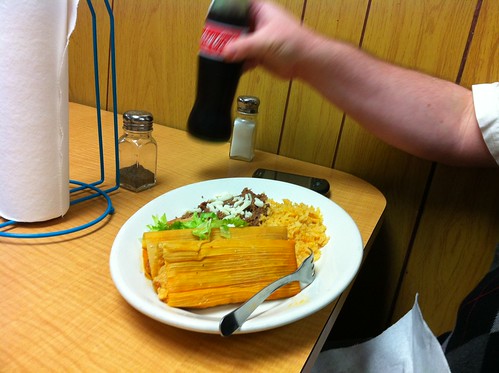 Nontheless, the meats are very good. My only complaint is that they are sometimes a little dry as the carnitas were on my last visit. The offer a very tasty shredded beef–known as desebrada at other Mexican restaurants-which could use a little moisture but is very well flavored. The chicken "fajita" meat is absolutely delicious though somewhat unusual for tacos. It consists of white meat, marinated in lime, chiles and spices, grilled to juicy perfection. I usually prefer a more homestyle shredded or picked chicken but I can't argue with the taste of Carmen's pollo. This place is somewhat geared toward the American taste profile so you'll find no lengua, cabeza or tripe on the menu. These tacos come with a layer of melted cheese on the bottom of the tortilla which is wholly unnecessary tastewise, but serves to keep the moisture from eating through the bottom of the taco. They also come with a little  tomato and sometimes lettuce in addition to onions and cilantro which is somewhat unusual.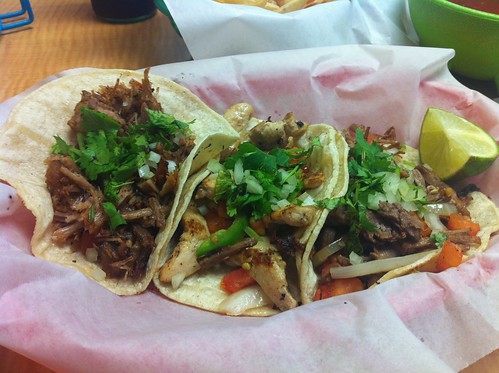 Don't miss the gorditas. For a little more than the price of a tacos, you can get a lovely little meat pocket which makes for a nice accompaniment to a taco or two on days when you are a little more hungry.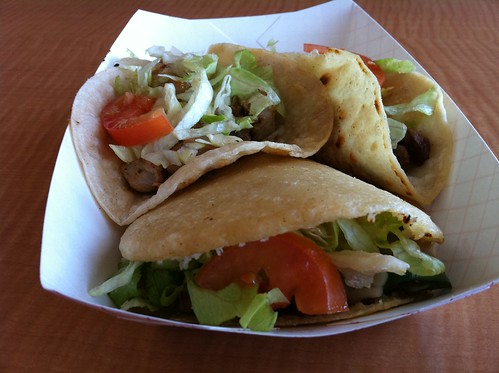 As previous tenants have been, this place appears to be a family-operated business. A white guy typically takes orders and works the register. A couple of Latina women and a teenage girl work the back of the house, while a really young kid wanders around and occasionally helps out by delivering baskets of chips to tables. These folks are very friendly and I assume that they are related to one another in some fashion or another. Having a meal at Carmen's will make you happy that you are supporting these folks.
[google-map-v3 width="350″ height="350″ zoom="12″ maptype="roadmap" mapalign="center" directionhint="false" language="default" poweredby="false" maptypecontrol="true" pancontrol="true" zoomcontrol="true" scalecontrol="true" streetviewcontrol="true" scrollwheelcontrol="false" draggable="true" tiltfourtyfive="false" addmarkermashupbubble="false" addmarkermashupbubble="false" addmarkerlist="Carmens Cocina, 5816 Merriam Drive, Shawnee, Kan{}restaurant.png" bubbleautopan="true" showbike="false" showtraffic="false" showpanoramio="false"]