UPDATE: Pollo Loco has closed and reopened as La Cabana Del Pollo.
Once again, thanks to Faith for keeping me honest (or at least marginally competent) about the difference between a sketchy local Mexican joint and a national restaurant chain.
Pollo Loco has been open less than two weeks. I drove by on Monday and noticed that there were a couple cars in the lot so I figured what the hell. I walked into the dining room to find a clean but completely undecorated space. Essentially the room held four formica booths, two of which were occupied by Latino gentlemen who, judging from their clothing were definitely in the painting business.
Though this was obviously a Mexican establishment, the smell of the place was unmistakably that of BBQ. They were obviously using a healthy dose of smoke in their cooking. I'd wager hickory if my taste buds are to be trusted (they're not). Before I sat down, a woman noticed my entrance and somewhat apologetically indicated that they were operating with a very limited menu. While I stood there she explained the primary offering: a half a smoked chicken with tortillas, salsa, rice and other stuff. That sounded damn good to me, having read Meesha's post about Super Pollo on Independence Ave a couple weeks ago. It sounded similar and in the end, it was.
She delivered a can of coke from a cooler full of Jarritos fruit sodas and cans of domestic pop. My food arrived before I could even get out my phone to check twitter. Seriously, like 1 minute. Crazy Fast chicken is right people!
The chicken arrived on a styrofoam plate and looked like a right mess.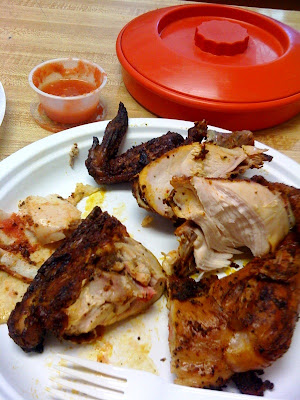 But damn it tasted good. Yep this is simply half a chicken cooked on a smoky grill, roughly hacked into pieces and thrown on a disposable plate with no garnish.
So what.
Grilled chicken is no great mystery, but it's definitely one of the most satisfying meals of all time. They managed to smoke it without giving the skin that rubbery texture of the "low & slow" method. So I'm guessing that they smoke it at a high temperature. It was juicy, flavorful, not overly smoky, had crunchy skin and was cooked well.
The rice was very typical of Mexican restaurants: small exploded grains with a mild stock-ish flavor and pale red hue. The corn tortillas were not homemade but tasted fresh and good enough. And holy cow, marinated red onions, just like Meesha had at Super Pollo. Those things are perfect accompaniment to the chicken.
So obviously this is a distinctive variety of Mexican or Mexican American cuisine. Grill-smoked chicken on a tortilla with salsa and pickled onions. I don't think I've ever noticed this trend before.
But I got something else with my meal: macaroni salad! WTF? Seriously the plate came with a mayonnaise-dressed macaroni salad with chucks of ham in it. I'm sorry, did my aunt Rita sneak in the Pollo Loco kitchen when I wasn't looking?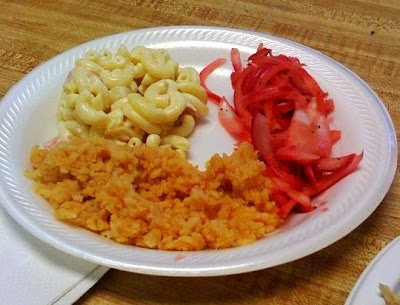 Okay, so the pasta salad was not the best thing ever, but it wasn't horribly executed and overall the meal was very good. Did I mention that this was a shit-ton of food? Easily enough for two people. And it cost me six bucks.
However the best part was the service. The waitress only had a few tables to deal with, and the place is new so she was overly attentive if anything. But it was cool and I did ask her a few questions about the place; she was very accommodating and friendly. She said that last week was kind of a soft launch but they had no register and no change which was kind of a mess. Most of the customers were friends and family so it turned out alright. They will add things to the menu–but not too much, she said, because they want to keep it simple. I was very heartened to hear that. These days they have a cash register but no credit card machine yet (it's coming). You know what that means? Tax included baby!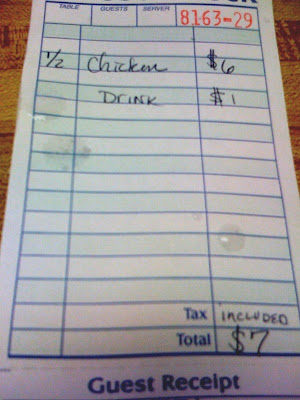 She also said Monday was their first day selling tamales. Excellent! The previous business in this location specialized in those little masa nuggets of heaven, and made pretty good ones to boot. I'll have to try Pollo Loco's version.
So this place is still ironing out their menu, their workflow and their infrastructure. Judging from what I saw the other day, they have a bright future ahead. If I managed to have a good meal during their first real week of business,I can only imagine that things will get better. And seriously, just being able to chat with the waitress and thank the cook made all the difference. This is so obviously a labor of love for the owners, and honestly one that may not work out. But hopefully if they keep it simple, stay friendly, and maintain the good quality and value they will get along just fine.
[google-map-v3 width="350″ height="350″ zoom="12″ maptype="roadmap" mapalign="center" directionhint="false" language="default" poweredby="false" maptypecontrol="true" pancontrol="true" zoomcontrol="true" scalecontrol="true" streetviewcontrol="true" scrollwheelcontrol="false" draggable="true" tiltfourtyfive="false" addmarkermashupbubble="false" addmarkermashupbubble="false" addmarkerlist="5816 Merriam Lane, Merriam, KS{}restaurant.png{}Pollo Loco" bubbleautopan="true" showbike="false" showtraffic="false" showpanoramio="false"]