Way back in February, a reader named Candace emailed me about a "little hole-in-the-wall on 24 highway" with incredible tacos. Here we are ten months later and I find myself hurtling toward Independence on an unrelated weekend errand. Since I am virtually never in Independence I felt obligated to try one of the joints listed on my spreadsheet of restaurants to try. Do you have a suggestion? Submit it using this form; I may get around to it in the very distant future.
Anyhow, my visit to Lucia's is proof that I do keep track of these suggested restaurants, and I will eventually get around to trying most of them.
Candace was right, Lucia's is a hole in the wall, with an outward appearance reminiscent of a Bait & Tackle shop or a rough and tumble roadside tavern.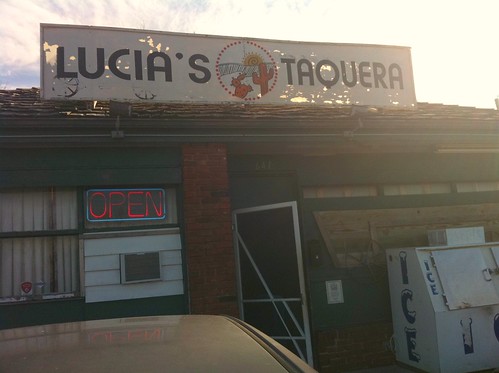 Since half the square footage is taken up by kitchen and storage, the dining room is really very small. It is so small that I wouldn't count on being able to get a table without waiting during peak hours. I popped in last week at about 1:30 on a Saturday and there was only one table available. The tables are situated fairly close to one another and most of them accommodate either two or four diners. I wouldn't pop in to Lucia's with your party of eight expecting royal treatment.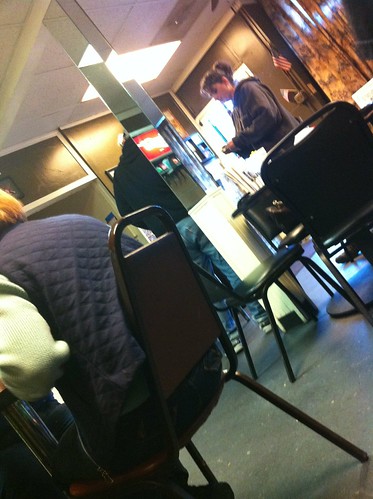 The tremendous display of photographic expertise above is about the only kind of dining room photo you can get at Lucia's without being an asshole. There is no way to hide what you are eating, doing or talking about. So, to sum up, Lucia's is small, get it?
Want to see the menu?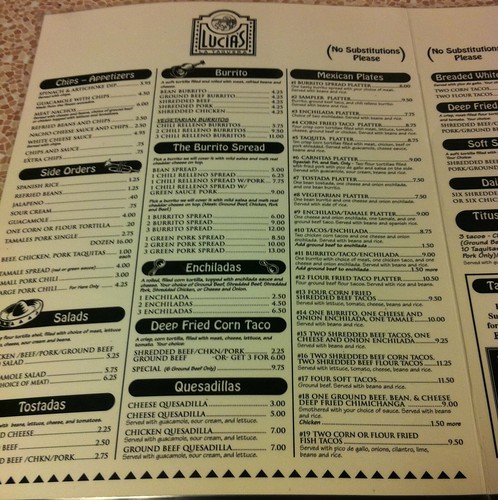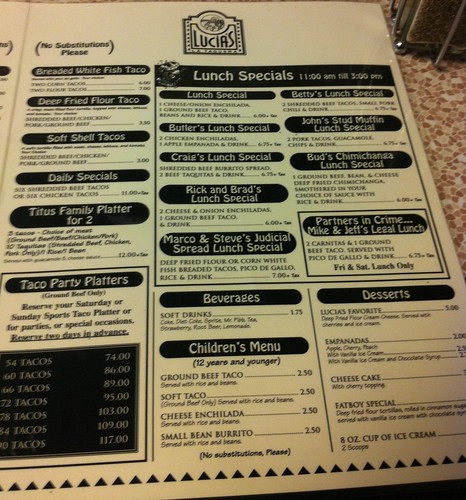 Here we have the usual dizzying assortment of hard shell tacos, sauced burritos and deep fried delicacies that are so prevalent in Kansas City. But the twist is that Lucia's has a much more homestyle preparation. This makes for dishes that are a little more satisfying than Jose Peppers, Jalepenos and the like but not quite authentically sublime like El Camino Real for instance.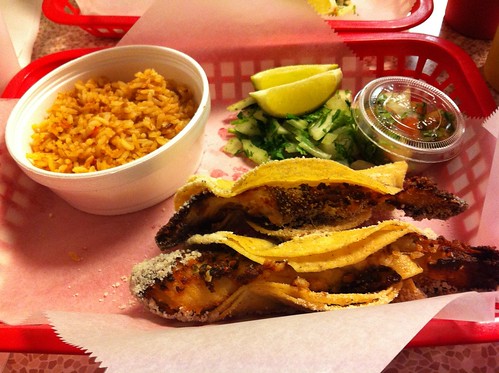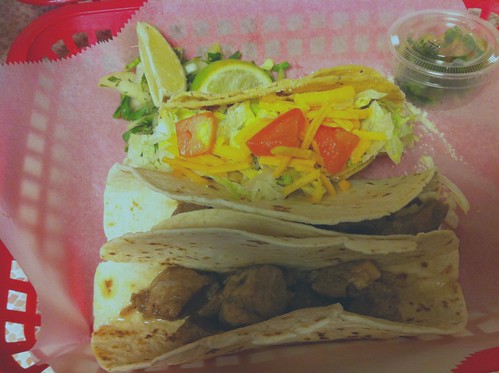 Lucia's has the curious habit of putting a grated, dry cheese–parmesan perhaps–on their tacos. I've seen this at other Tex-Mex spots and I'm really not a fan of the practice. It made an otherwise delightful fish taco a little too salty and pretty much trashed the mouthfeel.
The carnitas, only available on weekends, was nothing special. While tender and easy to chew, it lacked the crunchy exterior that is characteristic of the best carnitas. It appeared to have been braised or stewed without ever having been crisped in the oven.
The ground beef taco was…well, a good ground beef, hard shell taco. Even Don Chilitos can do these well so I don't consider it much of an accomplishment. But I ate it and enjoyed it at Lucia's.
Overall I think Lucia's is a cool joint: family owned and operated, popular with locals, affordable and friendly. I have only been once, and I might go back to sample the menu more widely. Good Mexican food is so readily available in this town however, that it's hard to justify returning when there are so many other deserving Independence spots to try.


[google-map-v3 width="350″ height="350″ zoom="12″ maptype="roadmap" mapalign="center" directionhint="false" language="default" poweredby="false" maptypecontrol="true" pancontrol="true" zoomcontrol="true" scalecontrol="true" streetviewcontrol="true" scrollwheelcontrol="false" draggable="true" tiltfourtyfive="false" addmarkermashupbubble="false" addmarkermashupbubble="false" addmarkerlist="641 U.S. 24, Independence, MO{}restaurant.png" bubbleautopan="true" showbike="false" showtraffic="false" showpanoramio="false"]