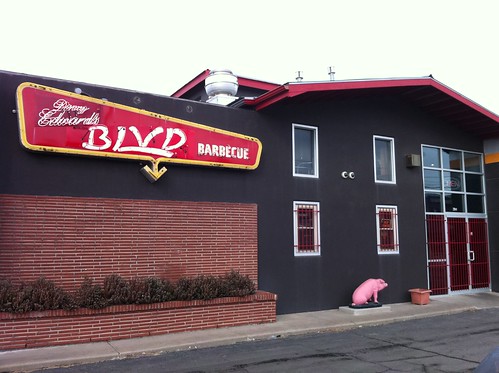 Danny Edward's BBQ began life as a little shack in heart of downtown Kansas City, known for cranking out delicious barbecue to lunch breakers, mostly on a "to-go" basis due to its small capacity. It was also known as "Lil Jake's Eat it an' Beat it," a reference to Danny's nickname as a kid. Danny's father, Jake, was a well-regarded local purveyor of smoked meats in his own right for more than 40 years.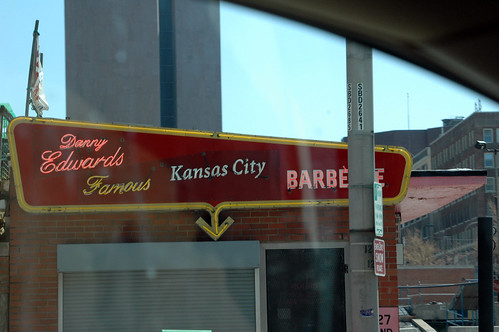 I moved here in 2006 when Lil Jake's/Danny Edward's was still very much alive downtown but increasingly dwarfed by the scope of construction at the new Power & Light District which, if you recall, made that part of downtown virtually un-navigable. Apparently, the area didn't have much to recommend it before the arrival of P&L, but by all accounts Lil Jake's was not part of the problem. Nonetheless it was inevitably forced to yield under the duress of eminent domain, for the "public good" of a tax-subsidized entertainment district. In with Famous Dave's, out with Danny Edward's, a tenant of more than a quarter century.
It is the greatest regret of my culinary life not to have eaten at Danny Edward's downtown location before it closed and moved to Southwest Boulevard. When I started this blog on January 1, 2007 I worked at the downtown library, a 10-minute walk from the little BBQ shack, but somehow I let the construction and the potential annoyance of a small, busy restaurant keep me away. Within a year it was gone, only later to reappear on the city's west side.
To their great credit, Kansas City barbecue enthusiasts proved more than willing to make the short car-ride out to the Boulevard and the new Danny Edwards has succeeded mightily in newer, larger, more modern digs. While the whole relocation story makes me a little sad, I'm nonetheless thrilled that this place not only does brisk business, but serves great barbecue on top of it.
Indeed the food at Danny Edwards is practically as good as the esteemed Oklahoma Joe's, without the attendant enthusiasm of people who deluge Twitter and Facebook with uninformed assertions about BBQ sandwiches with cheese on them (click at your own risk). And while I am not immune to the appeal of Joe's excellent barbecue, I can't recommend it in my capacity as a lunch blogger because the wait is simply too long during the noon hour.
I'm also much more excited about eating at a place with the Edwards pedigree. Danny's father was slinging 'cue on the right side of the state line five decades before Joe's set up shop in a KCK gas station.
The hand-cut fries at Edwards are similar to those at Joe's, right down to the salty and unnecessary seasoning powder applied at the end. You can request them without seasoning and I recommend doing just that. Better yet, forego the fries entirely in favor of some of the best onion rings in town.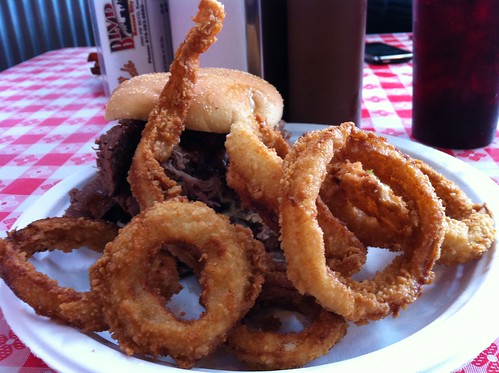 The brisket is hard to ignore. Once you enjoy the thick-cut, tender chucks of smoky beef, you'll be hard-pressed to order anything else. Sure, I prefer a thinner slice such as that at Gates or LC's and the Edwards' brisket has all the marks of having been steamed in foil to achieve extra softness. But any complaints I have are purely related to personal preference rather than any failing on the restaurant's part. The flavor and texture are truly sublime.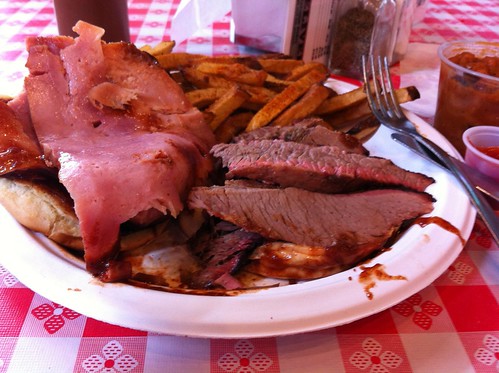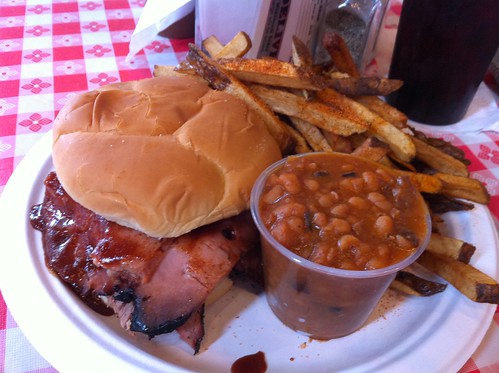 Edwards does a nice job with their burnt ends too. Their predilection for buttery, grilled kaiser buns adds an element of decadent richness, but certainly doesn't hurt anything. Edwards has excellent baked beans with understated sweetness and good bean flavor accentuated by many tender chunks of pork. Their sweet potato fries aren't bad either.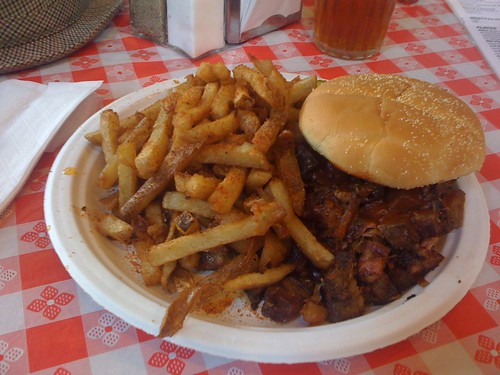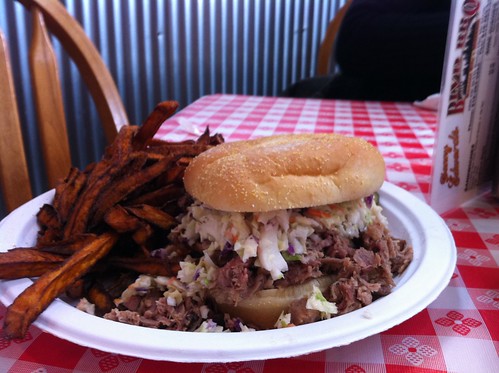 I've eaten here a number of times but have yet to try the ribs, which look excellent. But I can vouch for the beef, pulled pork and ham. What I can say is that Danny Edwards has the best, friendliest service of any BBQ joint in town. This is a table service place and you will never want for a a refill, to-go box or check when you need it. These people are pros and they will get you out in a hurry if that's what you want. While places like Gates pay lip service to friendliness with their calculated "How may I help you" training regimen, Danny Edwards is service in action. Pay a visit and see if you don't agree.
Danny Edwards is used to regulars and it is possible to order before your seat is warm. Get your check at the table and pay at the counter, where, more often than not, the restaurant's namesake and his wife are running the show. Don't let the modern building fool you, this is old school Kansas City barbecue at its best.
Danny Edwards Boulevard BBQ
2900 Southwest Blvd
Mon-Sat 11 a.m. – 3 p.m.

[google-map-v3 width="350″ height="350″ zoom="12″ maptype="roadmap" mapalign="center" directionhint="false" language="default" poweredby="false" maptypecontrol="true" pancontrol="true" zoomcontrol="true" scalecontrol="true" streetviewcontrol="true" scrollwheelcontrol="false" draggable="true" tiltfourtyfive="false" addmarkermashupbubble="false" addmarkermashupbubble="false" addmarkerlist="Danny Edwards BBQ, 2900 Southwest Boulevard, Kansas City, MO{}restaurant.png" bubbleautopan="true" showbike="false" showtraffic="false" showpanoramio="false"]