Everyone who likes to talk about local food and restaurant stuff should be reading and participating in the LTH Forum. A number of funny, articulate and knowledgeable folks are writing about KC restaurants of all kinds. I have heard about a few places for the first time there, and next to twitter it's the best place to get up to the minute news about the local restaurant scene. A recent BBQ excursion arranged by the site's founder Aaron Deacon took a large group of out-of-towners around to Arthur Bryant's, Oklahoma Joe's, Woodyard and LC's Bar-B-Q. This got me thinking about paying another long overdue visit to LC's.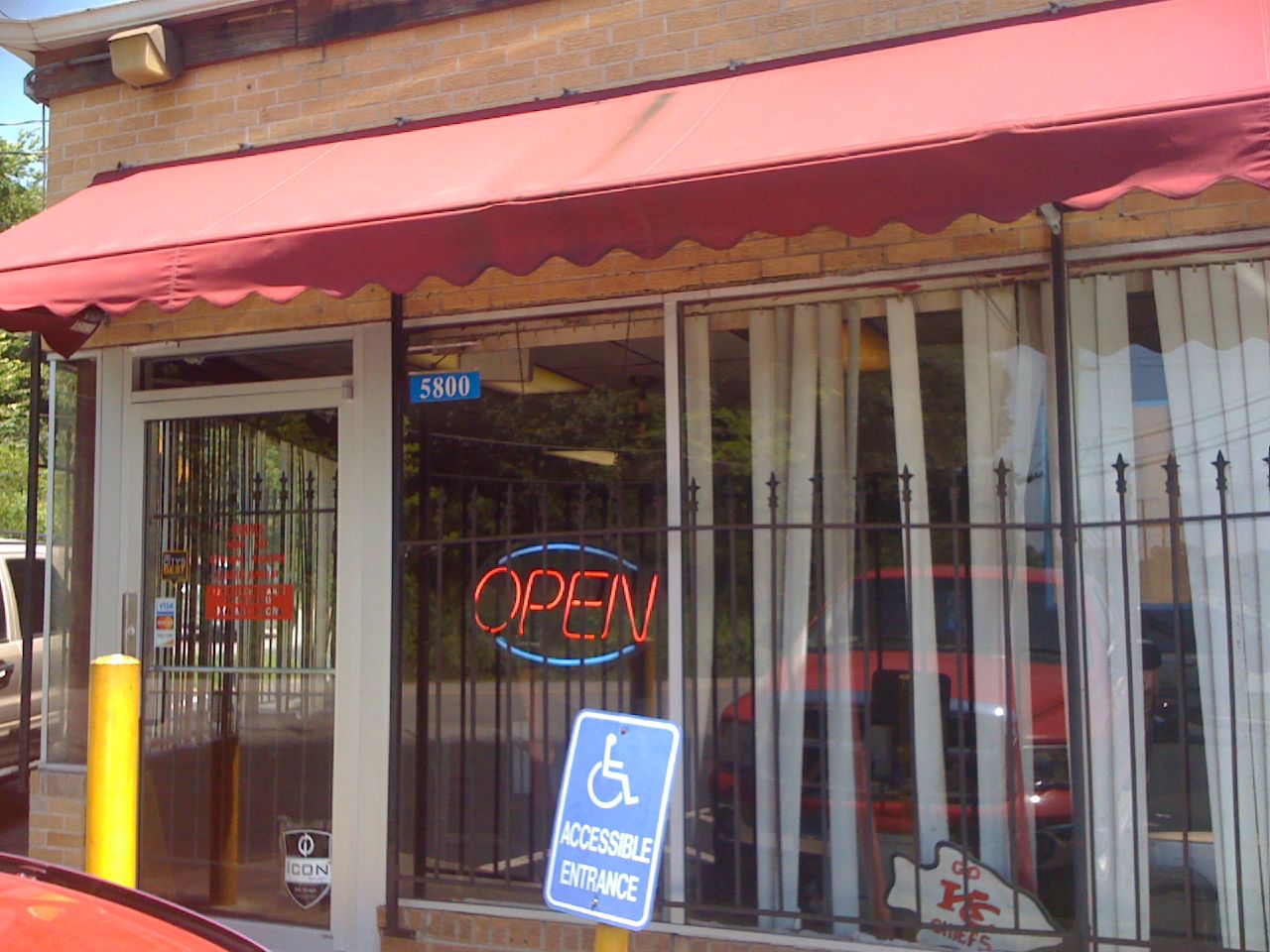 LC's consistently appears on those ubiquitous and subjective lists of Kansas City's best barbecue joints. For reasons unbeknown to me I haven't been out to LC's in ages which, for a food lover like me is just about inexcusable. Good, popular barbecue is not something I can eat every day but I make it a point to get to Bryant's, Gates, Oklahoma Joe's and innumerable inferior places a couple times a year. Why not LC's?
Part of the reason for my oversight is the physical and psychological location of the restaurant. Situated out on Blue Parkway, LC's does not sit on prime real estate. The drive from KC central takes one through a strange part of the east side that seems semi-rural and partially abandoned, leading to a sense that it is very far away. But it's really not. From the Plaza it will take you ten minutes. Seriously, for less time than the length of an average Yes song you can take yourself out for some of the best barbecue in the area.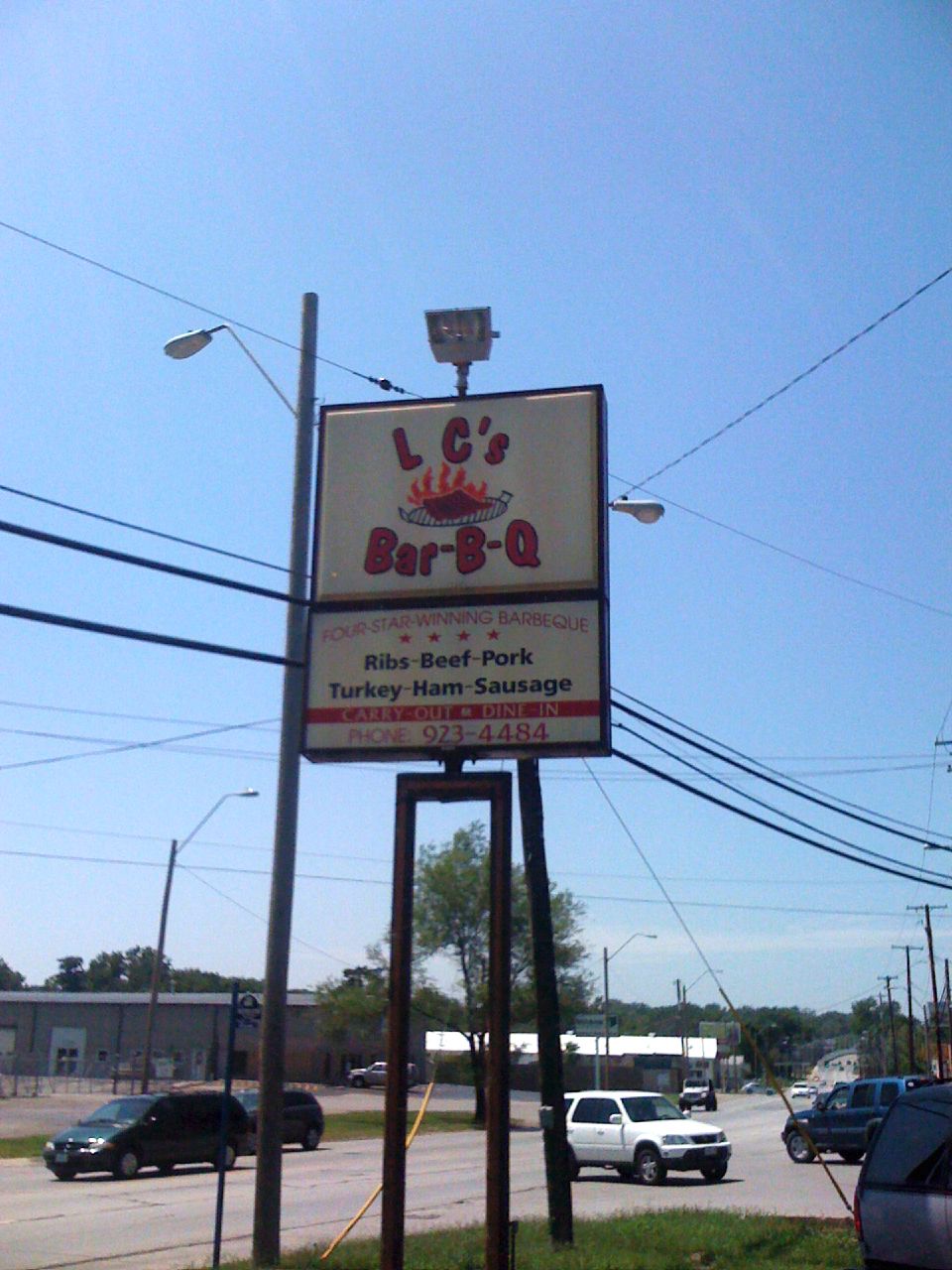 Yes, some of the best in the area. I think it's that good even though I haven't eaten there as many times as your average barbecue enthusiast.
This last visit was all about the burnt ends, people. While many menu items are very good, this is what most folks mention when talking about LC's. The first time you try the burnt ends you will get that slack-jawed, eyes-closed expression normally associated with the best kinds of sexual gratification. I don't think I ever truly understood burnt ends until I had these.
A modest fee of $8.95 will get you a huge portion of these tender beef nuggets that explode with delicious flavors of smoke, spices and rendered fat. Arriving doused liberally with LC's very good tangy sauce, the beef has a highly complex texture. It melts in your mouth like pot roast but isn't stringy. Chewy pieces of bark punctuate each piece. There is a fair amount of fat but it doesn't overwhelm and doesn't need to be picked out.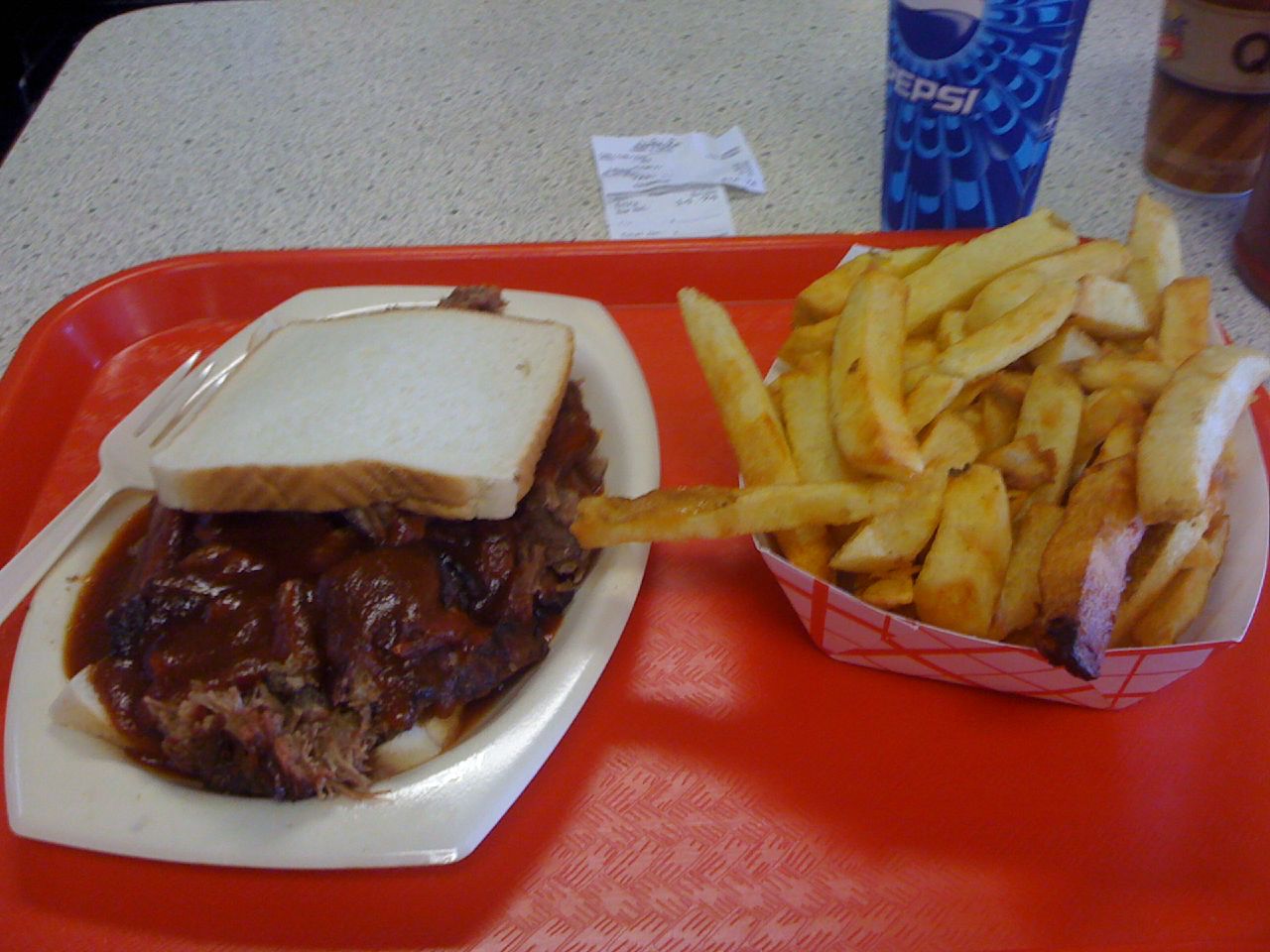 The burnt ends at LC's are truly a revelation. But let me caution that they are extremely rich and flavorful. I think only a crazy person could stomach an entire portion, though I'm sure it's been done. If you want to be productive later in the day, you might want to opt for the half smoked chicken or a ham sandwich.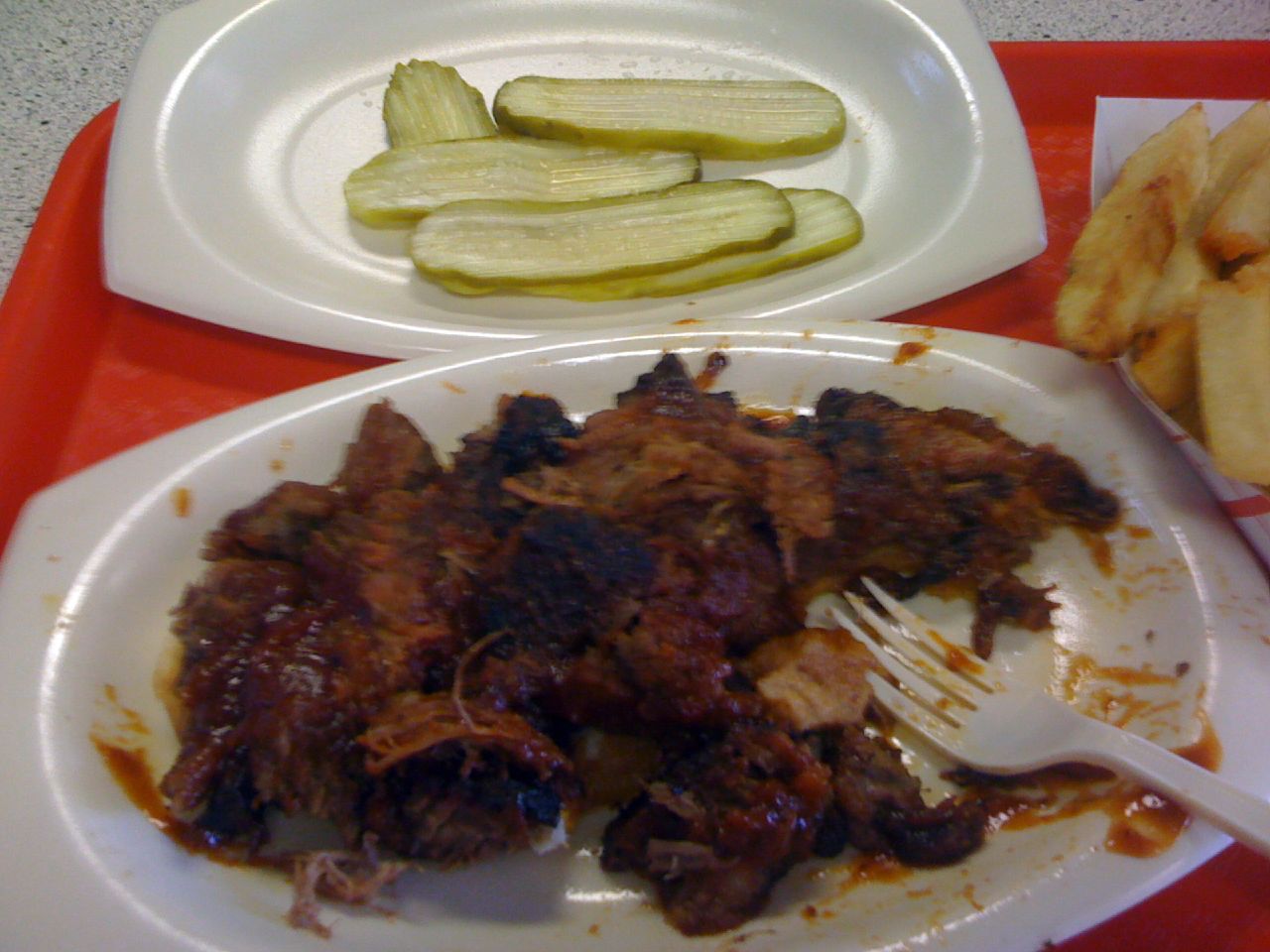 I ate probably less than half of my burnt ends and probably would have felt sick having much more. It didn't help that I had a giant basket of french fries to deal with also.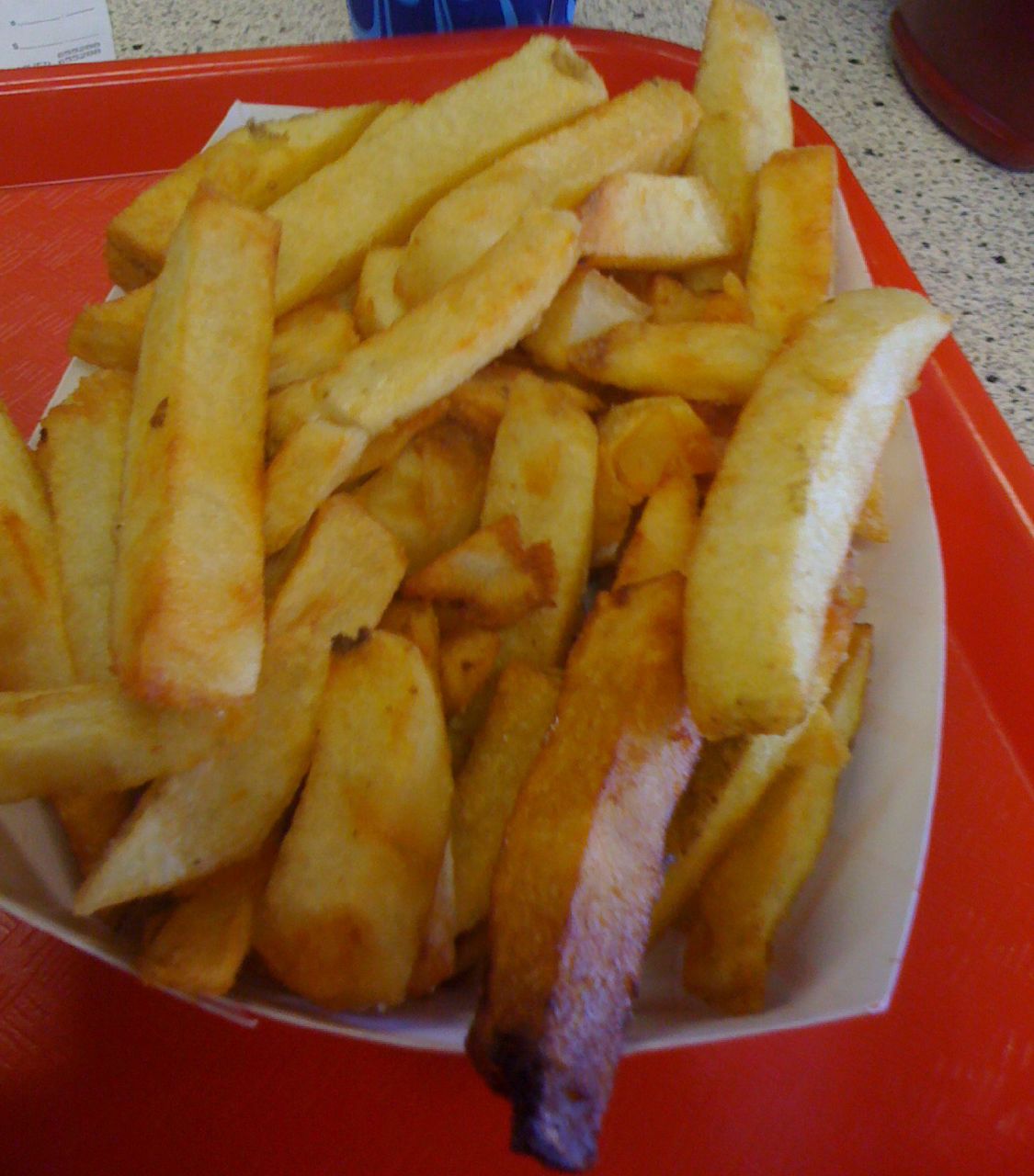 The fries will set you back a very steep $3.45 but can easily be shared among a table of folks. As you can see, these are thick cut taters, almost like steak fries. I don't normally care for fries of this size and these were no exception. I found about half the order to be slightly undercooked, giving a few of them that heavy, boiled potato-like consistency inside. They were nonetheless a nice starchy accompaniment to the meat, especially since the white bread quickly turned to mush.
I definitely want to give a shout-out to the beef sandwich here as well since it is my favorite brisket in the city. As always you get a huge portion in a white bread sandwich cut into delectable towering meat triangles. The beef is the best combination of tenderness and flavor that I've found. I had the ribs on one of my previous visits and found them a little overcooked and still too fatty, but this was probably three years ago. I certainly would not hesitate to try them again.
Every review of LC's you read will talk about what a dive it is, but it's actually a little cozier than I remember. I eat in sketchier places every week. There is a little ice cream freezer as you walk in, a couple lighted menu boards and a lot of taxidermied birds and fish. I don't think the appearance of the space should even be an issue. In fact, I think Arthur Bryant's is more of a dump and most Gates locations just look like Wendy's with a weird design aesthetic. Really the most annoying thing about LC's is the loud TV that always seems to be blaring some preposterous daytime program, like that game show with Howie Mandel.
Out of curiosity I searched for the health department inspection results on LC's to see if the "dive-ish" qualities affected food safety. Interestingly I could not locate anything on the City of KCMO Health Department site. So an opportunity to be a smart-ass was lost. Alas.
The service is pretty good. The folks behind the counter certainly lack the attitude of Bryant's employees and the hangdog incompetence of Gates workers. It is, however a much smaller operation that either of those two places. The only glitch during my last visit was the absence of pickles on my tray which I had asked for. No big thing, the cashier just gave the cook a dirty look and brought them out to me. (Yes, you have to ask for pickles here.)
I'd like to encourage everyone who loves barbecue to make a trip out to LC's sometime soon. It's right on the way to Kauffman Stadium if you take the back way. What could be better before (or after) a ballgame? Sure, it's location is a tad odd, and maybe the neighborhood ain't much but I think LC's is on the Kansas City Must-Go list.
Read More:
[google-map-v3 width="350″ height="350″ zoom="12″ maptype="roadmap" mapalign="center" directionhint="false" language="default" poweredby="false" maptypecontrol="true" pancontrol="true" zoomcontrol="true" scalecontrol="true" streetviewcontrol="true" scrollwheelcontrol="false" draggable="true" tiltfourtyfive="false" addmarkermashupbubble="false" addmarkermashupbubble="false" addmarkerlist="L Cs Bar-B-Q, 5800 Blue Parkway, Kansas City, MO{}restaurant.png" bubbleautopan="true" showbike="false" showtraffic="false" showpanoramio="false"]