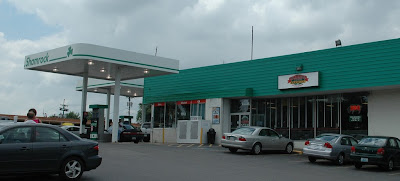 It is incredibly annoying how much people like this place. Yelp and other sites abound with people proclaiming this the best BBQ in Kansas City and often the best BBQ in the world. I don't have a lot of use for those kinds of assertions unless they come from people I know personally and trust. Nonetheless, Oklahoma Joe's stellar reputation is pretty much well-deserved. They make all the BBQ standards really well (at least all that I've had), and I haven't encountered the shortcomings or weaknesses that you see at other establishments around the metro.
Pulled pork? Excellent. Ribs? Excellent. Chicken? Excellent. Brisket? Very good. Sausage? Meh.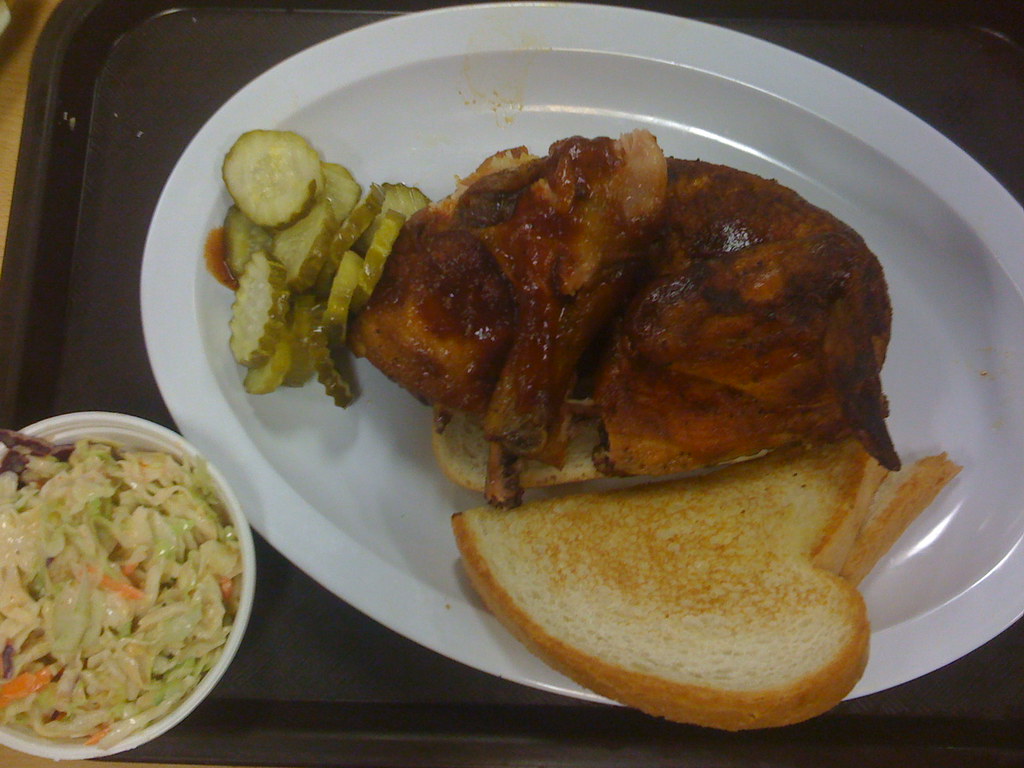 Where I will differ with the vast majority of folks in Kansas City is in my assessment of the french fries. While well cooked and pleasingly crunchy in texture, they are vastly over seasoned. They are so salty that I rarely come close to finishing them.
The baked beans on the other hand, pretty much rule. Cole slaw is solid but typical.
This is a quintessential lunch spot in a lot of ways, particularly because I think the midday meal is their bread and butter. Anyone who has been around town for any length of time knows that there is a line out the door by 11:30 when doors open. The wait during lunch rush can approach 45 minutes. This is good food, but I can't see waiting that long for it, especially if I have somewhere to be (like, oh I don't know, WORK?). So this is a special occasion lunch place and also a perfectly good joint for dinner and odd hour meals.
And yeah, there is the gas station thing. Oklahoma Joe's, for those who don't know, is located in the back of a gas station convenience store at the corner of 47th and Mission Road. I won't go into the history of this odd placement but at the very least it is amusing and makes for a great story when introducing out of towners to KC barbecue. Despite the humble surroundings, Oklahoma Joe's has a comforting menu which is larger than many and designed to appeal to mass palates.
The line goes from right to left, which seems backwards but probably creates extra space when it gets too long. It gets a little annoying to squeeze between all the folks in line after paying with your tray full of hot meat, a wobbly plastic cup of beer and a bag of fries. Then you get your drink and have to navigate around the line again to get to your table. But folks are accommodating and friendly so it's not a huge ordeal. I just know that someday I'm gonna drop my pale ale in someone's purse.
A lot of people swear by their fabled Z-man sandwich, basically a bun piled with smoked brisket, cheese and a couple of onion rings. The carolina sandwiches are also popular and include your choice of meat, topped with cole slaw on a bun. Frankly I'm not a big fan of these kinds of "specialty sandwiches." All I require is white bread and meat a la Arthur Bryant's but those at OK Joe's have an undeniable appeal. And if you want meat on bread at Joe's you can get that.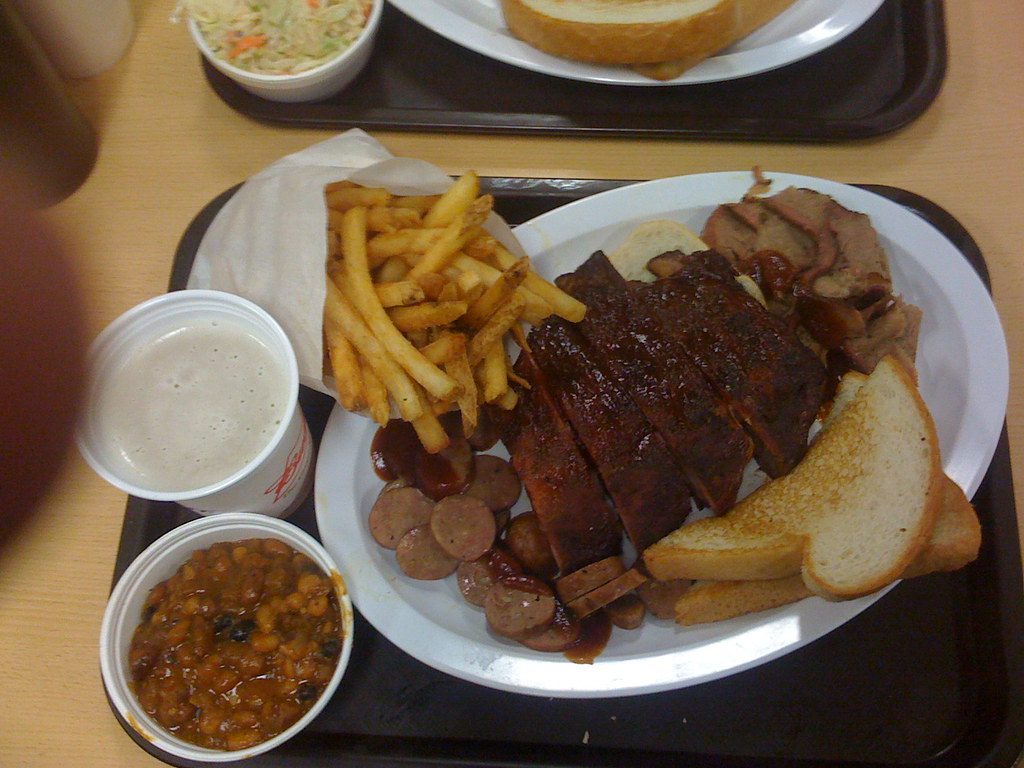 I'm not going to debate what is or isn't the best barbecue in Kansas City. For my money it is and always will be Bryant's, but I can respect those who prefer Joe's, Danny Edwards or even Jack Stack. Joe's began as a competition barbecue team, tearing up the regional circuit in the 1990's and early 2000's. The restaurant has been going strong for about a dozen years, and in that relatively short time, Oklahoma Joe's has inserted itself firmly into the pantheon of fabulous, local barbecue establishments.
Part of that is certainly its Kansas locale. Their clientele leans toward white and middle class and some of them undoubtedly like to think of themselves as slumming because they are eating in a gas station. All I can say is that the first time I went to LC's, there were a couple guys being arrested up against cop cars in the parking lot. THAT is slumming it people. OK Joe's is not so much a neighborhood joint as a destination spot anyway whereas Bryant's still is a neighborhood place in a lot of ways. And the gas station isn't remotely dingy or intimidating. It might as well be a Wendy's with a line.
It is hard to get out of here for less than 10 bucks and a meal here often runs you much more because you want to try multiple items. That's ok though, it is a destination meal and you should splurge a little. Get a beer and an unneeded side of beans; it won't kill you.
I'd be a fool not to recommend Oklahoma Joe's to anyone, just keep in mind that the line is long at the lunch hour. That means no whining. The wait is generally worth it if you have the time to spare. Service is very fast and despite how crowded it can be, I've never had a hard time finding a place to sit. So don't try to save a table while your friend is ordering, because that's just bad form.
[google-map-v3 width="350″ height="350″ zoom="12″ maptype="roadmap" mapalign="center" directionhint="false" language="default" poweredby="false" maptypecontrol="true" pancontrol="true" zoomcontrol="true" scalecontrol="true" streetviewcontrol="true" scrollwheelcontrol="false" draggable="true" tiltfourtyfive="false" addmarkermashupbubble="false" addmarkermashupbubble="false" addmarkerlist="Oklahoma Joes Barbecue, 3002 West 47th Avenue, Kansas City, KS{}restaurant.png" bubbleautopan="true" showbike="false" showtraffic="false" showpanoramio="false"]