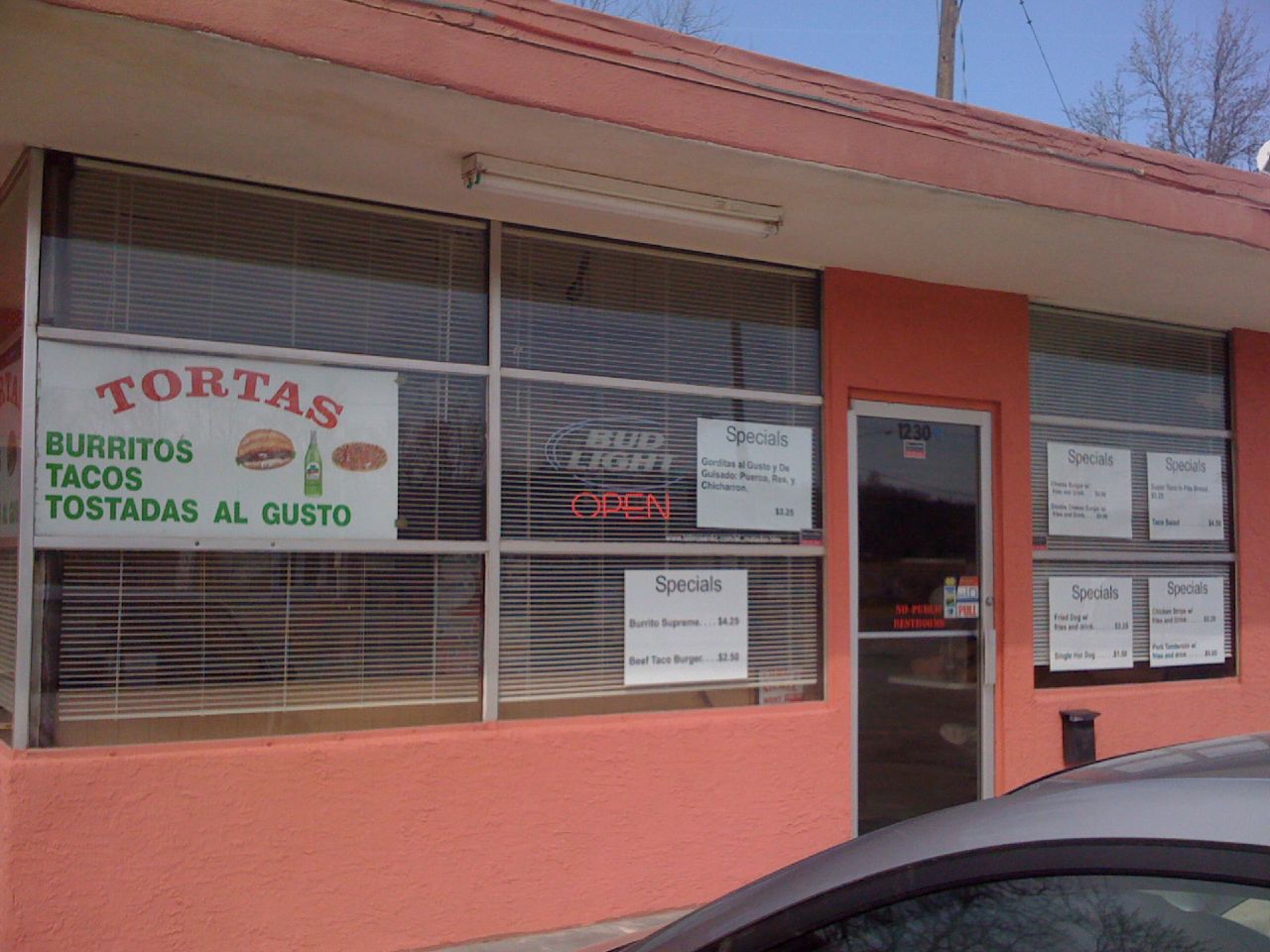 Tacos El Matador is not much to look at from the outside, situated as it is on a particularly drab stretch of Merriam Lane. It lies just west of Earl Quick's and the Boulevard Drive-In, separated from the street by a large expanse of crumbling parking lot. The sign out by the road is easy to miss but the building itself is a nice shade of pink, so it should be relatively easy to spot.
I heard about this place via email from Matt, a KC Lunch Spots reader who characterized the place as "very deserving of one of your reviews." Boy was he right on the money. He also indicated that it is popular with folks who work first shift since you can get lunch food at a breakfast hour. This is a very interesting observation as I imagine it must be extremely difficult to get a burrito at 9am anywhere. Hell, you can't even get a cheeseburger at McDonald's during breakfast time.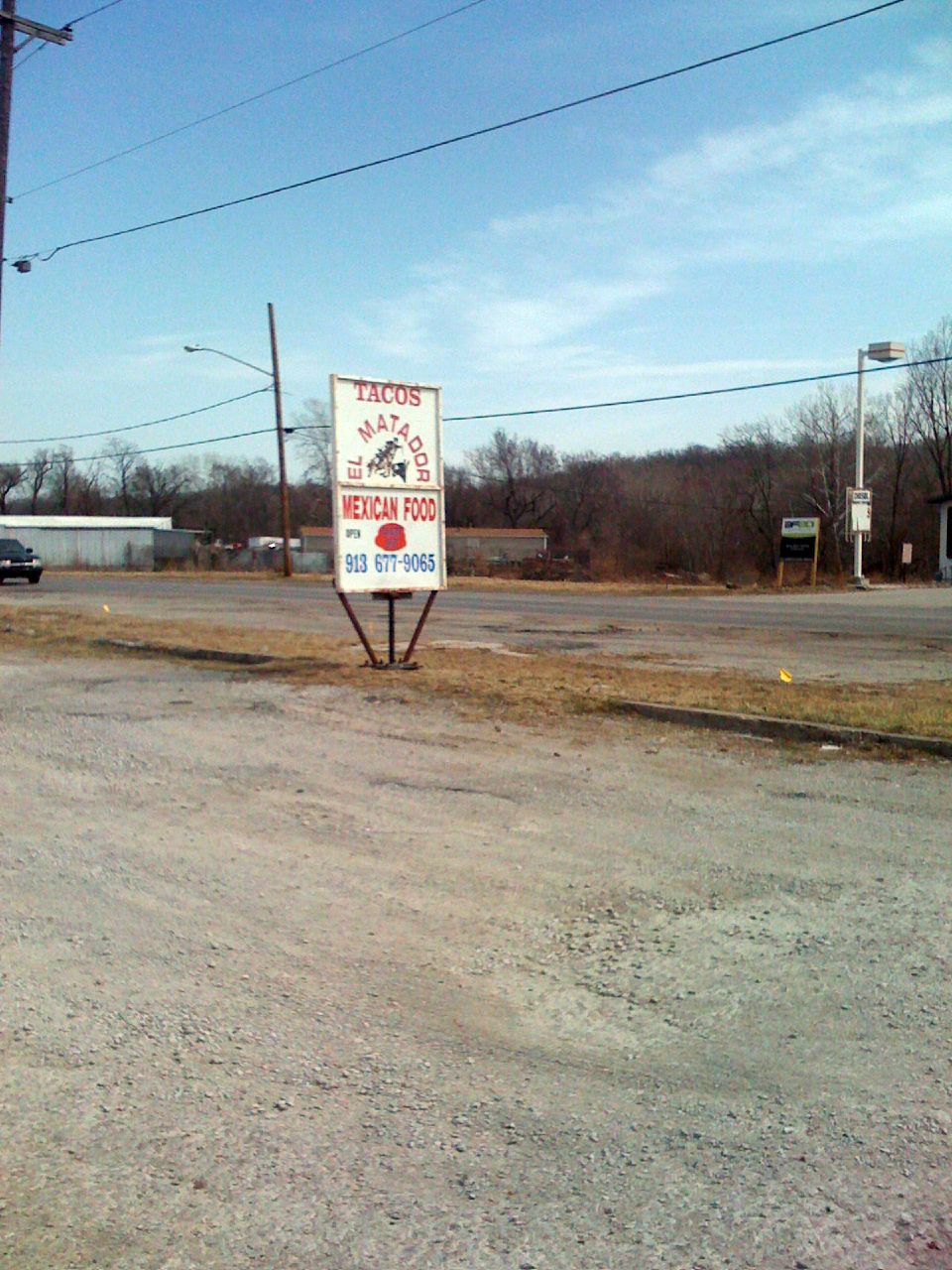 El Matador is a delightful little joint on the inside, a situation which completely belies its locale and outward appearance. The interior features colorful booths, lots of light, a number of fresh plants and even some matador-themed artwork, including a couple of velvet paintings that I truly covet.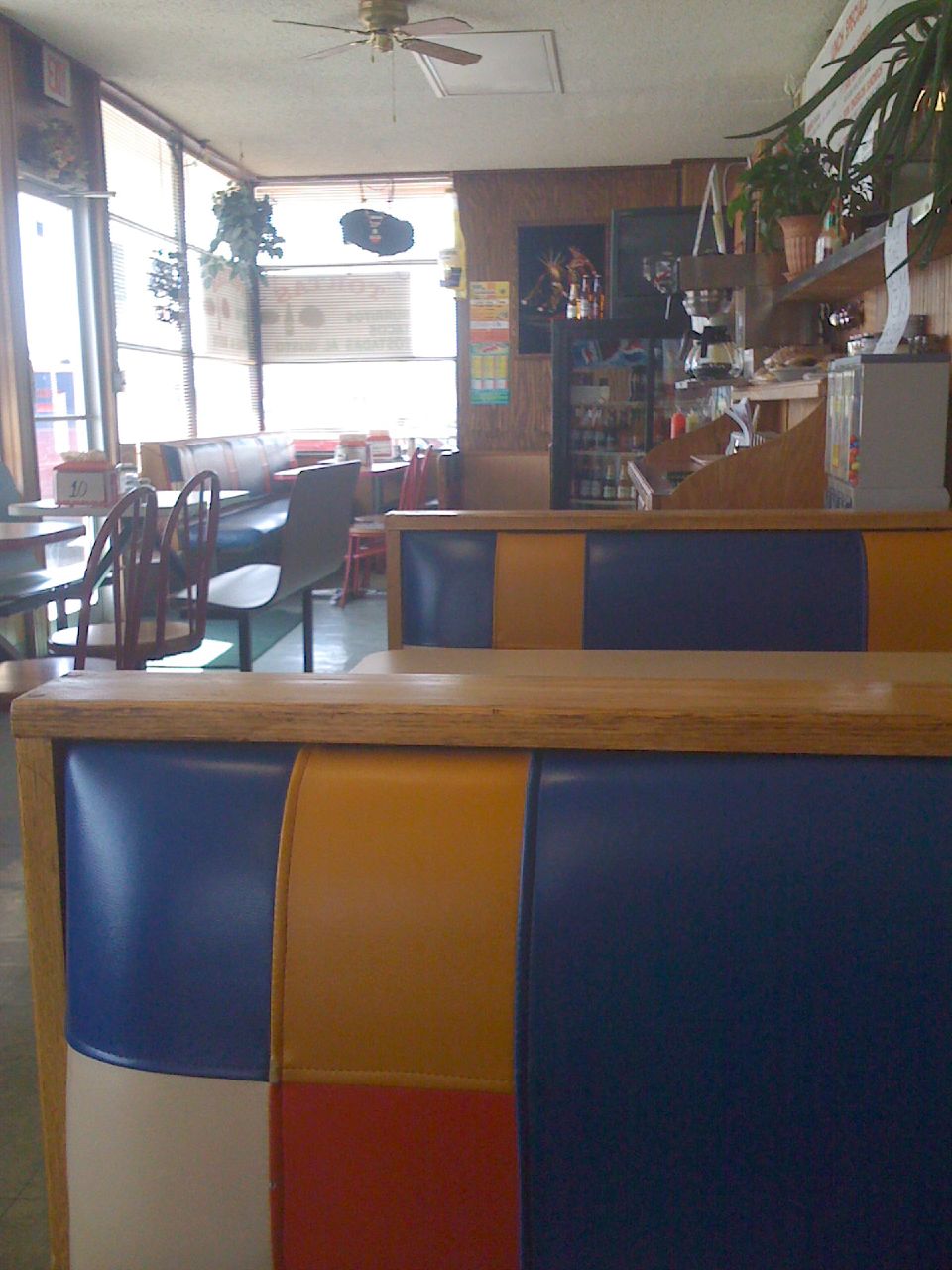 They do a fair amount of take-out business here, so I was unsure whether or not to order from the counter. After some pleasant but linguistically confusing back and forth with the waitress I realized that I could sit down and get waited on. Excellent.
The menu at El Matador is all over the place. The wall above the service counter is covered with signage advertising everything from menudo to pork tenderloin sandwiches. Perusing the full menu I found it likewise all-encompassing. Lunch specials include various taco plates and tamales in addition to cheeseburgers and chicken sandwiches, complete with french fries. This had me a tad worried but I went ahead and ordered some tacos. If "taco" is in the name of the restaurant, I order them.
While waiting I was brought a basket of chips and two squeeze bottles of salsa. The red salsa here is proper–thin, hot, with good tomato and chili flavor. The salsa verde was veritably exploding with vinegar, lime, cilantro and hot chilies. It was also quite salty which proved to be a little too much for me in combination with the other flavors. While the chips themselves were nothing special, they were warm and crunchy.
I enjoyed my chips with a cold bottle of Jarritos tamarindo soda pop. Jarritos, long available in Mexican markets and urban corner stores is much more common than it used to be. I encourage those who haven't tried it to do so next time you are out for Mexican grub. There are typically a number of bold fruit flavors to choose from such as lime, mandarin, strawberry and the aforementioned tamarind.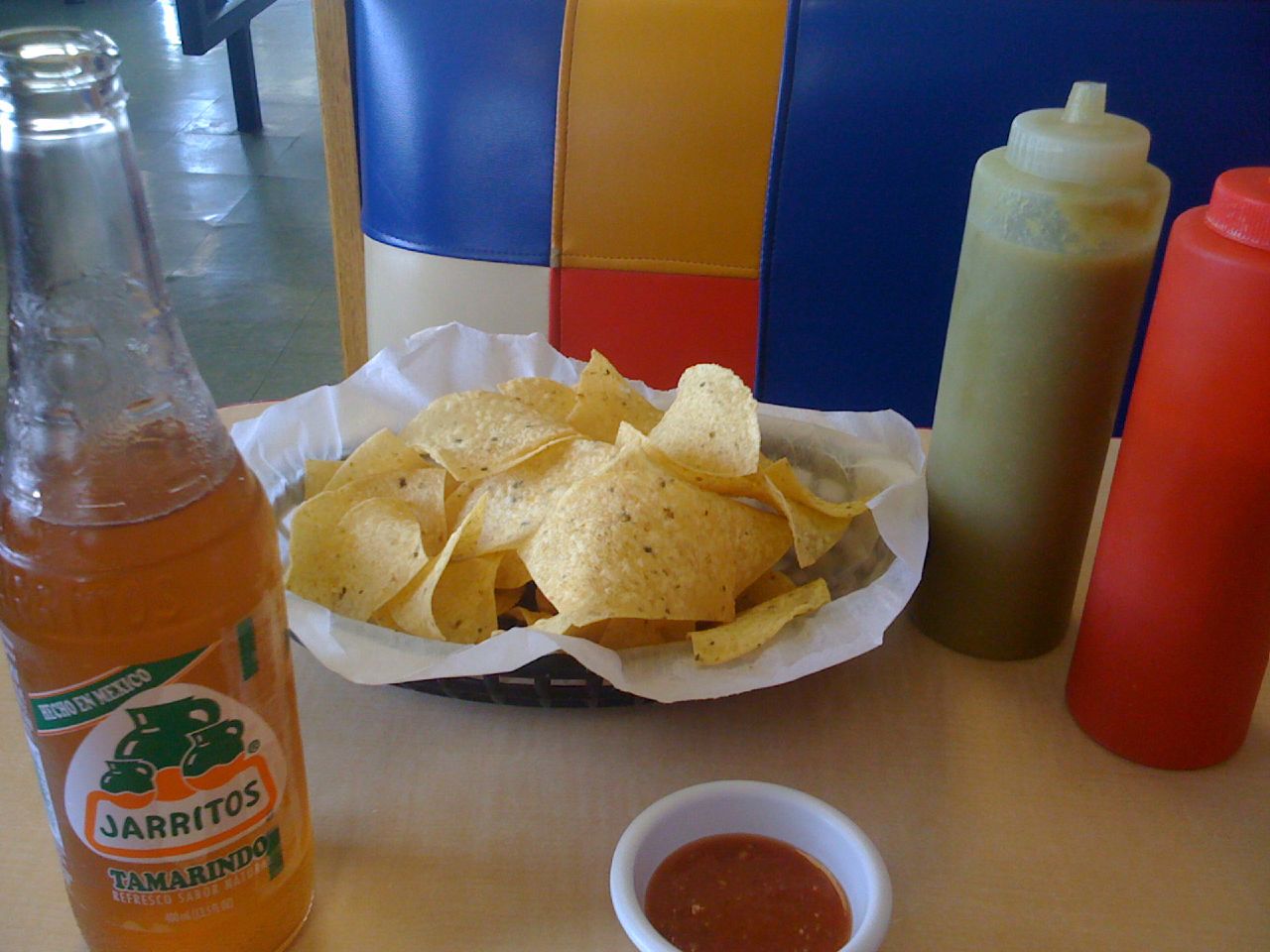 Within minutes, the tacos arrived and I was not disappointed. The carne asada tacos consisted of lean, tender, marinated piles of chopped steak on two small corn tortillas with a healthy topping of onions and cilantro. The carnitas tacos are prepared the same way; the shredded pork is not tossed in any kind of sauce which you tend to see a lot at other places. The consistency of the carnitas was virtually identical to good pulled pork. Both meats were free of excess fat and gristle which is a common problem.
I haven't been everywhere, but these are the best tacos I've had thus far in Kansas City.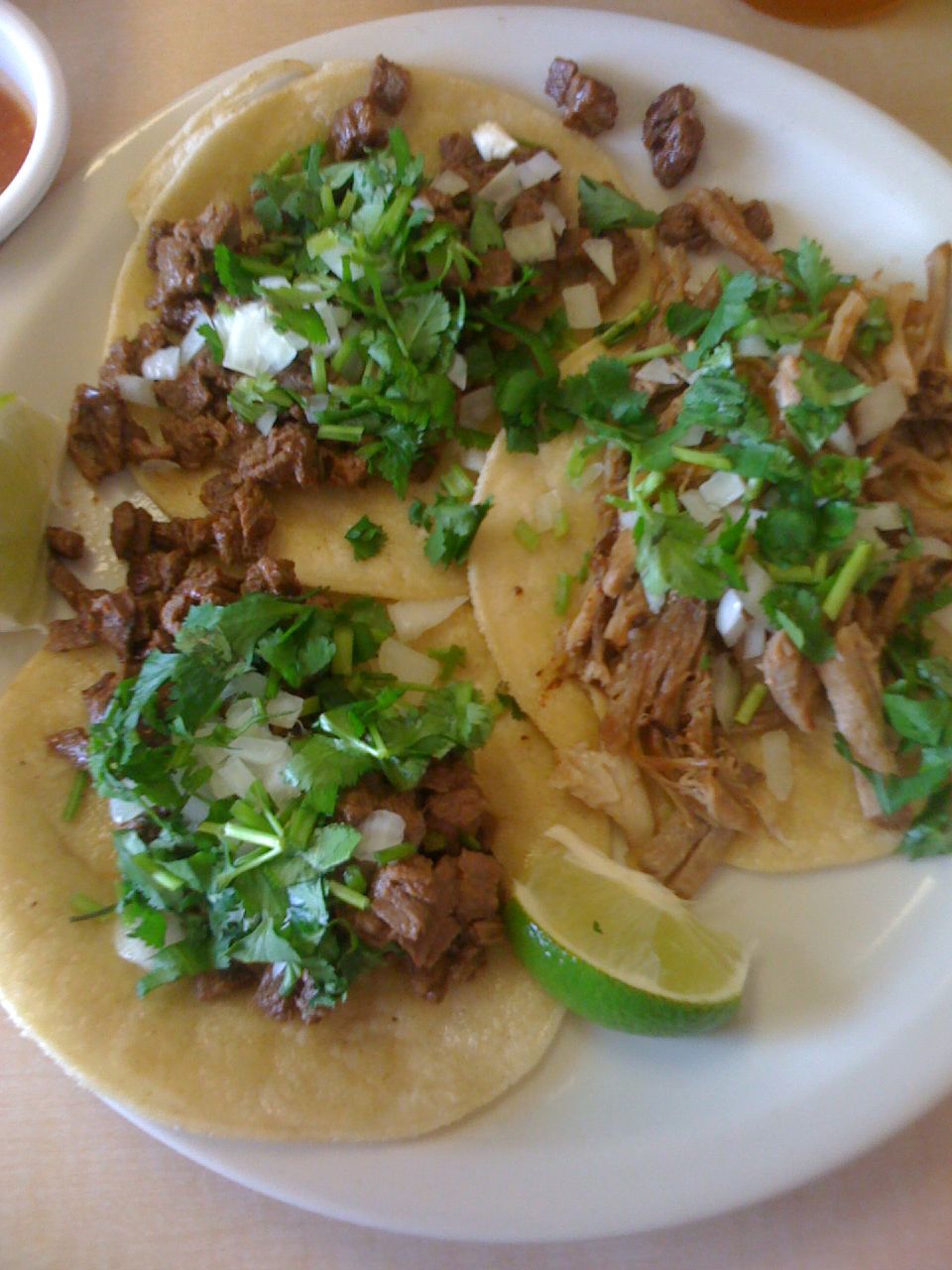 Everything was right about them. No yellow cheese, no chipotle marinades, no shredded iceberg lettuce. Just tortilla, meat, onion, cilantro, salsa. The street tacos at Cancun Fiesta Fresh and a few other places are very good, but cannot compete with EL MATADOR!
I also enjoyed a side of refried beans. Nothing fancy, but I think Mexican-style refried beans are among the best comfort foods around. I wish I could have tried their rice, but alas, even my stomach has limits. The whole lunch set me back about 9 bucks and it was worth every penny.
All in all I loved this place. The experience actually makes me curious about their Americanized menu items like the tenderloin and the burgers. If they can do a taco this well, I wonder what the other stuff is like?


[google-map-v3 width="350″ height="350″ zoom="12″ maptype="roadmap" mapalign="center" directionhint="false" language="default" poweredby="false" maptypecontrol="true" pancontrol="true" zoomcontrol="true" scalecontrol="true" streetviewcontrol="true" scrollwheelcontrol="false" draggable="true" tiltfourtyfive="false" addmarkermashupbubble="false" addmarkermashupbubble="false" addmarkerlist="1230 Merriam Lane, Kansas City, KS{}restaurant.png" bubbleautopan="true" showbike="false" showtraffic="false" showpanoramio="false"]