Are you ready for more Mexican?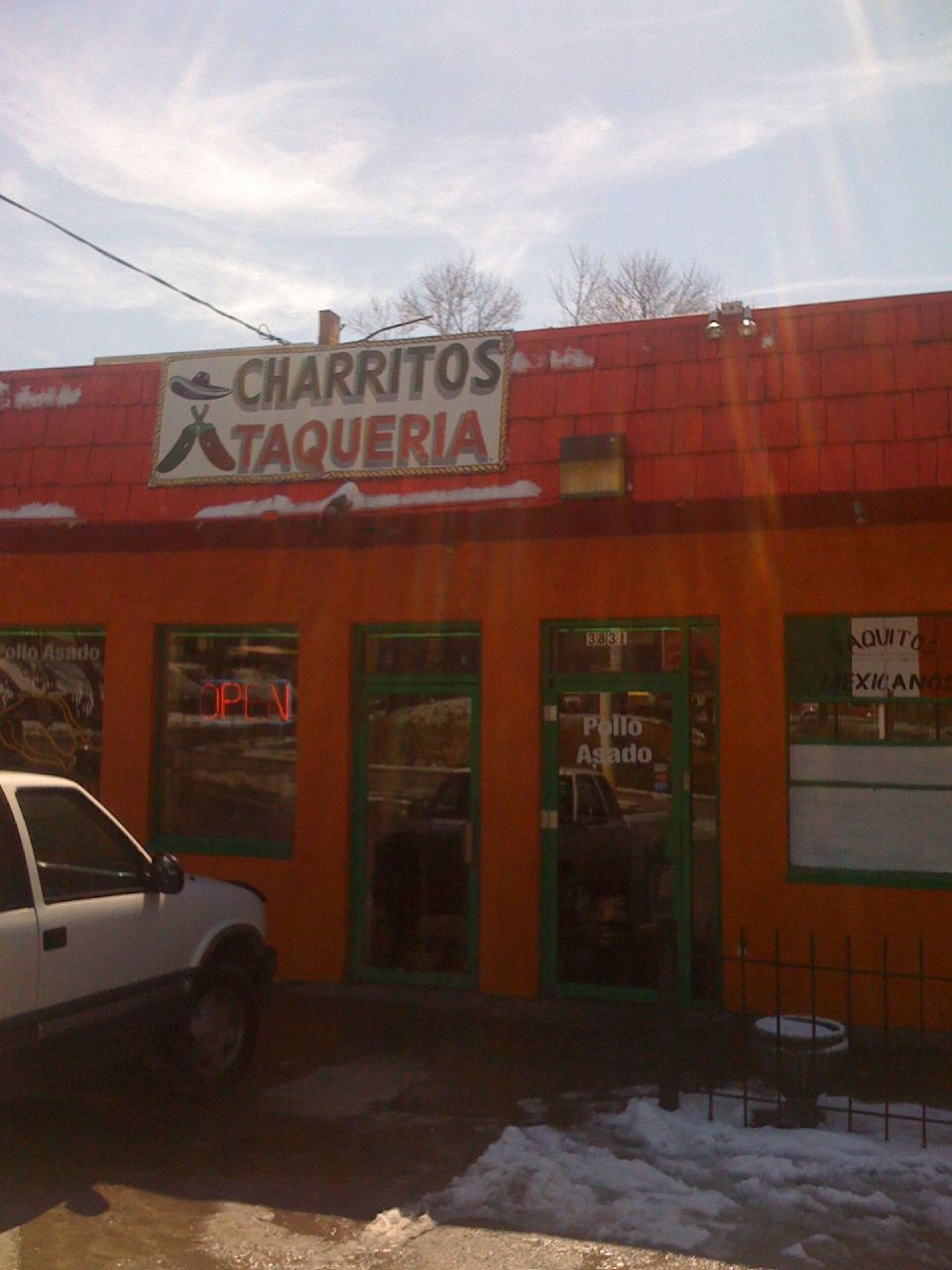 This last weekend I went out to the east side in search of a diner that was recommended to me, only to find it was closed on Sundays. In fact 99% of the damn places I drove by were closed. Having no luck on Truman Road I popped over to Independence Avenue, a veritable wellspring of seemingly authentic Mexican, African and Vietnamese delights. The first place that looked decent and was open was a Mexican restaurant across the street from a Mexican bakery [map].
Charritos is comprised of at least two storefronts, one featuring booths and televisions, the other with simple tables near the kitchen and cash register. The waitress seated us and took drink order while we perused a rather large and interesting looking menu.
My Pepsi arrived in a large plastic cup with maybe one or two ice cubes. I was a little taken aback since normally I overfill my fountain pop with ice. But I decided to roll with it, and actually found the experience rather pleasant. It reminded me of church pot lucks where I got to drink un-iced paper cups of Chek cola to accompany my casseroles and cold Kentucky Fried Chicken.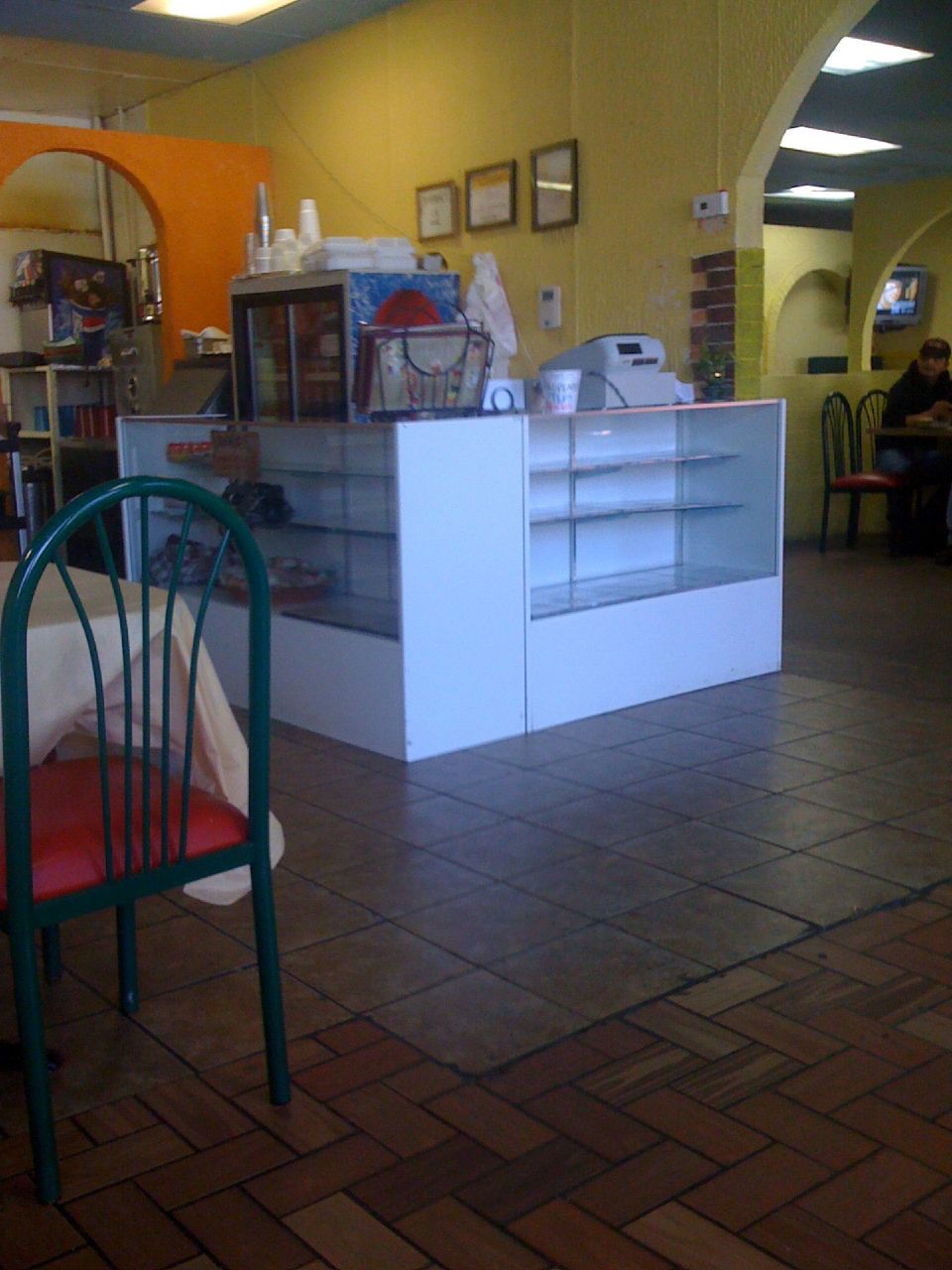 They offer really interesting food at this place. The menu features a number of homey Mexican classics like posole, menudo, and dinner plates of grilled meat, rice, beans and vegetables. There was so much on the menu that I couldn't proces it all. I was also starving, hungover, and had consumed nothing but two cups of coffee and a prevacid that morning so my recall is admittedly faulty.
On to business. The two salsas that come with your homemade tortilla chips are both phenomenal. One is a simple guajillo chile (I think) based sauce with a little tomato puree, the other certainly incorporates a roasted poblano and is quite a bit spicier.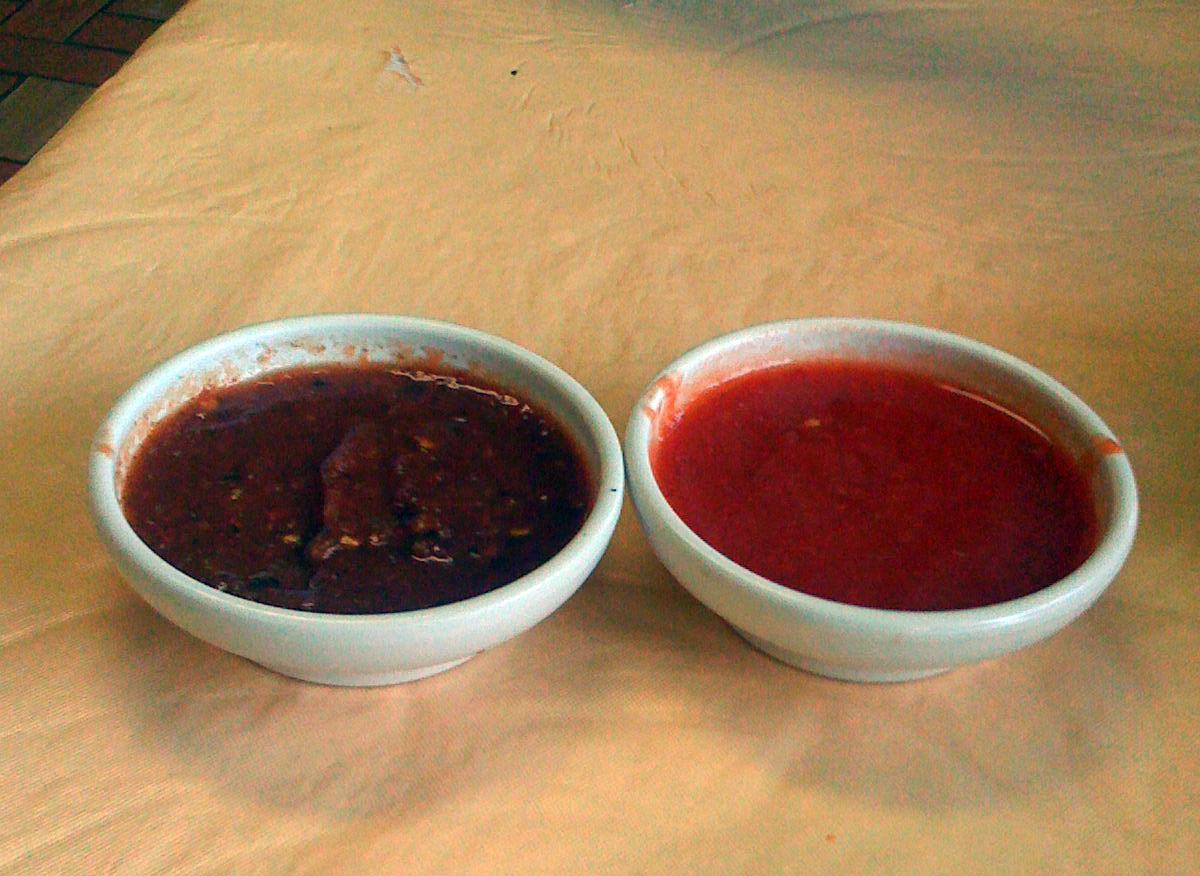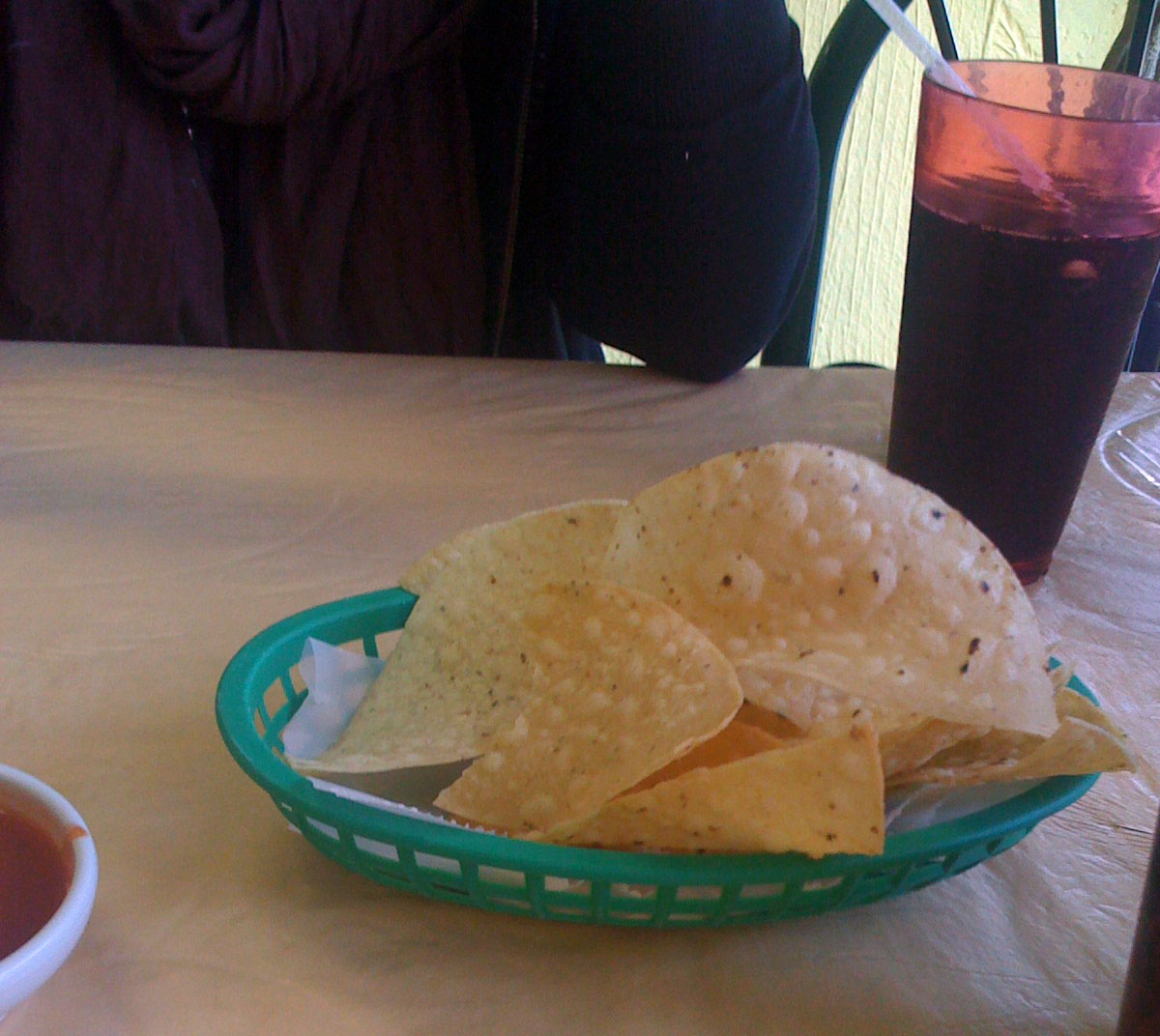 I would come to Charritos just for the chips and salsas. Seriously, they were so good that later I asked to buy some salsa to take home. The waitress looked at me askance and just gave me a small container of each with no charge. I felt like a dorky gringo and she got a big tip.
Anyhow, for lunch I had some chicken enchiladas verdes topped with a fried egg that were pretty good. The chicken was definitely cooked whole and picked off the bone which I love to see.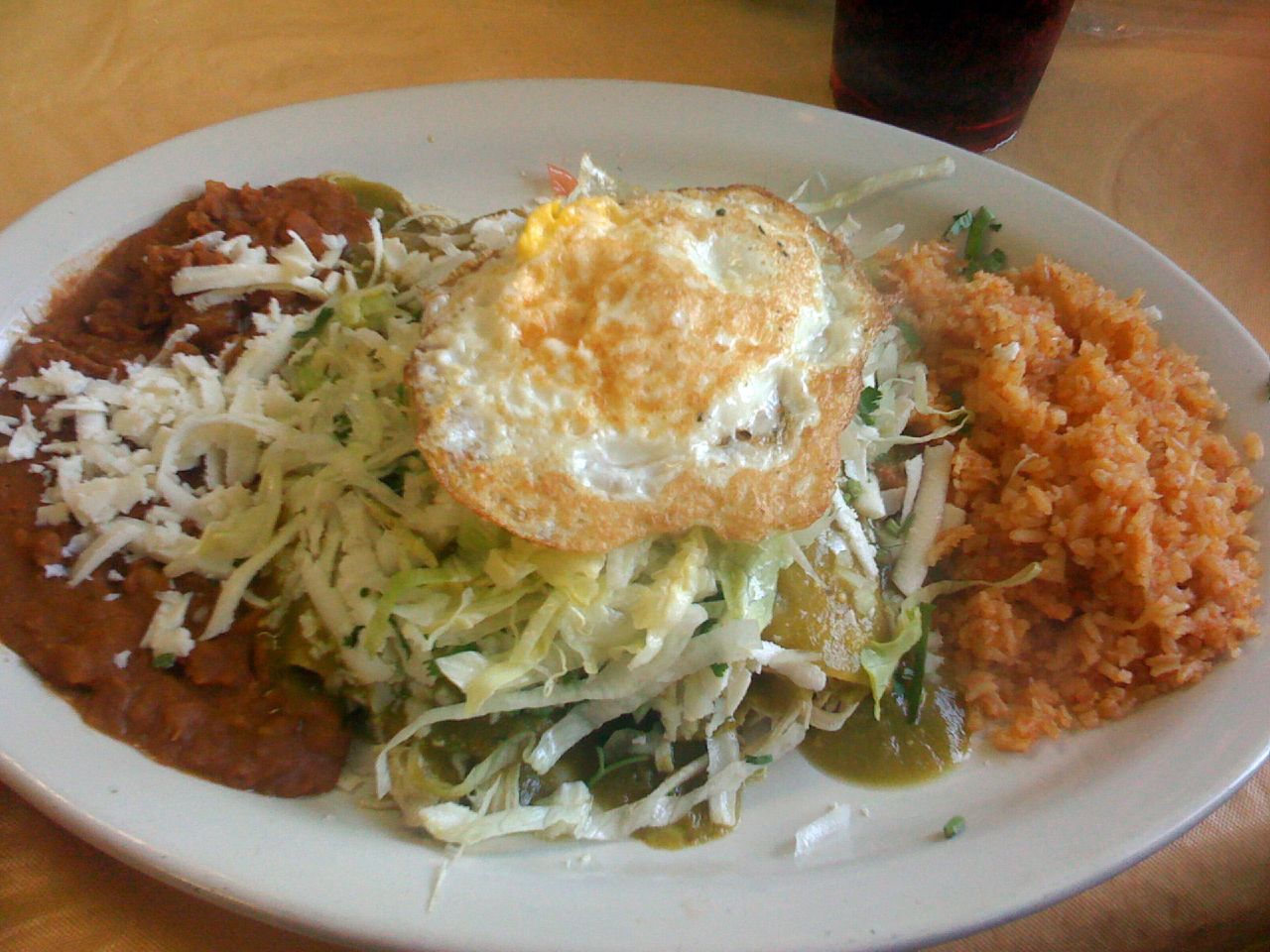 But the meat inside was a truly odd, bright white color that I have never experienced before. There is certainly a technique behind it (my dining companion suggested that it had been poached in vinegar water) but I don't know what it was. All in all a solid dish, though the menu indicated that it would be a sunnyside up egg, not an over hard egg.
The Tacos Aztecas were fantastic: Large pieces of grilled skirt steak with grilled spring onions, cactus, roasted jalapenos and avocado.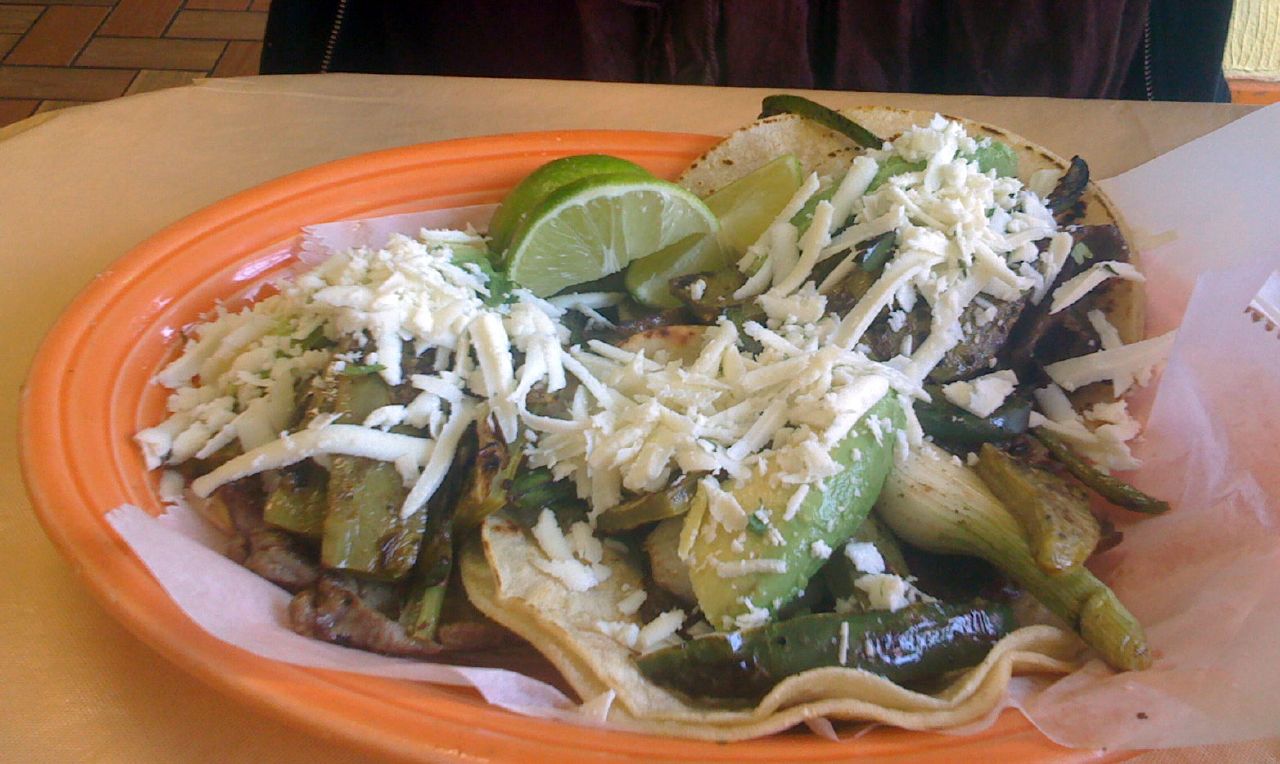 Don't they look good? And interesting? And exciting? Jesus Christ, ARE YOU HUNGRY YET? The beans were a fabulous, luscious reddish mash full of lardy, pinto-y goodness. The rice was solid but very typical.
But before I could get my panties in a bunch about this place I tried a tamal(e) and it was terrible. The dough was gritty, and the pork smelled…off. Considering how good everything else was this was quite a surprise, but true. So very true.
The prices were, I suspect, not typical for Independence Avenue lunch spots. A large lunch for two with leftovers cost 23 bucks or so. Most of the specials were about $8 so you could get out of there for under $10 on a normal day. It was damn well worth it. Charritos has good homemade food that, even if it is not consistent, is well thought out and carefully prepared.

[google-map-v3 width="350″ height="350″ zoom="12″ maptype="roadmap" mapalign="center" directionhint="false" language="default" poweredby="false" maptypecontrol="true" pancontrol="true" zoomcontrol="true" scalecontrol="true" streetviewcontrol="true" scrollwheelcontrol="false" draggable="true" tiltfourtyfive="false" addmarkermashupbubble="false" addmarkermashupbubble="false" addmarkerlist="3831 East Independence Avenue, Kansas City, MO{}restaurant.png" bubbleautopan="true" showbike="false" showtraffic="false" showpanoramio="false"]