It's never a good sign when you walk into a BBQ restaurant and the first thing you see is a sign: "this is a non-smoking establishment." I'll say.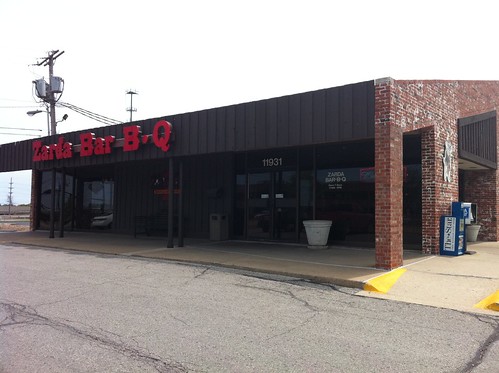 Zarda's clearly does good business and even satisfies enough people to do a nice catering trade on the side. But for real, people, you know what the sliced meats reminded me of?
Arby's.
We're talking really thinly-sliced meat. That's not a bad thing in and of itself but it really takes the texture element out of eating BBQ. And like that other place, Zarda's meat has very little smoke flavor. I have eaten both the pork and beef brisket, and was not impressed. The food is not poor quality, it's just not great BBQ. The texture of a soft hoagie bun (blasphemy) and a pile of shaved meat is pleasant, but you might as well be eating a sandwich from Hy-Vee with barbecue sauce on it. Mediocre sauce.
Here is the key to enjoying your meal at Zarda: don't order the sliced meats, rather opt for pulled pork or burnt ends. I ordered the pork on a whim one time and was pleasantly surprised by the excellent texture and quite a bit of hickory smoke flavor. So next time I went I ordered the burnt ends and they too were smoky though a little lacking in that definitive fatty, crunchy texture you want in burnt ends.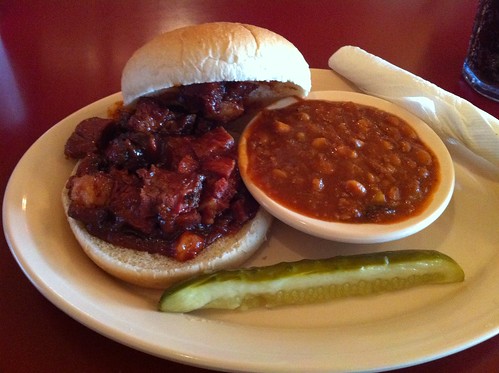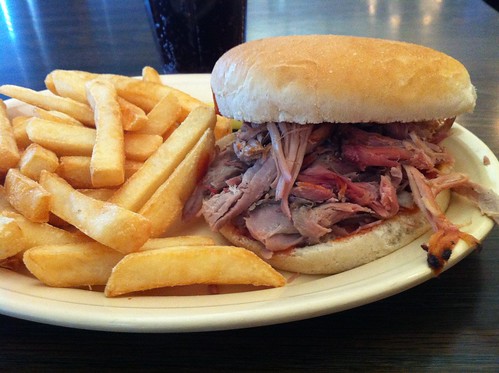 The fries are not good: cheap, frozen steak fries. Opt for the lightly battered potato wedges which are fine, but I don't like to get fancy with fries. The beans are average but the fried pickle chips are pretty tasty (wish I had snapped a photo). Speaking of pickles, be sure to ask for a dill spear when you order; they don't come automatically with your food.
The decor is woodsy in a fairly convincing manner, except for the light-up menu signs behind the counter which make it look a little like McDonald's. At lunch, they get really busy, but the service is quick as hell, and I got my food in less than 5 minutes. The restaurant is frequented almost entirely by 40-ish polo-shirt-wearing JoCo types taking a break from whatever irresponsible bullshit they sell to participate in a KC tradition without having to interact with black people. I think my gut reaction to the clientele is largely what accounts for this particularly un-sunny review. They are what I used to call yuppies, but they're really not. Yuppies were people who lived in cities, made a lot of money in cutthroat fashion, wore suspenders and drank good coffee. The new breed are people who live in suburbs or ex-urbs and live their lives as if there were no consequences. The world's problems pale in comparison to their own financial and familial ups and downs. Thank God they are too self-absorbed to vote.
Whew. Sorry. It's really not that bad.
Anyway, Zarda seems to have been around for a while, and is clearly well-liked. The prices are a little higher than normal. You will spend ten bucks on lunch easily–just another reason why it's not going on the regular rotation, since there is better to be had elsewhere.
Read more:
[google-map-v3 width="350″ height="350″ zoom="12″ maptype="roadmap" mapalign="center" directionhint="false" language="default" poweredby="false" maptypecontrol="true" pancontrol="true" zoomcontrol="true" scalecontrol="true" streetviewcontrol="true" scrollwheelcontrol="false" draggable="true" tiltfourtyfive="false" addmarkermashupbubble="false" addmarkermashupbubble="false" addmarkerlist="11931 West 87th Street, Lenexa, KS{}restaurant.png" bubbleautopan="true" showbike="false" showtraffic="false" showpanoramio="false"]