Mr. Gyros is hilarious in many respects. Firstly, its name brings a smile to my face because I picture a little talking gyro. Kind of like that Arby's talking oven mitt, only not stupid and idiotic. Mr. Gyros also looks hilarious. I mean the faux-Greek temple thing is awesome–as if to shout "this is a temple of processed lamb goodness." It's actually easy to miss because it's white and kind of clean cut in a way that most fast food joints aren't. As someone pointed out to me recently, it looks like a bank.
Now, before I tried it, I had heard from several people (some of them actually reliable) that Mr. Gyros was awesome, not to be missed. So naturally I was prepared to hate it. Nothing raises more red flags with me than someone telling me that so-and-so's has the best ______ in town. This is particularly true when you are talking about a fast food spot which Mr. Gyros, despite a few weird indications to the contrary, most definitely is. Among people who grew up in JoCo in particular, the place is the stuff of legend and well-revered. Which is also hilarious.
All that being said, Mr Gyros may have the best gyro I've ever eaten.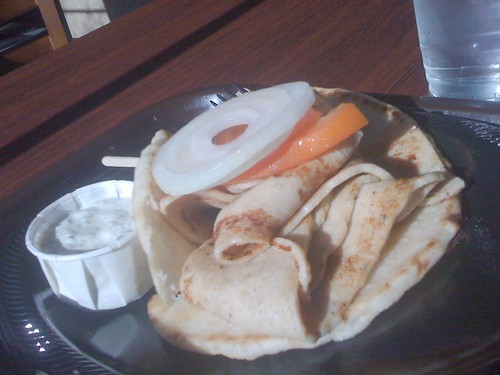 And it's a simple thing: pita, meat, tomato, onion, period. And a side of flawless tzatziki sauce. The pita is warm and soft. The meat is tender, well-seasoned, and lacking in undesirable mystery components that one occasionally finds in less reputable Greek establishments. My one complaint? It's small, real small. You can't get by on just a sandwich, you need something else like a salad or at least a piece of delicious homemade baklava. Or better yet, two gyros.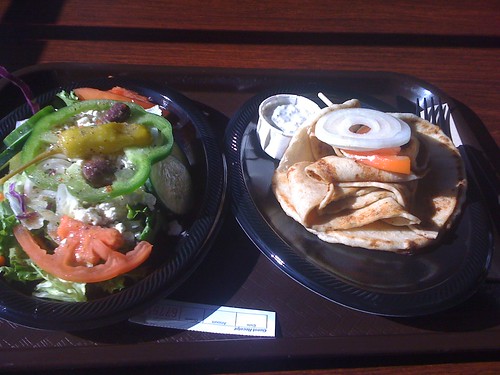 So, now I have to go back–again and again, which is really too bad, because I was all prepared to hate it and continue to mock the Greek bank from afar.
Read more: