Cafe Song is now closed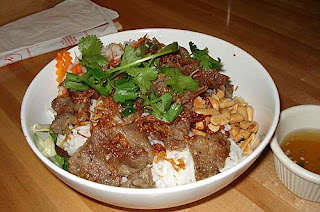 Cafe Song is another entry in a rather impressive cadre of quality Vietnamese restaurants in the KC metro. I will say, however, that it is not my favorite among them.
Located near Quivira and 75th in a strip mall, it can be somewhat difficult to locate from the road. But it is a fairly sizable space with attractive, modern, but casual decor. I've been two times now and the place has been frighteningly empty on both occasions. The whole shebang appears to be staffed by two people: a youngish waiter with a pony tail (bad move dude) and a Vietnamese woman who does the cooking.
The menu attempts to be a little classier and more interesting than more traditional Vietnamese spots. There are at least 5 kinds of Ban Mih (basically a sandwich), but only a couple kinds of Pho (noodle soup) and Bun (cold noodle salad). They also feature wacky offering like meatball subs and hamburgers, and no, this is not the kids menu I'm talking about. The food is good here, but I'm not touching their meatball sandwich with a ten foot pole.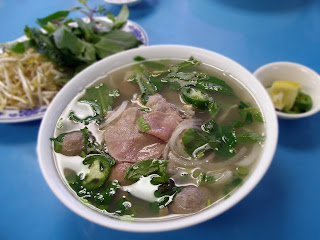 The food is good enough, but presentation and portions are a tad lacking. Pho comes with a whole assortment of fresh herbs, bean sprouts, lime wedges, etc. which is pretty typical. But the Bun dishes, usually accompanied by lovely piles of ground peanuts, shredded carrots, bean sprouts, meat, mint/cilantro, is merely a bowl of noodles with some shredded carrots and meat. Oh yeah, there is also some dried garlic sprinkled throughout which is actually an excellent addition.
So basically, it looks more like $5 meal than a $9 one.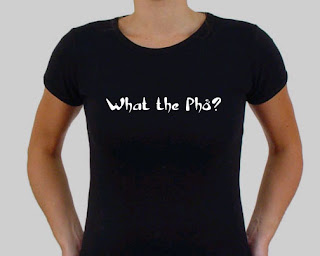 For my money, Vietnam Cafe, Sung Son and Hien Vong are all better options. But for Johnson County, are there other Vietnamese gems out there?
So, basically underwhelming. I've put off reviewing this one for a while because there's just not a lot to say either negatively or positively. I'm not one of those people who has something great to say about every meal I eat, not something bad to say for that matter. Cafe Song is nice, but I just don't get real jazzed up about the prospect of going back often. It is not a good space to be a lone diner because it is so quiet and there's nothing to look at except people walking into Starbucks and Planet Sub across the street. But maybe with a small group it would be more interesting.
All this being said, I'm really happy to see how many Vietnamese places there are, even in the reaches of Johnson County. I don't think I've come close to visiting them all, but I will try.
Read more: