New York Deli has closed. Read this nice remembrance at Save The Deli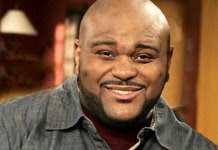 It was with much joy and anticipation that I sauntered into this venerable KC establishment that bills itself as "home of the awesome reuben." The Reuben is totally Prince Among sandwiches in my book. I am hard pressed to think of another sandwich that brings me as much joy. That being said, a good one is hard to find. I like Harry's Country Club and especially the Peanut for a good local reuben. But I have been driving by New York Deli and heard good things about it, so I would go there regardless of reuben availability.
Though no longer owned by the original family, NY Deli has been open for 103 years! It has been at 71st and Troost for about 60 of those years, a really remarkable achievement when you think about it. I read an article from a few years back that claims it is the oldest continuously operating restaurant in Kansas City. And it is a very interesting place, seemingly unencumbered by the pressure of serving classic NY deli fare in a neighborhood that has changed from a far-flung Jewish enclave into a widely diverse community whose future is very much up in the air. This is my way of saying that the stretch of Troost in the 60's and 70's blocks have almost been completely ruined physically. Aging strip malls, parking lots, cheap billboards–it's basically Wornall road without a lot of successful businesses, unless you count Walgreens. Well there's also Soil Service, my favorite lawn and garden store in the city.
Anyhow, let all this suffice to say that NY Deli is a weird vibe. While there I saw a group of business-looking guys purchase an entire salami (for $40+) and a priest eating a sandwich the size of his head. The only noise in the place comes from human voices and a bank of refrigerated deli cases.
This is a place for a serious sandwich, and a seriously good one at that. The corned beef is absolutely perfect–seasoned, warmed, and sliced to perfection. Every sandwich has meat sliced to order which is stupidly hard to come by these days. There are not a lot of frills here. If you want more than bread, meat, cheese and condiment, you may be out of luck.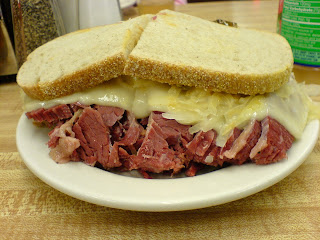 They also have excellent kosher dill pickles (2 w/sandwich!) and a number of interesting items like cucumber salad, pasta salad, Kosher beef hot dogs, and chopped liver. Apparently the brisket is something special according to this annoyingly earnest youtube video.
But I have a quibble with NY Deli's "Awesome Reuben."
It is not grilled.
Sorry folks but unless it's grilled it's just a corned beef sandwich. Don't believe me? Check out this reuben photo gallery and tell me if you see one that isn't grilled. I can appreciate their effort to be unique but it should be called "Home of the Awesome Corned Beef Sandwich" and that's that.
But what a sandwich. First of all it is a triple decker, and even a blowhard like me can't get his big mouth around it (dirtiest sentence ever?). The swiss cheese is slightly aged, not the tame, pale 'baby' swiss hocked at price chopper and its ilk. The dressing is basically comprised of generous swaths of grainy deli mustard and mayonnaise. I had a really hard time coming to terms with the amount of mayo on the sandwich because I hate the stuff. But the whole thing was good enough that I ate the entire sandwich. No leftovers.
I need to go back and check out the baked goods, which appeared to be fairly popular. Strangely enough, they only have one kind of bagel and it totally sucks. It's basically a kaiser roll with a hole in the middle. But some of their sweet rolls look great. I'd also like to try the hot dogs and maybe some chopped liver on a brave day.
Further reading:
From the Pitch
KCactive.com
Read more: