Not too long ago, Blue Nile in the City Market was the only game in town in terms of Ethiopian food and I do like the place. Recent years have seen a welcome expansion of Ethiopian restaurants: Marathon (now Mesob Pikliz), a second Blue Nile in Johnson County and midtown's, Duo. Add Elsa's, a small somewhat tucked away new Ethiopian restaurant in downtown Overland Park, to the mix and Kansas City has a nice, geographically distributed availability of Ethiopian restaurants. In general I like Elsa's and the people are just preposterously friendly but I worry that they may have turned some people off early in the game due to disorganized service.
You see, after my first Visit to Elsa's, I was prepared to never return. Elsa's offers pretty good food, but absolutely clueless service. My workday lunch took over an hour and a half, most of it spent waiting for food, bread, the bill, the corrected bill, the change, and at the end of it all they reported to us that they "couldn't find" any change.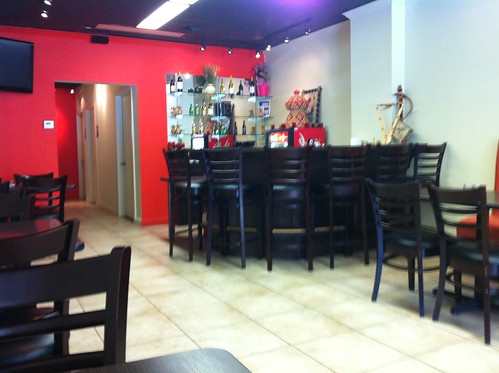 I wasn't angry, just dumbfounded and almost amused by what a mess the management of this place appeared to be. I'm not someone who demands that servers at international restaurants have a firm grasp of English, but they should be able to communicate in some manner by pointing, gesticulating or something. The young woman who waited on me had a pleasant demeanor but just looked lost and was generally unresponsive. She clearly understood so little of what I said that she didn't know how to react. I felt terrible for her; it must be incredibly difficult to interact with people all day and not know the language.
There are at least two other women and one man involved in the operation of Elsa's, all of whom speak excellent English. I found it odd that they wouldn't make themselves more available in the dining room to make sure service was going smoothly. Our server made herself rather scarce when not taking orders or delivering food. I wonder if she was simply avoiding the discomfort of communicating with English speakers.
Well my second visit found the whole operation noticeably improved, though not without notable kinks. I'm happy to report that the menu is well-constructed and the prices are affordable. Meat and vegetarian specials allow for one primary dish and two side-dishes for eight or nine bucks. Accompanied by an overflowing plate of injera, the spongy bread that doubles as utensil, these specials offer more than enough food for a midday meal.
I have eaten plenty of Ethiopian food over the years but have remained pretty ignorant of variances in spicing and preparation. My second time at Elsa's I ordered the shiro wat, a dish of stewed chick peas but instead received the miser wat, a creamy red lentil item with a very nice spiciness. Despite the mix-up, I willingly ate it and found it delicious and surprisingly rich, no doubt due to the finish of a berbere- based sauce. My favorite item is the kik alicha, a basic but deeply satisfying yellow lentil assemblage. The gomen (chopped collard greens) is not as soft as I typically see it, but has a nice, fresh quality that is missing from most Ethiopian cuisine.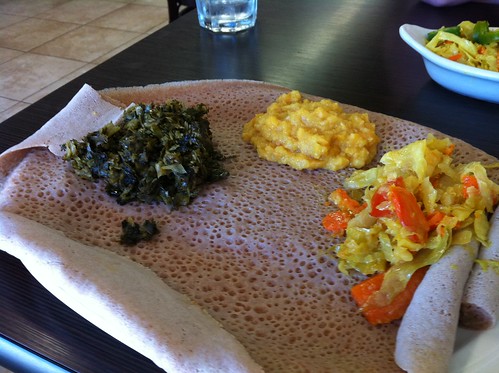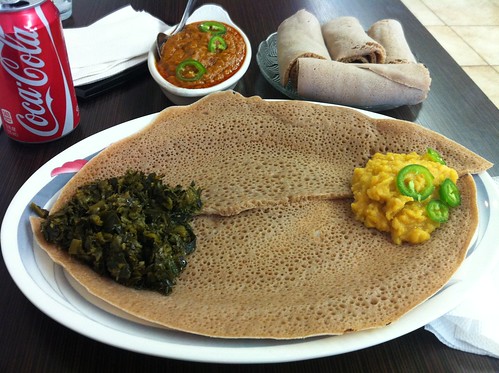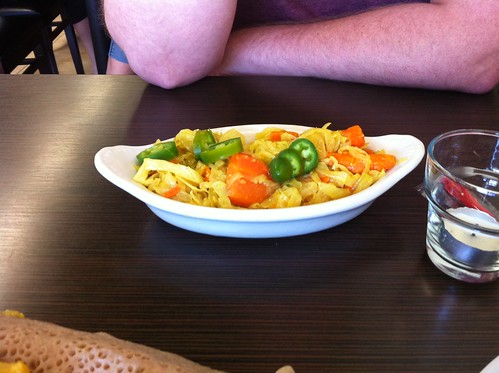 Basically the only thing I've had that I didn't care for was a meat dish, the name of which escapes me due to bad notetaking and worse short-term memory. Basically it involved tough chunks of beef that were cooked to death but not enough to soften the flesh into anything pleasantly chewable.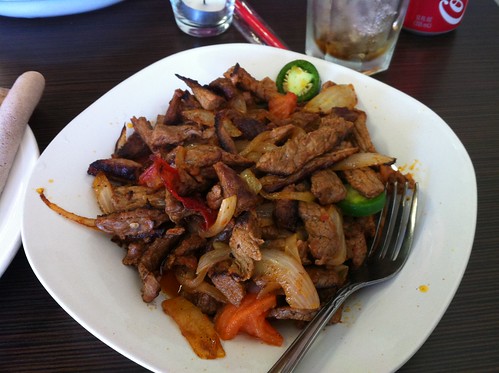 The service on the second visit, while problematic, did not get in the way of me enjoying the experience. This was a different server and she also struggled mightily with English. But her consistent smile and pleasant demeanor put me somewhat at ease. Of course I did receive the wrong entree and waited a long time for my check but this meal was enough to keep me from writing off Elsa's entirely.
I can only assume that my first, disappointing visit went south because the restaurant was fairly busy. I saw many problems that first time: wrong orders, errors in timing, MIA waitstaff but the second visit had me eating with only one other table in the place and my food came out quickly. I appreciate that the owner came around to check on me a couple of times; she is a very friendly person and I hope that her restaurant succeeds. At this point in time however, I'll only visit Elsa's when I have a lot of time to kill and am dining with patient people.