The restaurant critics gave a nice shout-out to Edokko on KCUR's Walt Bodine show a few weeks ago. I was glad this place was on their radar because I had eaten there back in March and found it to serve among the best sushi in town.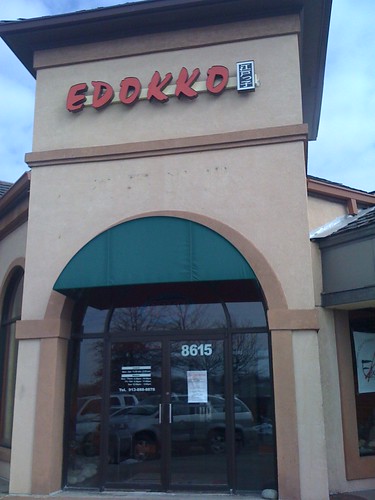 Edokko is situated in a small strip mall on Hauser Ct. just off 87th street in Lenexa. It sits next door to KC Grill & Kabob which itself offers a very fine Middle Eastern lunch buffet. Inside the entrance is a little lobby with some large bamboo and a delightful fish pond. The little speaker on top issues a barely audible greeting when you walk in or out.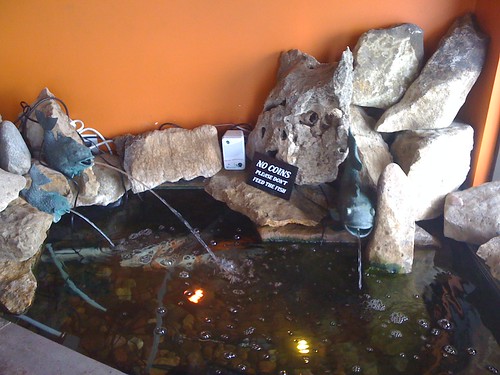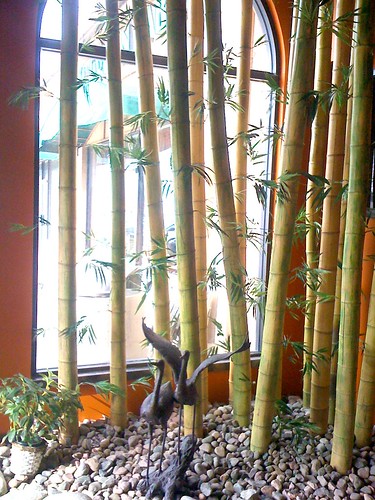 Sushi is a great option for lunchers venturing out on their own. You can always count on the presence of a sushi bar where you can join other solo diners. The bar also offers the opportunity to watch the sushi chef practice his craft; some chefs (the gentleman at Jun's comes to mind) are veritably chatty fellows who are more than happy to discuss the finer points of sushi-making.
Edokko is very tastefully decorated, anchored by an 18-seat granite sushi bar with stone accents.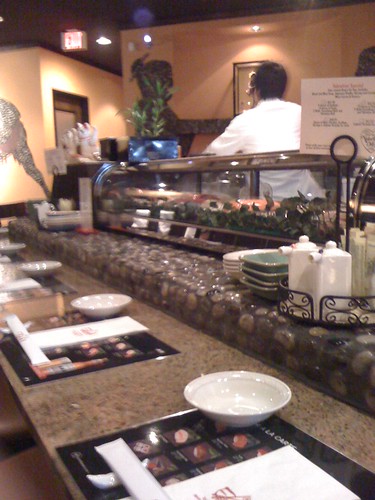 A series of elevated wooden booths run along two walls above the central dining area. The booths are sleek and modern with appealing earth-toned cushions.
Like most better sushi places, prices run a little higher than the average lunch excursion. The sushi special runs $10.95 and includes 6 pieces, a California roll and miso soup.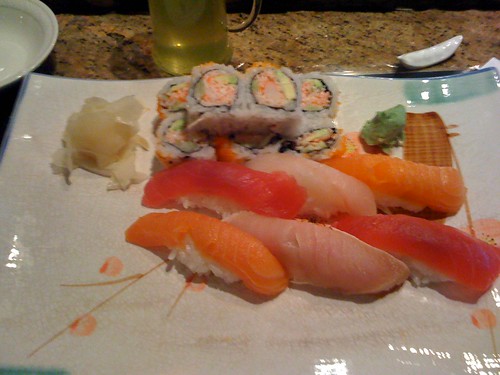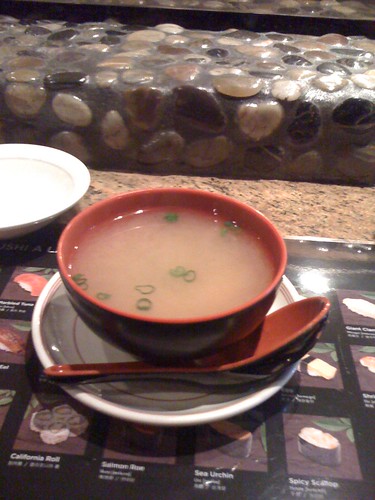 This is definitely a crowd-pleasing special as there are no "weird" choices, and a California roll is about as safe as you can get. But this was great sushi, absolutely creamy, fresh tasting and delightful. The nigiri were on the large side as well.
I went back recently and wanted to check out something else from their lunch menu (PDF). I opted for Yaki Udon, a dish of thick noodles mixed with chicken, snap peas, egg, lettuce, carrots, mushrooms and topped with sesame seeds and slivers of dried seaweed. Delicious. I strongly suspect that they make they own udon noodles but I haven't eaten them a lot. I just have a hard time believing that a dried noodle could taste this tender and fresh. I asked the server but she had no idea how they were prepared, and indeed seemed clueless as to what the cooks did back there. That's some serious division of labor.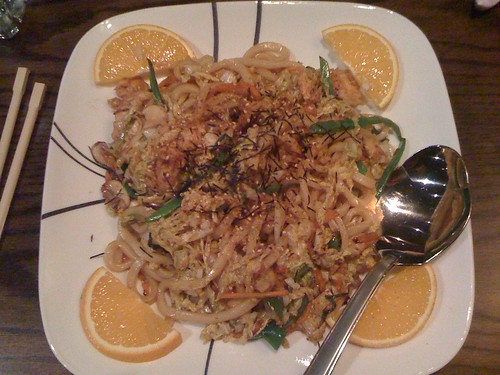 Nonetheless, I appreciated the otherwise great service both at a booth and at the sushi bar during each visit. When I visited shortly after they opened, the owner chatted with me briefly, asking how I heard about Edokko, whether I liked the food and encouraging me to come back. She seemed like a nice lady and I felt good about patronizing the place. You will too, assuming you want to eat in Lenexa.
Oh, and I'm pretty sure they have karaoke.
[google-map-v3 width="350″ height="350″ zoom="12″ maptype="roadmap" mapalign="center" directionhint="false" language="default" poweredby="false" maptypecontrol="true" pancontrol="true" zoomcontrol="true" scalecontrol="true" streetviewcontrol="true" scrollwheelcontrol="false" draggable="true" tiltfourtyfive="false" addmarkermashupbubble="false" addmarkermashupbubble="false" addmarkerlist="Edokko Japanese Restaurant, 8615 Hauser Court, Lenexa{}restaurant.png" bubbleautopan="true" showbike="false" showtraffic="false" showpanoramio="false"]