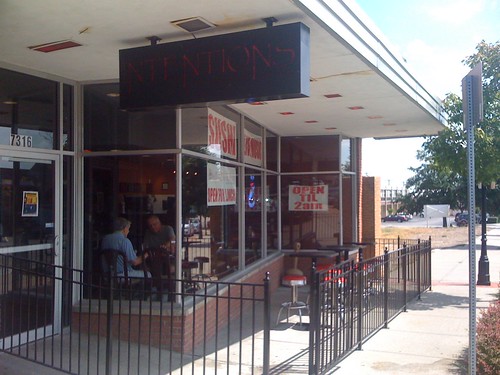 I can't say the name of this restaurant without whispering it faux-sexily, in the manner of commercials for douchey local strip clubs.
Intentions…
Intentions opened up last year in the downtown Overland Park space previously occupied by a club called Revolver, which I had never visited. It had the outward appearance of a dance club straight out of the 90s but closed down several years ago and stood vacant for some time. The concept behind Intentions is an odd hybrid of semi-upscale Asian food and live music.
While sushi is the heart of the menu, they offer everything from wraps to chicken fingers to steak. The food is pretty tasty and prepared with care but I never know what to order for lunch. Do I really want a burger from a sushi place? Is this even a sushi place? Many menu items have been sufficiently "enhanced" as to be inspired by sushi and not necessarily the real thing.
The specialty maki (rolls) run between 10 and 13 bucks each and are probably large enough to fill most diners, but not everyone. Smartly, Intentions typically offers a few specials which the chef will be more than happy to tell you about in great detail. Great detail.
There is typically a daily special of one of the simpler rolls (California, avocado, cucumber) and a side salad for 4.95. That sounds cheap but it isn't much food, at least not for this fatass. One day I tried the "lollipops," on special which are basically a tempura-fried roll, topped with raw salmon and surrounded by rice. They are presented on toothpicks thusly: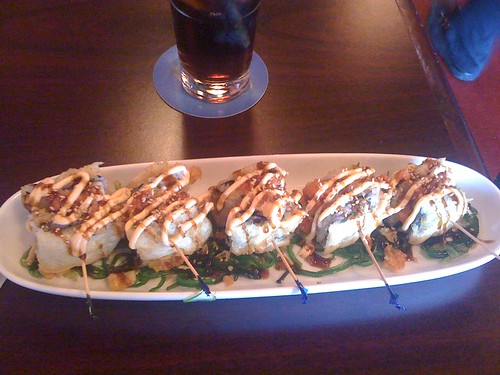 They tasted good, but were exceedingly difficult to eat, falling off the toothpicks and eluding chopsticks. They were not particularly filling or worth the $11 I paid for them. At any rate I prefer a simpler, more traditional sushi experience and I'm happy to say that Intentions can provide it.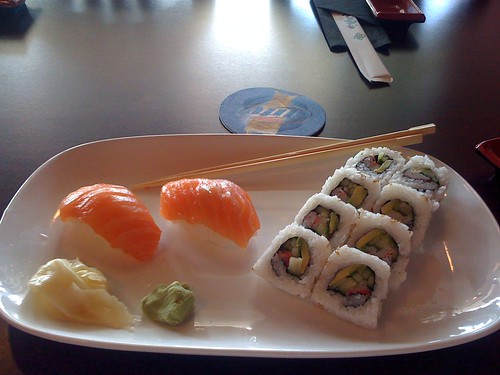 The nigiri are larger than most and fresh in taste and appearance. The side salads are very good, with a homemade asian-inspired dressing. Alas they add way too much, which overwhelms it.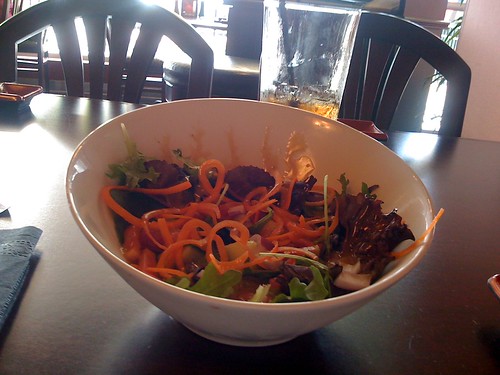 A large space in the rear of the restaurant provides a stage, bar and lots of seating for the nighttime crowd. For lunch I prefer to sit up front where some windows provide some natural light. There is a decent lunchtime group but seemingly not enough to warrant the presence of 5 or 6 employees who are always milling around.
Unfortunately there is also a flat screen TV blasting 80s metal videos in the front room. It was sufficiently loud one one visit that I had a very difficult time hearing the chef describe the specials from 10 feet away behind the bar. Apparently, the focus here is on being a club that serves food rather than a true restaurant that can stand on its own. Similarly the servers get the job done but seem like they would be more comfortable dishing drinks to drunk chicks and working the door. On a side note, one server referred to me variously as "partner," "chief" and "boss" during a single visit.
Nonetheless Intentions is a fine choice for lunch in the area, and more or less fits the middle of the road, white person nightlife vibe provided by other nearby businesses like Taste, Maloney's and the Other Place. I hesitated to post about this place because I assumed it would be out of business in short order. So kudos to Intentions for getting over the initial hump. While not really my style of vibe, food or decor, they must be doing something right.
[google-map-v3 width="350″ height="350″ zoom="12″ maptype="roadmap" mapalign="center" directionhint="false" language="default" poweredby="false" maptypecontrol="true" pancontrol="true" zoomcontrol="true" scalecontrol="true" streetviewcontrol="true" scrollwheelcontrol="false" draggable="true" tiltfourtyfive="false" addmarkermashupbubble="false" addmarkermashupbubble="false" addmarkerlist="7316 W 80th St, Overland Park, KS{}restaurant.png{}Intentions" bubbleautopan="true" showbike="false" showtraffic="false" showpanoramio="false"]