Now I like Grinders well enough, but it has a really stupid name. It almost sounds like a chain restaurant in a mall food court, only it should have an exclamation point:
"Come join us at Grinders!"
or maybe "Grynders!"
This place definitely deserves a more interesting moniker.
And Kansas City definitely needs more places like this–most cities are full of them: Casual, cheap, young-ish, inventive, locally-focused, open late. You can smoke, you can have some beers, they have good and fairly interesting food, albeit a little on the lowbrow side.
It's also easy to pick on Grinders (idiotic name aside) and it usually has to do with Stretch. Yes, that Stretch dude has apparently burned a couple bridges, whatever, I don't know him at all. Certainly his art is not my cup of tea. Not because it's too wacky for me, but because he clearly thinks it's too wacky for someone like me. It's actually a lot like the stuff my cousin was making in the 60s and 70s, and it's just not that challenging. And that sculpture park is just plain bad. Anyway, there's some of that crap in Grinders, including a huge, twisting metal arch near the front door. Whatever, it's fine really.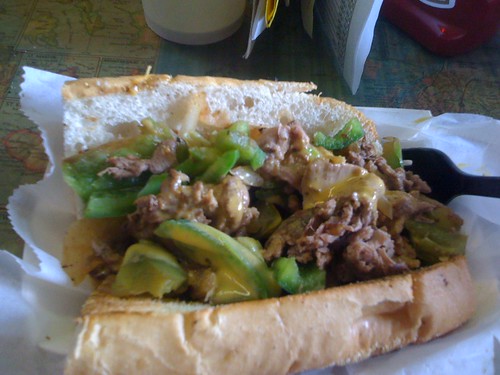 But the place is locally owned and operated, and the employees seem happy to be there. They certainly are friendly. I wouldn't call it the most efficient operation, but these kinds of joints rarely are. Anyway, go there, get the Philly cheesesteak with Cheez Whiz (!) and be glad you did.
[google-map-v3 width="350″ height="350″ zoom="12″ maptype="roadmap" mapalign="center" directionhint="false" language="default" poweredby="false" maptypecontrol="true" pancontrol="true" zoomcontrol="true" scalecontrol="true" streetviewcontrol="true" scrollwheelcontrol="false" draggable="true" tiltfourtyfive="false" addmarkermashupbubble="false" addmarkermashupbubble="false" addmarkerlist="417 E East 18th Street, Kansas City, MO{}restaurant.png" bubbleautopan="true" showbike="false" showtraffic="false" showpanoramio="false"]