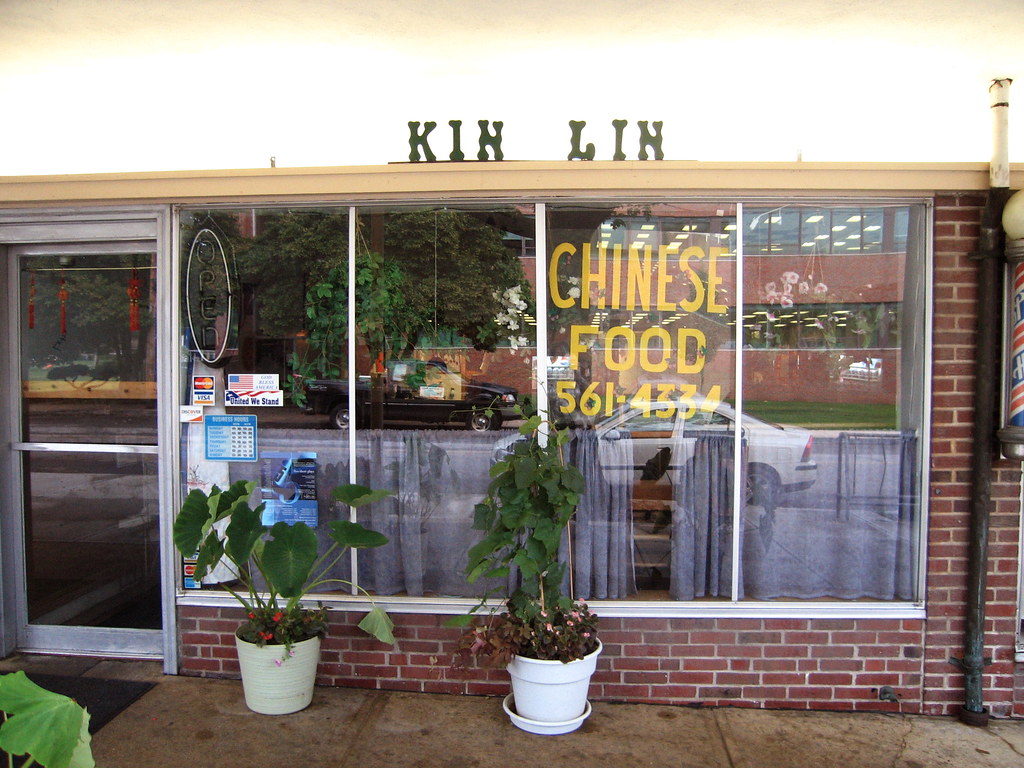 Well, Let me start by saying that Kin Lin is a great little place. It sits nestled in an unassuming shopping center on 51st street, just across the way from the UMKC campus. It shares a streetscape with Muddy's coffee house, Pride Cleaners (yeah they're not gay), a Russell Stover's and something else.
This charming but unassuming locale serves essentially as the business district for the university, which is frankly pathetic. I know, UMKC is a commuter school, there's no campus culture, the students are too busy with full time jobs and raising their babies. I'm calling bullshit on a lot of that, just ask anyone who lives in the student neighborhoods to the east and south of there. There are plenty of students who live by the campus. The area could use a few more good restaurants and shops geared toward a younger clientele. Really I'm just mad because there are so few good places to drink around there. I mean, you have the peanut on Main, Mike's on Troost and…and…um, Pizza 51? The Mixx? ah, screw it, let's go to Westport.
So Kin Lin is really cheap. And they will surprise you with some very tasty, freshly prepared dishes. No canned mushrooms here, people. Entrees come in large and small sizes and prices are very reasonable. You can get steamed or fried rice which is par for the course, and egg rolls are a buck. Lunch specials run less than five dollars, and include egg roll and soup.
Less than five dollars.
And this food is generally far better than Red Dragon House downtown though not quite as good as Bo Lings. But Bo Longs is kind of annoying isn't it? Especially the one in the board of trade building. But for the money, Kin Lin is a good lunchtime option in that neck of the woods. Not everything is great, you have to find some things that you enjoy and stick with them. The Chicken/Tofu and green beans is great, as is the spicy chicken, hot & sour soup, and pork in black bean sauce.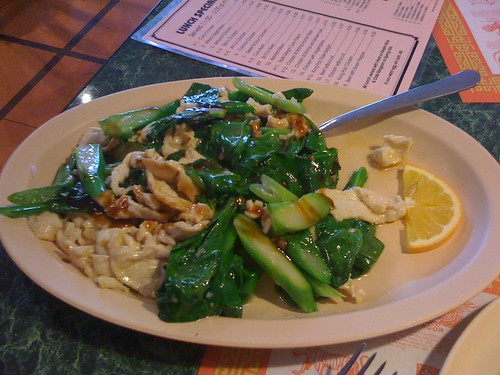 The staff is super friendly, and I would just ask them what is good if you are feeling squeamish, which many folks do around super cheap chinese food. Just look at any restaurant review forum, chinese restaurants abound with tales of dead insects, rotten chicken, dog meat and other semi-racist rhetoric. Seriously, go to yelp and see for yourself.
This is a lunch spot, it doesn't matter that it's open for dinner. The space used to hold 7-8 tables, and now has more than doubled its size into the adjoining room. But it still ain't fancy. They still have a plastic christmas garland and icycle lights hanging in the front window. The modern-ish light fixtures are obviously from Target circa 2003. This attempt at remodeling is as charming as it is cheesy. Did I mention that this is table service? yeah, that's what I'm talking about. You'll have to ask for chopsticks and there is no fountain soda (cans only) but they are very friendly and efficient. You will get out of there in less than half an hour.
You will eat in close quarters which, depending on how much you hate other people, can be annoying. This large group of people at a table near me spent their entire lunch talking about network television. One person was excited about the latest season of Extreme Makeover: Home Edition. This was surprising coming from a grown man, since I thought only ultra-christian conservatives and the mentally disabled watched that show. And please, I don't need another young white guy telling me how great The Daily Show or The Office are. Fine, I get it.
Read more:
[google-map-v3 width="350″ height="350″ zoom="12″ maptype="roadmap" mapalign="center" directionhint="false" language="default" poweredby="false" maptypecontrol="true" pancontrol="true" zoomcontrol="true" scalecontrol="true" streetviewcontrol="true" scrollwheelcontrol="false" draggable="true" tiltfourtyfive="false" addmarkermashupbubble="false" addmarkermashupbubble="false" addmarkerlist="314 E 51st Street, Kansas City, MO{}restaurant.png" bubbleautopan="true" showbike="false" showtraffic="false" showpanoramio="false"]