Avenues Bistro is a classy neighborhood establishment on the high rent corner of 63rd and Wornall, one of my least favorite intersections to walk or drive through in the entire city. There's nothing quite like impatient, entitled white people trying to avoid the indignity of waiting for anyone to do anything before barreling their Honda Pilot right on through. Anyhow, those very same white people often end up at Avenues Bistro for lunch. The other day, I was one of those people.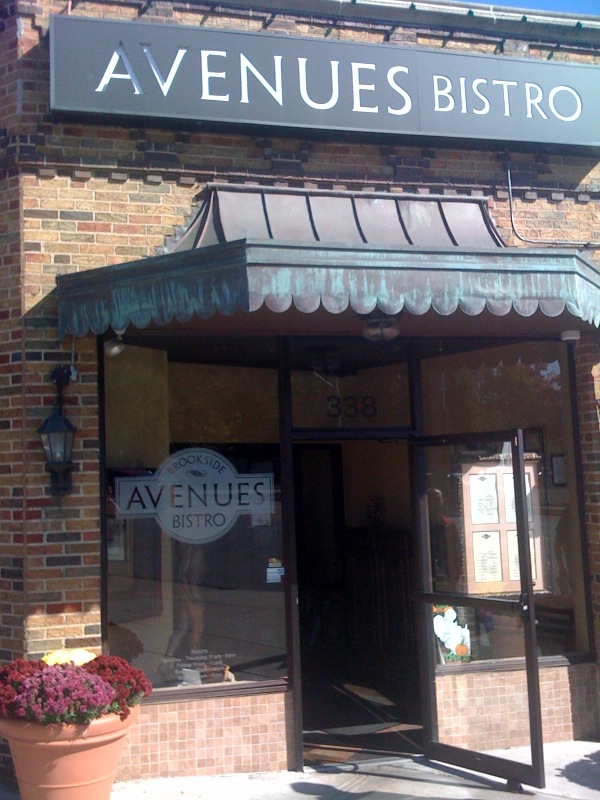 This is a really nice looking restaurant. There is a bar/lounge area up front that gets a little sun, and is a tad more laid back than the dining room proper. If you go to Avenues for lunch, I would opt for the bar. Something about lunch makes me crave sunlight and noise. The dining room looks perfect for dinner: no windows, comfy chairs, a soothing color scheme.
Looking at the menu I became very excited. There were a lot of things I wanted to eat. Avenues offers a ton of fresh entree salads, sandwiches, soup and entrees. The menu is combination of old fashioned bar and grill fare and more contemporary light dishes. The whole affair is heavy on seafoods and chicken which is actually a welcome sight. But of course you can still get a meatloaf sandwich, hamburger and the now ubiquitous "Cuban" sandwich. Here's the full lunch menu from their website (PDF).
The wine list is pretty interesting too. It's very conversational in tone, with lots of exclamation points in the descriptions, and some of the most unfunny puns I've ever read.


The cheapest glass of wine you're gonna get here is a $7 grenache, but damn it's good. I'm not very knowledgeable about wine, but I feel like these sommeliers know their stuff. There are four people here responsible for the wine list. Four!
Back to eats, here's what I ordered: "PROSCIUTTO, BRIE AND PEAR: Thinly Sliced Italian Prosciutto, Imported Brie Cheese, Fresh Pear Slices, Baby Greens and Sweet Peppadews on Grilled Brioche Bread. (9.95)"
Doesn't that sound awesome? You want to see what it looked like?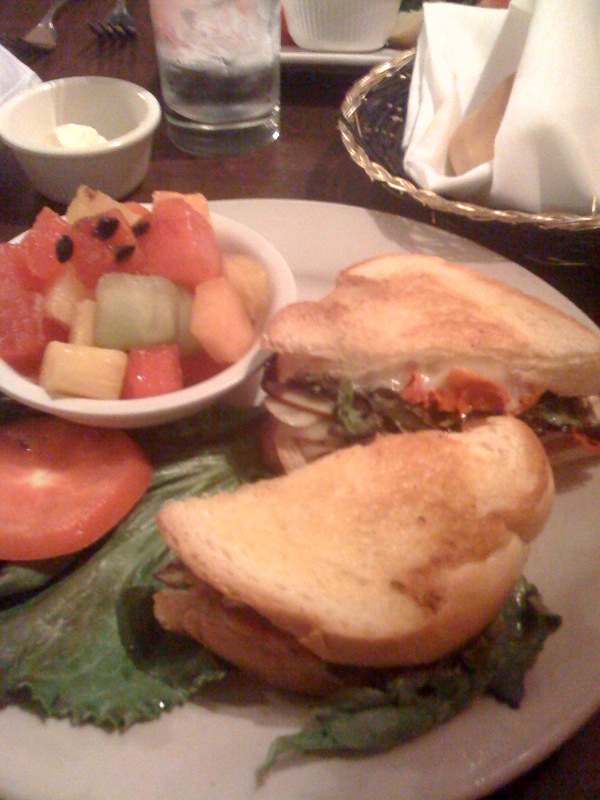 That's right, it looks like a grilled ham and cheese from Denny's! Seriously, this sandwich was not well-executed. Brioche bread=texas toast. Needs a baguette. Pears should always, always be ripe before you slice them and put them on someone's sandwich. Ick. This sandwich should not have been grilled. Prosciutto loses most of its delicious power when moderately heated. Then it turns into toothsome, greasy glorified ham. And yes, I'm an idiot for ordering it, but it sounded so good!
And I can barely talk about the fruit salad. Take a look at the photo. I think it may have been ordered already prepared, or frozen. I really don't want to talk about it.
My dining companion opted for the shrimp nicoise salad which looked very pretty, tasted good but was generally uninspired. The shrimp was overcooked and moreover seemed as if it had been prepared earlier in the day, not grilled to order. Excusable at some places, but not here.


But I'm saving the worst culinary offense for last, the so-called pommes frites. I'm not going to get into pissing matches with people about the difference between pommes frites and regular french fries, but suffice it to say that there are rules you follow for the luxury of charging me $5 for potatoes.
1. Use fresh potatoes
2. Slice thinly
3. offer interesting dipping sauce(s)
You get bonus points for serving them in a cone.
If you break any of the above rules, these taters better be goddamned good.
Well, they got the dipping sauces right.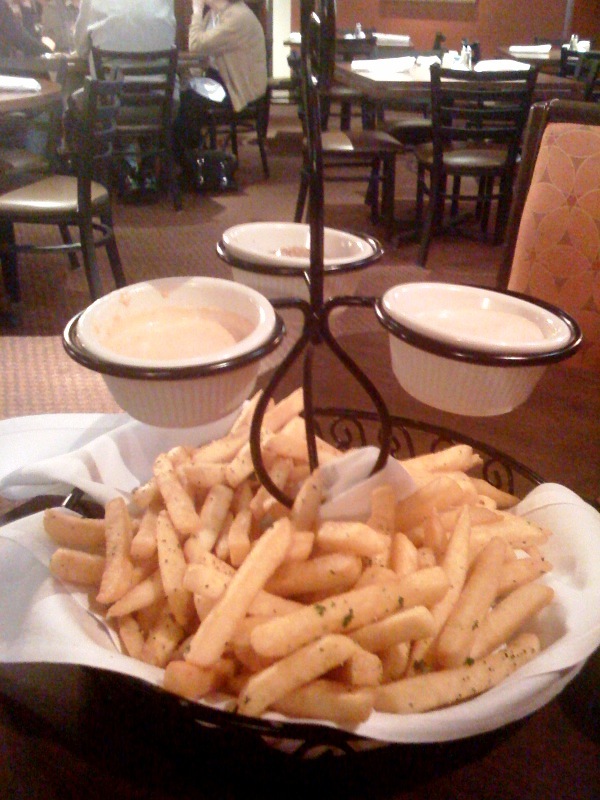 Now, call me crazy, but doesn't that seem like a pile of run of the mill US Food Service frozen french fries that this place has the audacity to call "pommes frites?!" I know this is only Kansas City, but this borders on shenanigans.
I was ready to love this place. The menu is pretty well thought-out and nearly every item was appealingly described. But decisions like crappy fruit salad as "fresh fruit," frozen french fries as "pommes frites," and white bread as "brioche" come from the top. It's not even worth complaining about our server who told everyone she waited on that he had made "an excellent choice." Annoying, but not uncommon at nice restaurants. Somebody is just plain cynical if they think they can get away with these other hijinks in the restaurant business.
This place isn't going anywhere because people clearly like the food and the atmosphere. And I'm willing to believe that some other menu items are good. But if I want European style bistro fare, I'm going to Aixois a mere 8 blocks away.
Don't take my word for it, read more:
Yelp

[google-map-v3 width="350″ height="350″ zoom="12″ maptype="roadmap" mapalign="center" directionhint="false" language="default" poweredby="false" maptypecontrol="true" pancontrol="true" zoomcontrol="true" scalecontrol="true" streetviewcontrol="true" scrollwheelcontrol="false" draggable="true" tiltfourtyfive="false" addmarkermashupbubble="false" addmarkermashupbubble="false" addmarkerlist="338 West 63rd Street, Kansas City, MO{}restaurant.png" bubbleautopan="true" showbike="false" showtraffic="false" showpanoramio="false"]