From last week's foray to Greedy Man's BBQ we head south about 20 blocks to an equally vibrant but considerably less charming stretch of Troost Avenue in search of Philly Cheesesteaks. Steak 'M Take 'M advertises the Best Cheesesteak Ever on the front of its humble, shack-like exterior, so I decided to put them to the test.
I wasn't sure what to expect from a little joint surrounded by vacant storefronts, junky car lots and low-rent hair salons but who am I to judge on location alone? Indeed Steak 'M Take 'M is situated just down the way from the location of the Taste of Troost festival earlier this summer, so there must be some interesting things happening in the environs.
The place was completely empty when I walked in: no customers, no staff. A bell rang on the door as I entered and several jovial people walked from the back recesses of the restaurant and up to the counter. It became abundantly clear that this was a carryout business as there were no tables, only a row of low-lying stools along the front window sill. One guy took care of my order and was good about explaining the options since the menu above the counter was only vaguely comprehensible.
Basically they offer hot steak, chicken, turkey and ham sandwiches that come on a hoagie bun topped with onions and cheese. You can also add toppings as diverse as green peppers, mushrooms, olives, hot peppers and lettuce. I opted for a classic Philly steak with green peppers and mushrooms added. The combo comes with fries and a drink for $9 and change, $5 for sandwich only. There is also a larger size sandwich.
Then I was slightly taken aback when he asked what kind of sauce I would like.
Sauce on a cheesesteak?
Yep. This place will put Mayonnaise, BBQ sauce, yellow mustard or honey mustard on your cheesesteak. Honestly I was too confused to be tempted. After hemming and hawing for a minute he suggested I take it without sauce and that is precisely what I did.
While waiting for my food, several more people came in for lunch and I had ample opportunity to check out the 8 foot, custom-made Steak 'M Take 'M area rug, depicted below in an incomplete, amateurish photograph.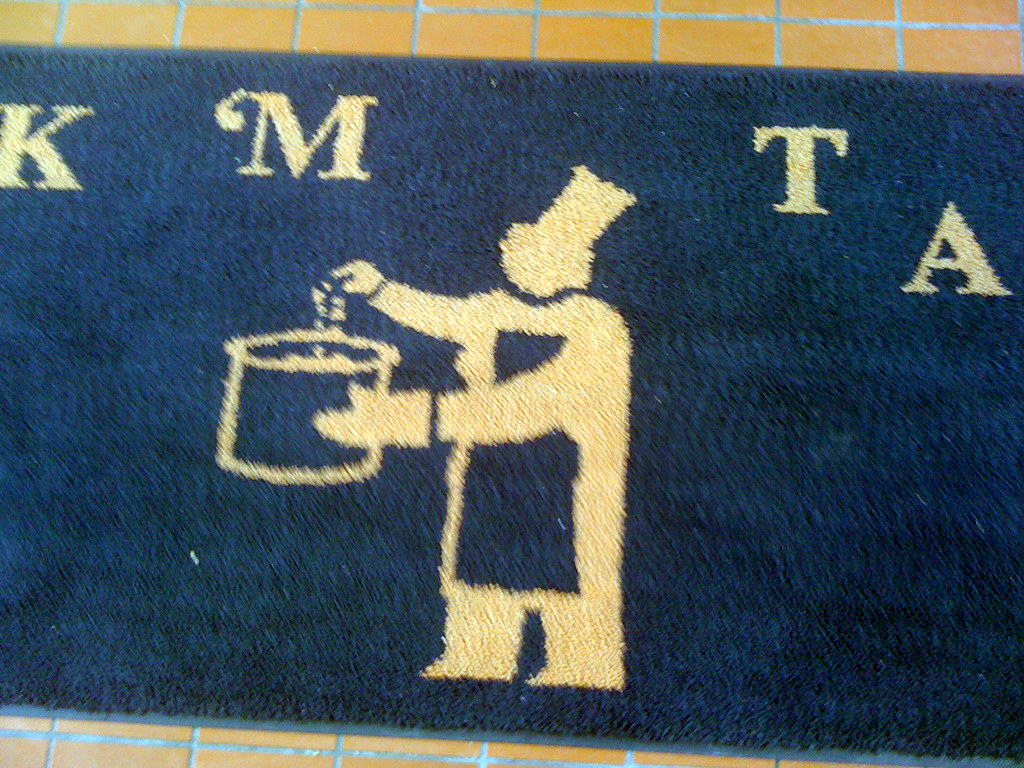 I received my food in a styrofoam container in less than 5 minutes. I drove it the short distance home, stealing a few remarkably tasty seasoned french fries along the way. Once safely inside I surveyed my impending feast.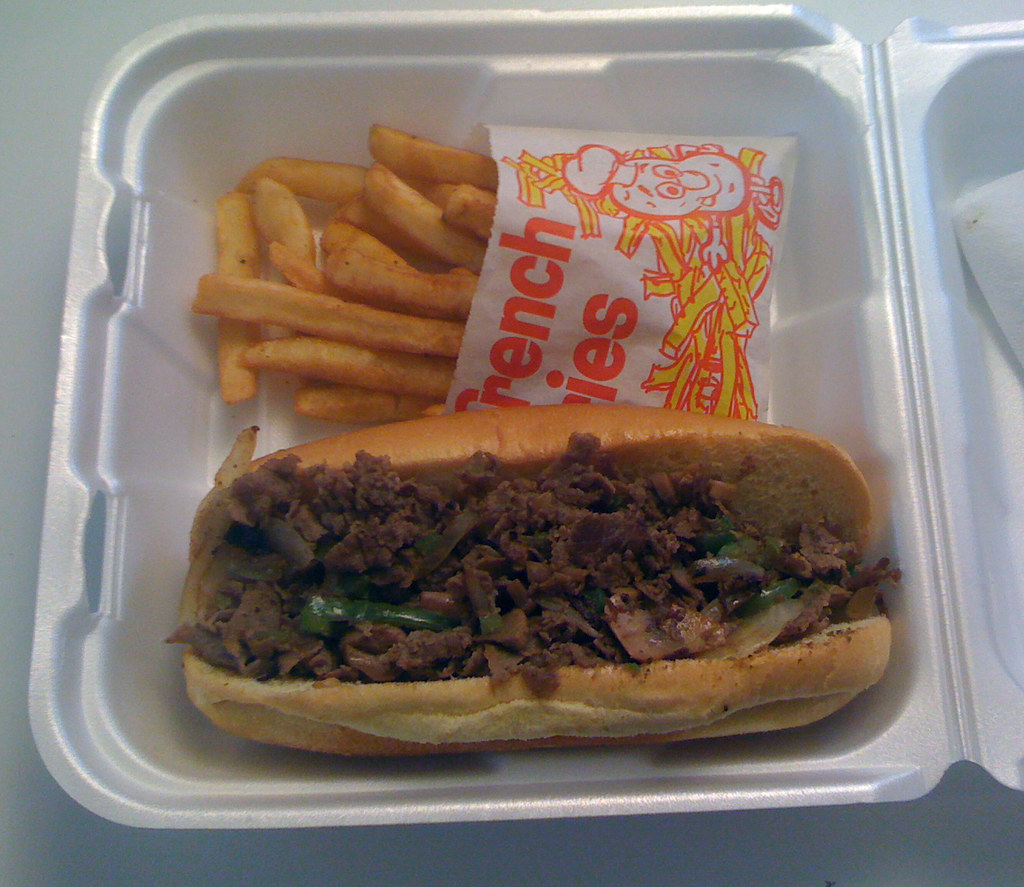 It tasted just like it looks: delicious, a little dry, and not quite enough food to warrant a $9 bill at a dingy carryout restaurant. The bread was actually very nice–spongy, firm and not soggy. The steak was tender but not seasoned much. As long as you get a bit of cheese sauce in each bite, there is plenty of flavor. The cheese was a white processed variety that melted silky smooth and added just the right kick of salt and texture to the sandwich. No complaints there.
I ate the thing in a hurry but kind of wished there were more peppers, onions and (canned) mushrooms. The fries were very well cooked and well seasoned but again, I would have like a larger order (yes, I'm a pig).
There is a part of me that wishes I had opted for sauce, simply to say that I had the experience, Otherwise, this was a perfectly fine but not outstanding Philly Cheesesteak sandwich. It beats the hell out of Chartroose Caboose though I'm not sure it can compare to the classic Grinders cheesesteak with velveeta Cheez Whiz. Hell, for $9.41 you can get waited on at Grinders by cute punky kids.
So yeah, I'm certainly not an expert at Philly Cheesesteaks never having had one from the City of Brotherly Love but Steak 'M Take 'M gets the job done, while costing a little more than I would like.
But hell, they have a great name don't they?


[google-map-v3 width="350″ height="350″ zoom="12″ maptype="roadmap" mapalign="center" directionhint="false" language="default" poweredby="false" maptypecontrol="true" pancontrol="true" zoomcontrol="true" scalecontrol="true" streetviewcontrol="true" scrollwheelcontrol="false" draggable="true" tiltfourtyfive="false" addmarkermashupbubble="false" addmarkermashupbubble="false" addmarkerlist="7702 Troost Avenue, Kansas City, MO{}restaurant.png" bubbleautopan="true" showbike="false" showtraffic="false" showpanoramio="false"]