My first foray into the wild world of johnson county lunch cuisine was, expectedly, pretty disappointing, but for weird reasons.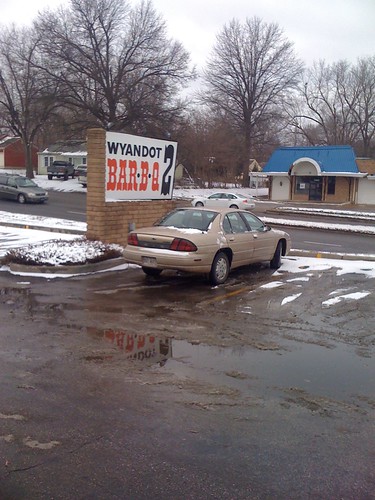 Wyandot 2 is a great little barbeque place near 75th and Metcalf. Well, great in every respect except the food. It has a casual, almost bar-like vibe to it–wooden booths, brick, and faux-wood panelling come to mind, though I'm not sure there was all three. Basically if your grandpa turned his basement into a rec room/bar in the 1970s, Wyandot 2 will remind you of it. Right down to the cheap beer.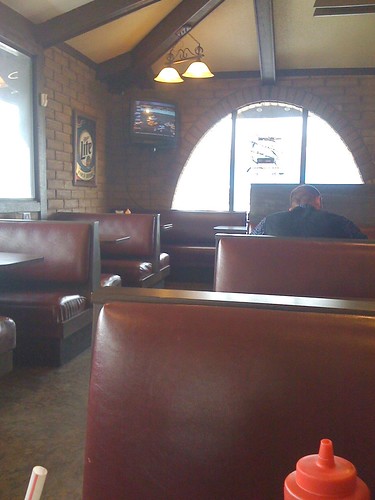 This place also has at least two-maybe three-televisions on. Sorry but I'm not a fan. I prefer an ackwardly silent lunch to caterwalling ESPN 'analysts' in shiny suits any day. At least it wasn't "The O'Reilly Factor" which I experienced at a truck stop outside of Des Moines recently. Worst. Buffet. Ever.
Anyhow Wyandot 2 is a counter service place which is just what you want in a barbeque joint. The employees are regular folks, which I also like to see. They are maybe a tad long in the tooth, maybe spent a few too many weekends at the local JoCo watering hole, maybe had a pall mall or six before breakfast, but they are fast and perfectly friendly. The menu is very typical of other places, as are the prices. Plan on spending 8 or 9 bucks on a sandwich, fries and a delicious fountain drink.
This is the kind of place that would go on the regular lunch rotation if only the food was better. But sadly, my brisket tasted like it was cooked in an oven.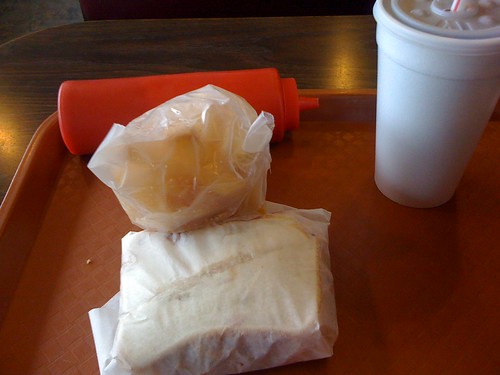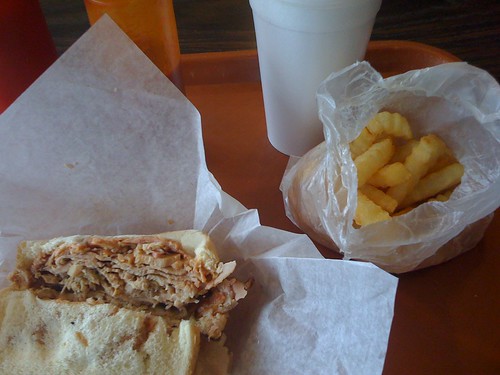 It looked right–pickles, wonder bread, the whole nine yards, but had virtually no smoke flavor. Come to think of it, it didn't really smell like smoke in the restaurant at all. It didn't taste bad, but that's not good enough. I'm sorry, people but this is just inexcusable for Kansas City. The OP has several very good BBQ spots but this is not one of them which is a shame because it could have the complete package. All that being said, I'll totally go back because it beats the hell out of Mr Goodcents.
Read more:
[google-map-v3 width="350″ height="350″ zoom="12″ maptype="roadmap" mapalign="center" directionhint="false" language="default" poweredby="false" maptypecontrol="true" pancontrol="true" zoomcontrol="true" scalecontrol="true" streetviewcontrol="true" scrollwheelcontrol="false" draggable="true" tiltfourtyfive="false" addmarkermashupbubble="false" addmarkermashupbubble="false" addmarkerlist="7125 West 75th Street, Overland Park, KS{}restaurant.png" bubbleautopan="true" showbike="false" showtraffic="false" showpanoramio="false"]