Well people, I made it. I don't know what the hell I'm doing when it comes to places in Johnson County these days, but I seem to be really making the rounds out there lately. I'm still gunning for the third district spots, believe me, I just can't really do it during the work week.
In a nutshell, Grandstand makes me a little jealous of Johnson County. And just to get things straight, the stretch of road that houses this humble little burger shack is not cupcakeland. It is total blue collar all the way. What amounts to "downtown" Merriam is little more than some auto repair shops, a lumber yard, a place that sells pavers and so forth, and a little hole in the wall that sells one of the best burgers in the metro.
Yes, I'll admit that the mystique of the place contributes a lot to its appeal. You can fit approximately 5 people inside the place before you have to start exchanging phone numbers. Most people eat out on picnic tables, with a plastic bottle of ketchup and a handful of overly skimpy napkins. And this place cranks out the burgers. I was there about 1pm yesterday and they were doing a stiff business, half of which was carryout.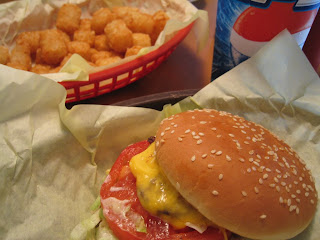 Ok, down to brass tacks. The bun is grilled. Condiments come on the sandwich and include lettuce, tomato, ketchup, mustard, pickle, onion, and mayo. I always forego mayo because I think it is disgusting. I will never smooch anyone who likes mayonnaise. The cheese is American and prominent in the flavor symphony of the burger. The patty itself is clearly hand-formed and is the perfect size. Personally I don't like thick "restaurant-style" burgers. I like them thin, and these are fairly thin but really a good size compared to places like Max's and Town Topic. They offer double and even triple cheeseburgers as well. Wanna see the whole menu?
I ate my cheeseburger in, like, 38 seconds. I just couldn't stop myself.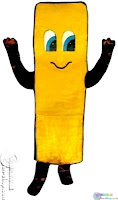 I do have a (minor) quibble with the fries. The are cheap, out of the bag, crinkle-cut fries. They cook them as well as you can possibly cook them, by which I mean they don't undercook them, which everyone seems to do in this town.
No one likes a flaccid potato.
They just seem like cheap fries somehow. I mean Chefburger also uses frozen fries, but you get the feeling that they tried a lot of varieties and chose the best one. I think Grandstand just went for the cheapest that Sysco had to offer. The cheapness comes through in other ways too. For instance, I'm pretty sure that they are rockin' the generic ketchup in those red bottles. I can just tell. Anyhow, next time I go for the tater tots.
You know elsewhere in the country it is rare to see tater tots on a restaurant menu. No shit. I came to KC a couple years back and all these goddamn places had tater tots–that totally kick ass. Does anyone know why? Does anyone recognize this for the cute little local culinary identifier that it is? Is this a nationwide trend that I only noticed just now?
Read more:
[google-map-v3 width="350″ height="350″ zoom="12″ maptype="roadmap" mapalign="center" directionhint="false" language="default" poweredby="false" maptypecontrol="true" pancontrol="true" zoomcontrol="true" scalecontrol="true" streetviewcontrol="true" scrollwheelcontrol="false" draggable="true" tiltfourtyfive="false" addmarkermashupbubble="false" addmarkermashupbubble="false" addmarkerlist="4942 Merriam Lane, Merriam, KS{}restaurant.png" bubbleautopan="true" showbike="false" showtraffic="false" showpanoramio="false"]