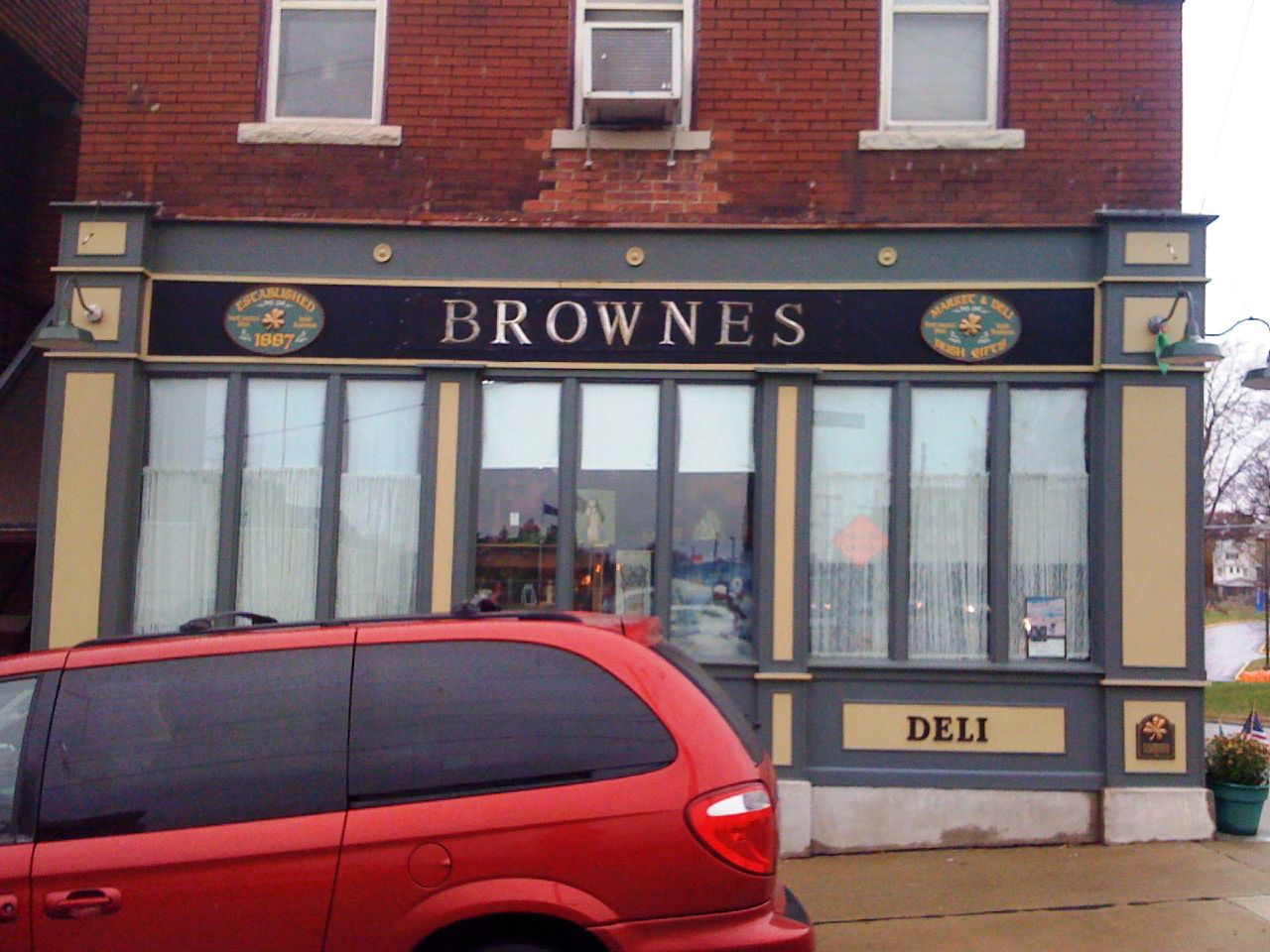 Browne's is a crusty but delightful little Irish themed deli and store just east of the hustle and bustle of Broadway in what feels like another world. I had heard of Browne's before but it fell off my radar until the "Top 10 Kansas City Foods to Eat Before you Die" meme got started. One of my favorite reads, Another Kansas City Blog had a list that I think was my favorite, and included the Reuben sandwich from Browne's Deli. Y'all remember how much I love the Reuben dontcha?
Along with the Monte Cristo, the French Dip and the Grilled Cheese, the glorious Reuben holds a hallowed place in the pantheon of classic grilled lunchtime sandwiches. So I was excited to try the Browne's variety.
First things first, Browne's is a very small shop on the corner of 33rd and Pennsylvania, and is a real slice of KC's past. It is an example of the kinds of corner shops that use to riddle midwestern neighborhood corners, whether they were drug stores, taverns or hotels. The building is old, and it shows on the inside. It's just a very cool old space with a ton of character. The business has been located on that corner and owned by the same family since 1901.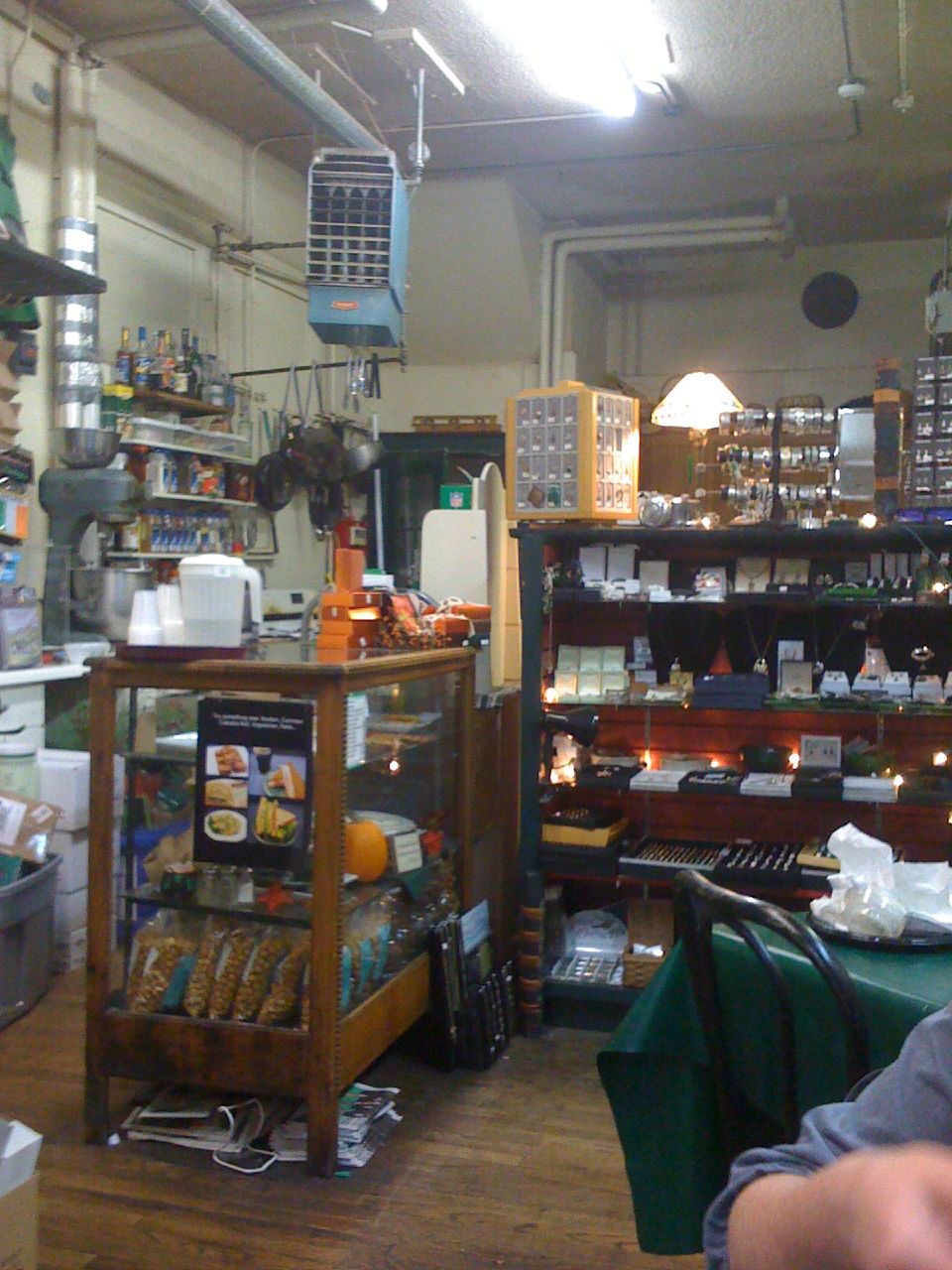 They do things very casually here and it's a tad odd. You order at the back counter, but they don't care if you pay first or after you eat. There are plenty of well-worn shelves with Irish jewelry, clothing and foodstuffs aplenty. So if you are looking for a Shamrock-in-a-heart lawn ornament, this is the place to go. While I'm not crazy about commodified, Americanized Irishness, the merchandise does give you something to look at while you are waiting for Drunky McSwilligans to make your sandwich. It was unclear whether they typically bring stuff out to you or if you are supposed to wait. There was hardly anyone there when I went, but I'd hate to see Browne's on a busy day.
The menu is printed out on a piece of paper and taped to the deli case. There are some other Irish items advertised behind the side counter: meat pies, bangers, rashers, black pudding, white pudding, and other funny limey delicacies that I couldn't identify if they were placed in front of me.
The also have several kinds of homemade soup, and today I opted for the lobster bisque. They also had potato soup and…uh, some other kind. The side counter offers an assortment of homemade cookies which Browne's advertises as "the best in Kansas City."
They're not.
But the reuben is damn good, but much smaller than those at other establishments. No triple deckers or oversized bread slices, just a normal sized sandwich on normal sized bread (with a choice of light, dark or marble rye). I actually love the modest portion size, and one could easily down a whole sandwich and bowl of soup. The corned beef was well-trimmed, tender and delicious. The lobster bisque was insanely rich and astonishingly flavorful. It was delicious and well-made, but I couldn't finish it all.
Browne's ain't fancy, everything comes on disposable plates and even the can of Guinness was accompanied by a plastic cup.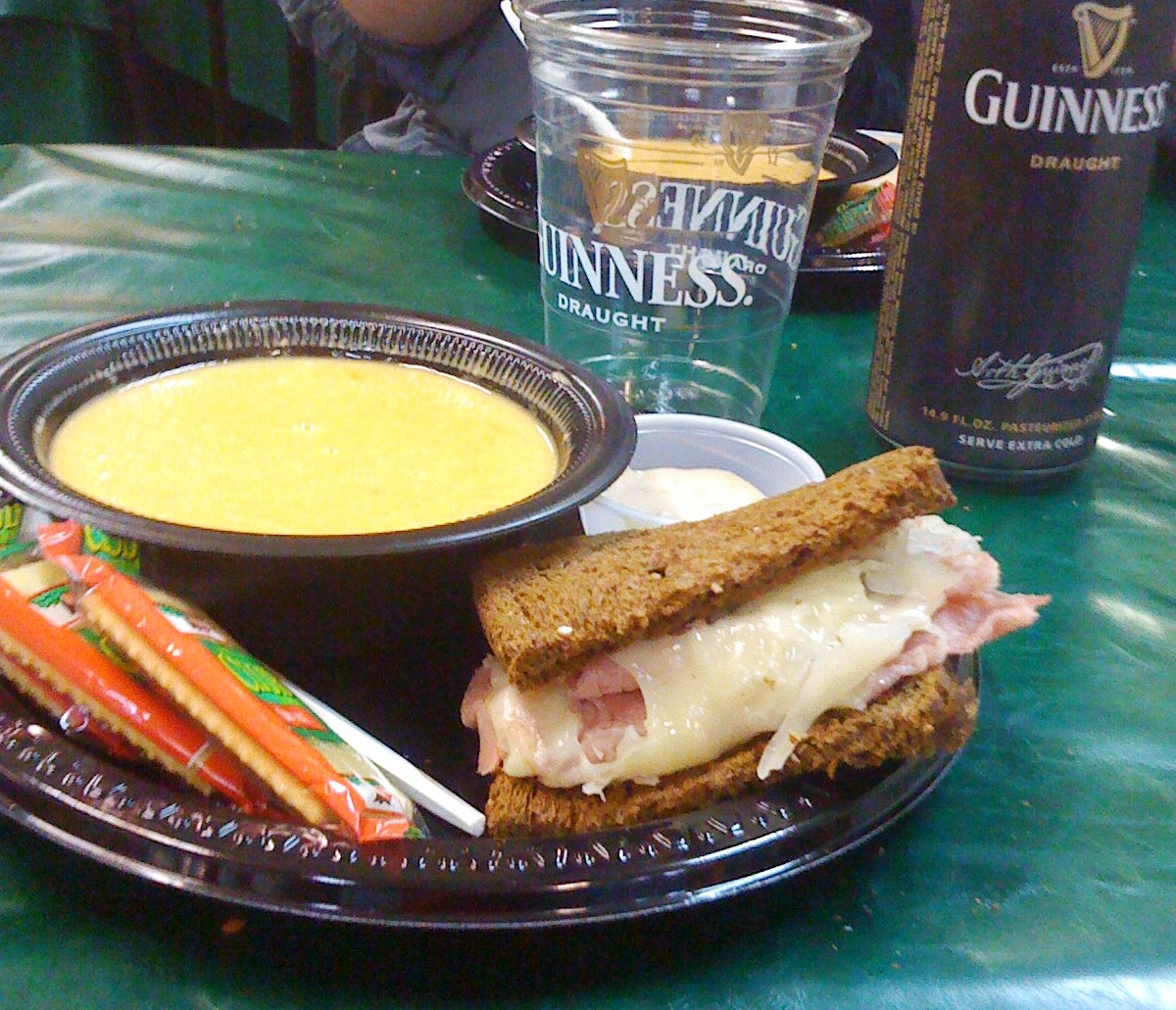 Yes they have beer, their authenticity is assured.
Prices are decent but not great. I think the half sandwich and soup combos are about $7. A few bucks more with drink and a modest tip. 10 or 11 bucks might be a bit much for a place with counter service and plastic forks, but it won't stop me from going back, and it shouldn't stop you from trying it.
Read more:
[google-map-v3 width="350″ height="350″ zoom="12″ maptype="roadmap" mapalign="center" directionhint="false" language="default" poweredby="false" maptypecontrol="true" pancontrol="true" zoomcontrol="true" scalecontrol="true" streetviewcontrol="true" scrollwheelcontrol="false" draggable="true" tiltfourtyfive="false" addmarkermashupbubble="false" addmarkermashupbubble="false" addmarkerlist="3300 Pennsylvania Avenue, Kansas City, MO{}restaurant.png" bubbleautopan="true" showbike="false" showtraffic="false" showpanoramio="false"]