Phil's has closed.

You all will know this as the old Max's Autodiner on 63rd street near Rockhill road. This is one of the more interesting and fun restaurant buildings in the city; it was a bank, then a drive-in restaurant, then a greasy spoon that featured some of the best griddle fried hamburgers in town.
Currently it is a bizarre little restaurant known as Phil's Coffee Shoppe and Grill. While I'm happy to see this spot back in action, I'm not sure if Kansas City will fall in love with it.
Bear with me here.
The ordering experience is awkward. The new owners have pushed the kitchen back farther into the space, creating more seating and storage in the center of the room. They installed a small counter with 2 or 3 stools perpendicular to the cash register toward the back. This space is strangely arranged as to put customers almost inside the kitchen when ordering and paying. The "counter" is really just a resting place for keys, half-empty cups, papers and packs of cigarettes for the staff; I can't imagine sitting there and eating.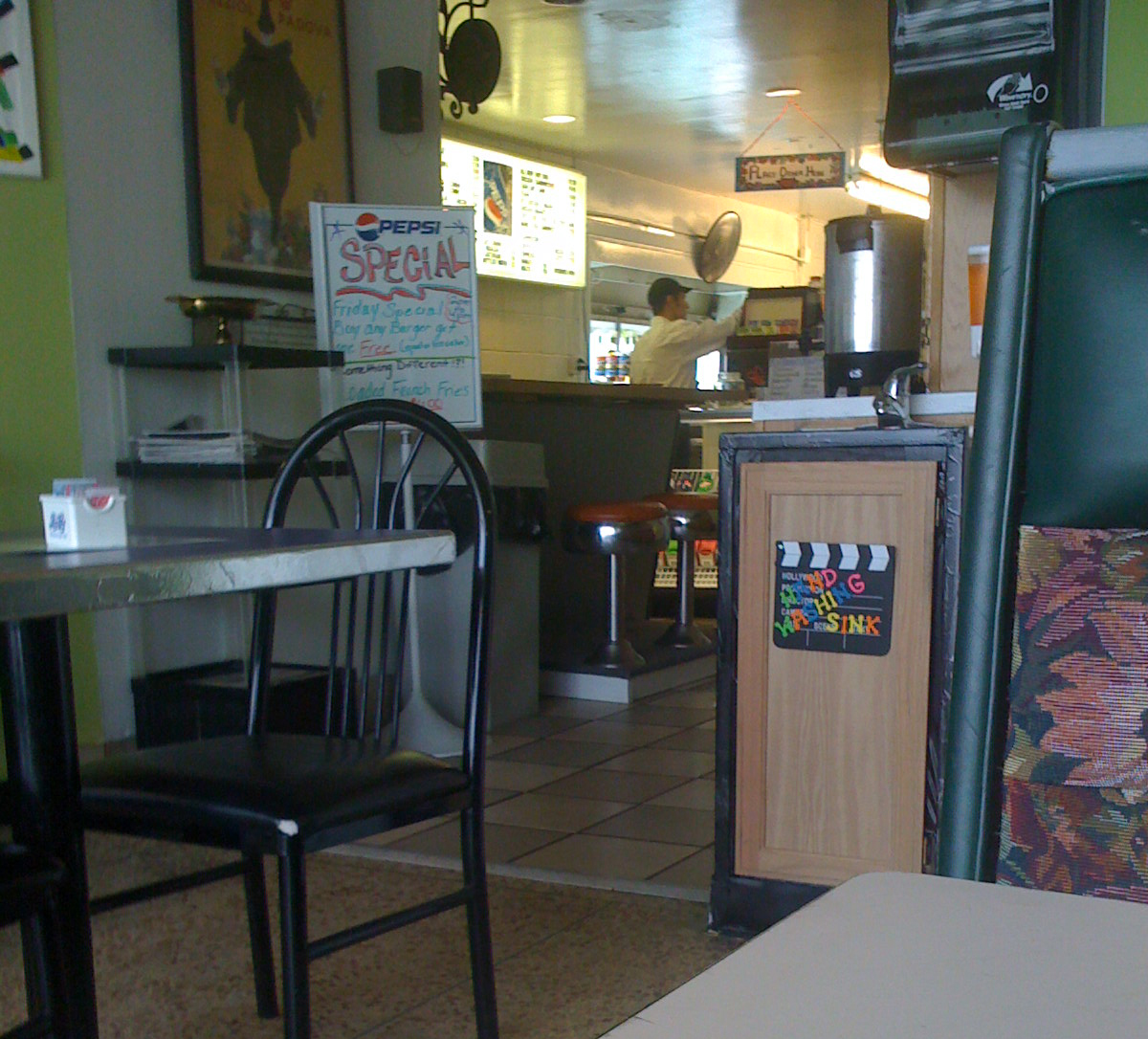 There is, as rumored previously on this blog, a huge safe built into the wall behind the counter. Pretty cool, but I didn't get a chance to snap a photo.
The decor of the whole place is a mixture of fanciful, homemade, and just plain bad taste. The booths are straight out of a 30 year old Bennigan's Shoney's restaurant and framed by stainless steel dividers that are actually kind of interesting. The booth I sat in had little fairy and butterfly cut-outs plastered to the wall.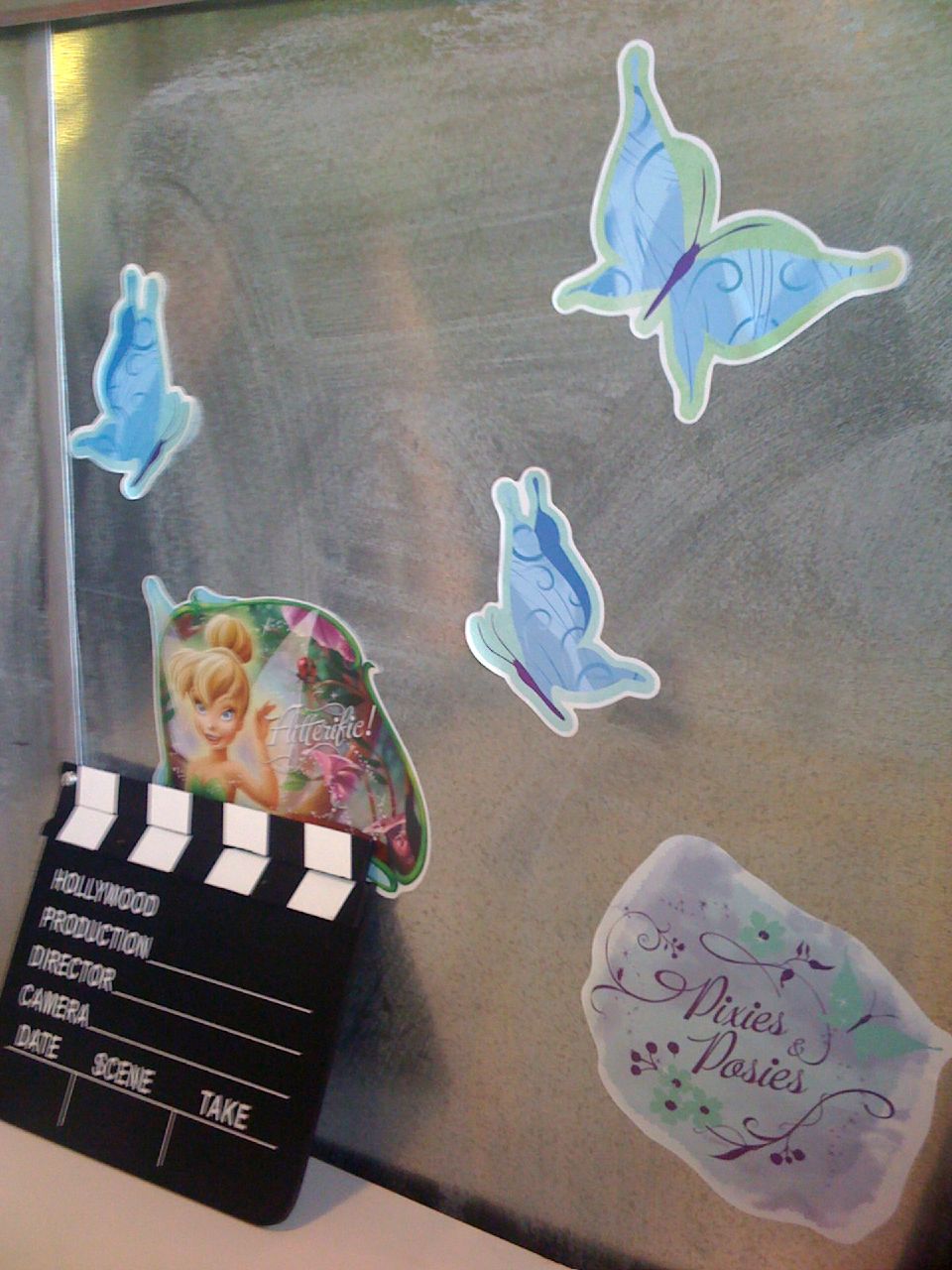 The owner must be a film buff because there are several cinema-related design features such as film reels, little tabletop clapperboards and classic movie posters on the wall, like those you saw at huge student union poster sales in college.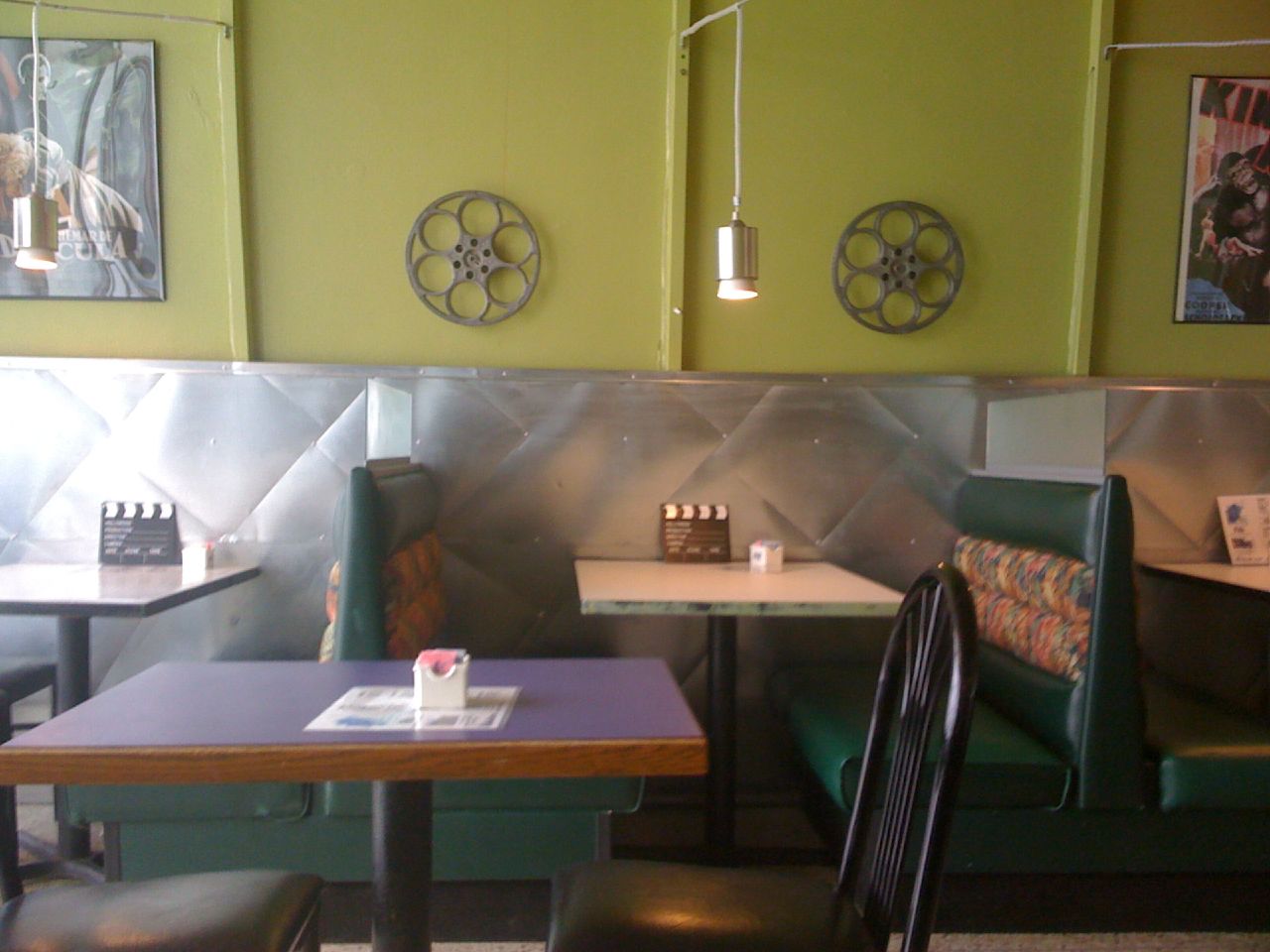 A couple of truly regrettable oil paintings adorn the space as well. There are jauntily hand-lettered signs above the ice bin, the trash can and condiment bar.
Yes, there is a damn condiment bar. Perhaps you recall my previous expression of disappointment with regard to these questionable restaurant features. As soon as you get your burger and are wanting to take a bite, you realize that you immediately have to get up and put ketchup and mustard on the thing at the tiny condiment bar that smells overpoweringly of raw onions. They have a fair number of toppings to choose from and little paper cups to put condiments in like those at Wendy's, only 1/3 the size. Seriously, the smallest condiment cups I have ever seen. You can barely get a french fry in there much less an onion ring.
Condiments obtained, you sit down again and realize there are no napkins on the table. You see, those are on the condiment bar. No salt and pepper except for little packets on the condiment bar. Maybe it's not a very big deal, but I personally think these bars are an inconvenience, not a 'nice touch.' Hell, next time maybe I'll just eat standing up with my elbows on the goddamn condiment bar. I mean, all the stuff I need is already there.
Oh yeah, once I went to Phil's for an early lunch and the pickle chips were frozen as a solid block into their container. You know what that says to me? The contents of the condiment bar are not removed and the containers are not cleaned at night. Some of the other containers were half-full, 20 minutes after opening and no one else in the joint. I don;t know if this practice is against food safety code, but it sure as hell ain't appetizing.
The cooks already put lettuce and tomato on the burgers, so it's absurd that they can't put anything else we want on it. Then they could keep the ketchup and other stuff on the table. You know, like every other restaurant does.
Let's get one thing straight, they know how to make a burger here. Let's get another thing straight, they don't know how to make fries here. Yes, that's a problem. The burger is huge, comes on a soft sesame bun and tastes like a million bucks. I'll bet anything that they have the same old flat top grill from the Autodiner. But both the sweet potato and regular fries are simply sliced fresh potatoes thrown in the deep fryer.
Unfortunately making good french fries is more complicated than that–this is why frozen varieties exist. Tasty fries are almost always fried twice to lend them the exterior crunch and interior softness that are their hallmarks. The ones at Phil's are likely fried once. Whatever, they just taste like muddy, limp and undercooked russets.
You can get a burger and side for $5.95 here, with two-for-one combos on Saturdays. There are a few other things on the menu like hot dogs and chicken fingers, so it's not for the feint of heart. The onion rings are a decent choice here. I wouldn't try the cole slaw, but maybe that's just me. The soft drinks are only available in 20 oz plastic bottles. This place screams out for fountain soda, and I was rather disappointed not to get it.
They have a full coffee bar selection here and I was pleased to enjoy a very nice cappuccino that only took 15 minutes to get. The regular coffee is Starbucks-level strong.
While I certainly have many complaints about Phil's, I am also fascinated by it. I can't figure out the aesthetic, the personalities or the concept of the place, but it's rather fun to conjecture. I admire the DIY conviction that was responsible for getting the place up and running. I want to get inside the mind that chose pea green paint for the exterior. I want to fathom the problem-solving faculties of the person who uses a pile of roof shingles as a walkway from the parking lot to the entrance.
My prediction? You will either love it or hate it. It is simply too strange an atmosphere for me to give it my unqualified recommendation, but it sure as hell isn't boring. Have you been there? I would LOVE to know what you think.
Thanks to Doc from Will Not Be Televised for some of the photos in this post.