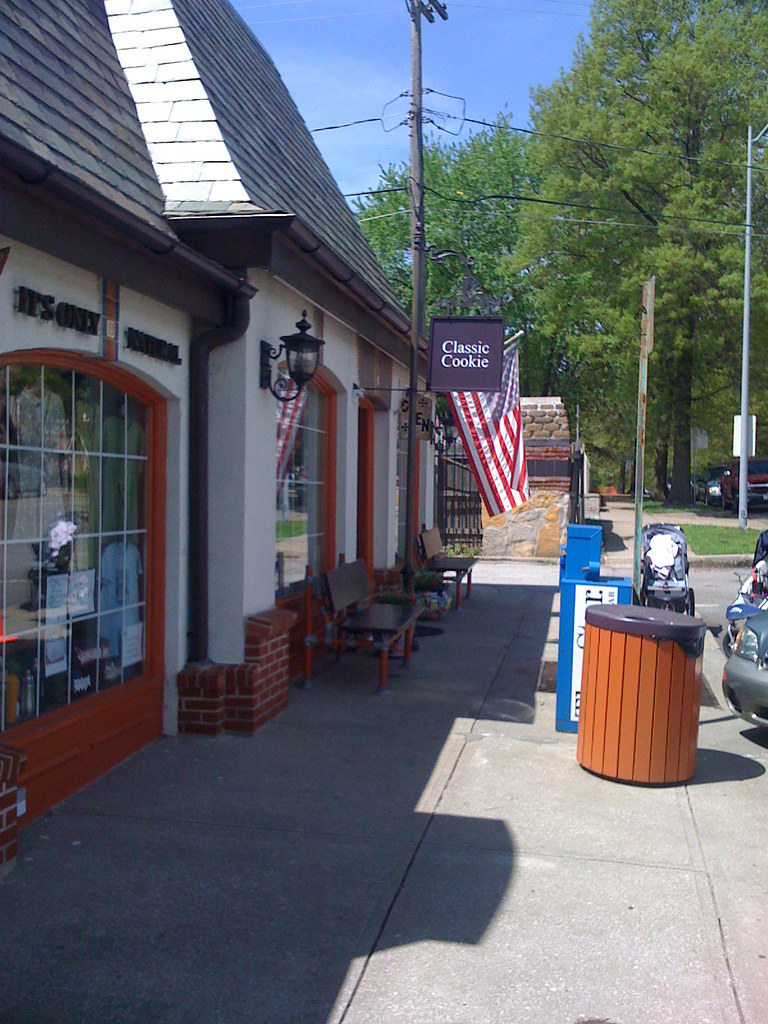 I think this is the shortest lunch I have ever eaten in Kansas City. I rolled up to Classic Cookie on the north end of Waldo at about 11:30. I knew it was a small space and wanted to get there before any noon rush. I'm glad I did.
The small but pleasant dining area was mostly full when I arrived, including a long table of 6 or 8 folks. Smartly the Classic Cookie has small four-top tables that can be pulled together or pushed apart to accommodate groups of varying sizes. That being said, this is not a good place to have lunch with a large group. The place is simply too small and it gets very full at the height of lunch hour, as I was soon to discover.
I know this is a popular spot for breakfast/brunch but have never been because the idea of waiting to eat while hungover has never appealed to me. Nonetheless I was surprised at the steady stream of folks that continued to walk through the door throughout my meal. By the time I got my food, the wait for a table was up to 20 minutes.
Some people opted to wait by the front door, creating a somewhat awkward environment in which they were obviously impatient and watching everyone else eat. Some folks waited on the bench outside because it was a nice day. Others decided to leave and go elsewhere (probably the Mexican place on the corner). I have no idea why you would show up to a tiny restaurant with three other people at noon on a weekday and expect to be seated right away.
This place does have a nice vibe and I can see why people like it. It is casual and decidedly non-corporate feeling. The small size really contributes to the atmosphere which is bustling, energetic and fairly loud. The staff persons are extremely talented, conversational and friendly. I had a menu within a minute of sitting down, my order taken quickly, food that arrived within 10 minutes and my check just as I was finishing.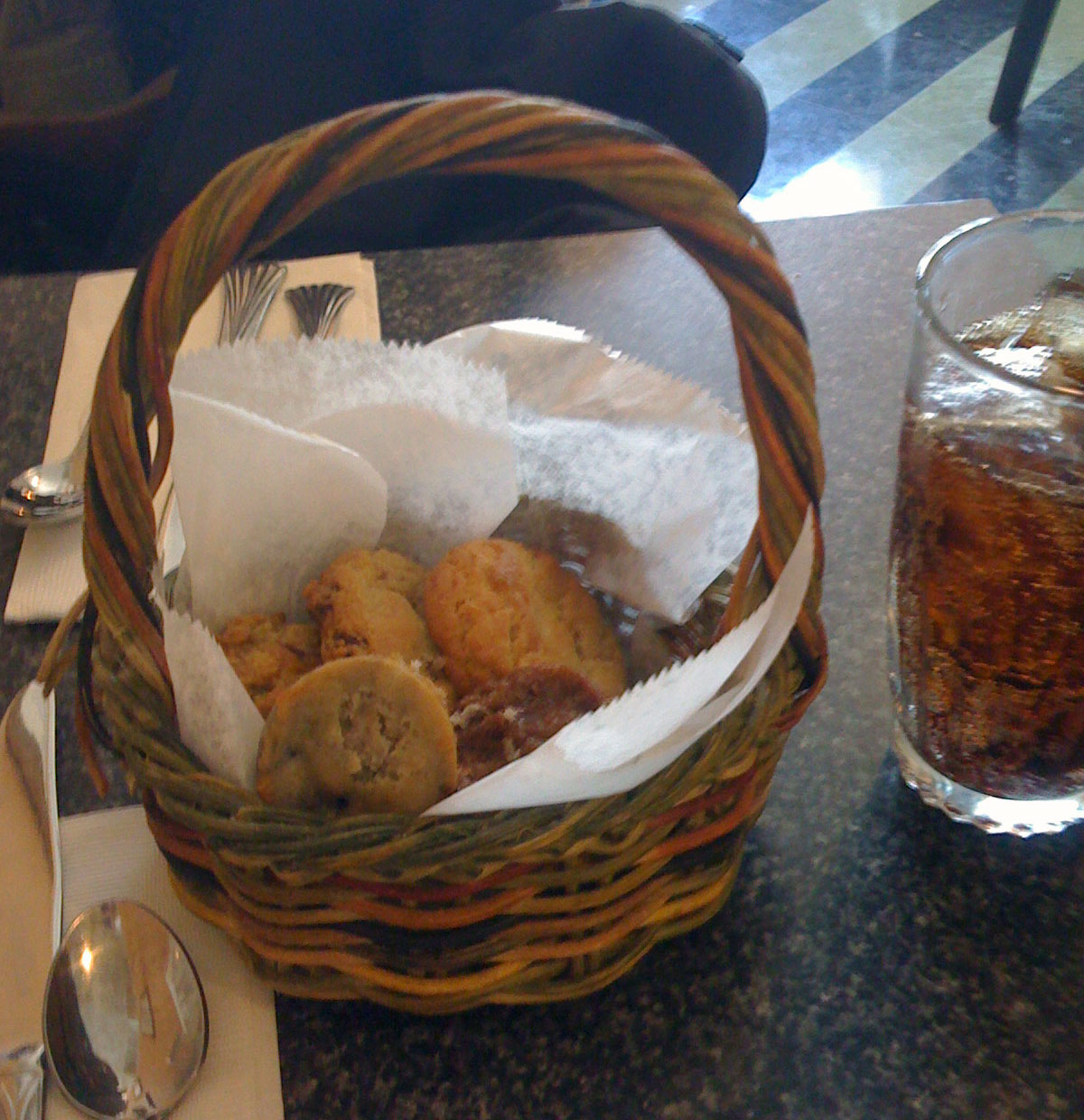 While I waited for my food to come out of the kitchen, my server brought a basket of cookies and mini-muffins to my table. There were about 3 cookies and 2 muffins, which seemed like overkill for one guy, but I made a valiant effort. The cookies are good, but nothing mind-blowing. I had a peanut butter, a chocolate chip and an oatmeal (I think). I can't remember the muffin varieties, probably because I'm not a huge fan of muffins in general.
I had a half chicken salad sandwich with a garden salad for 6.25. The salad contained the ubiquitous mesclun greens and croutons with a fine balsamic vinaigrette. I would have liked more things in the salad since I don't really care for croutons, but I survived.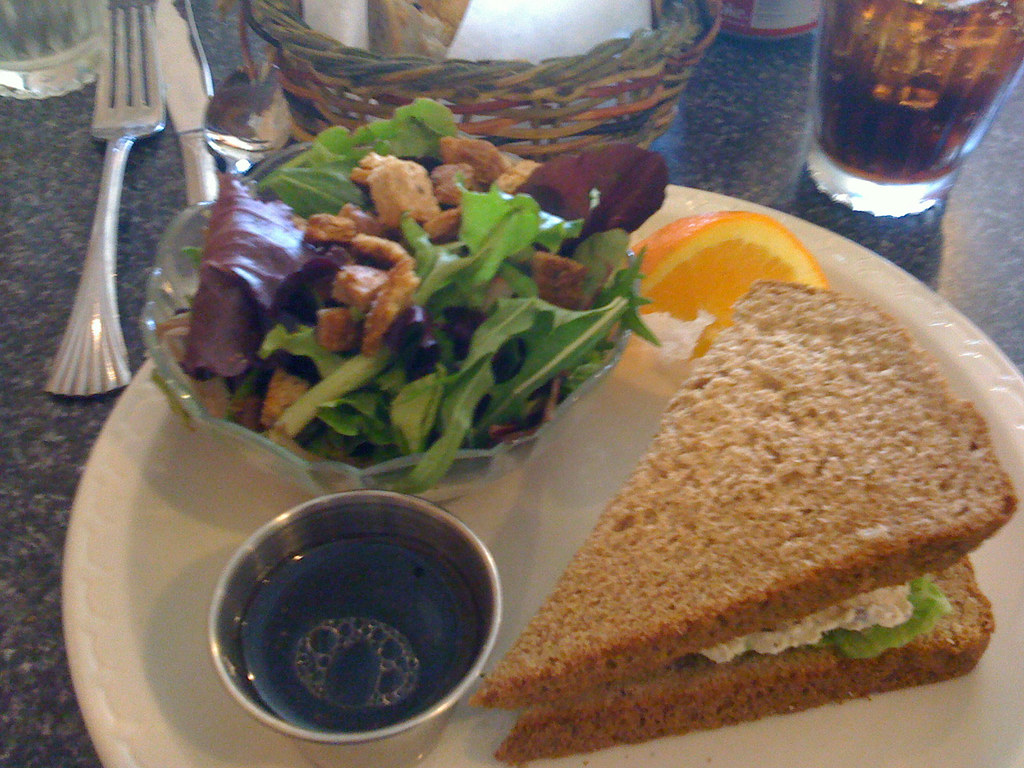 The chicken salad was pretty dry, without much seasoning. It was all white meat, but was otherwise unremarkable. Now, those who read this blog know that I have an intense dislike for mayonnaise. But yes I do eat the occasional chicken salad or tuna salad sandwich. These items are not nearly as chock full o' mayo as they once were at most restaurants worth their salt, so typically I can stomach them and even succumb to the periodic craving for them as I did at the Classic Cookie.
My bill came to 8 dollars and change–quite reasonable for a full service lunch. A 15% tip would come out to about $1.30. Now, in my estimation any tip under $2 is bullshit, I don't care what the conventions of tipping tell us. I was also eating in a very small restaurant as a solo diner. My table could have been occupied by four people and I think it makes sense to throw percentages to the wind and tip at least $3, especially when the service is this good.
Classic Cookie in short is a great little neighborhood joint that serves very
[google-map-v3 width="350″ height="350″ zoom="12″ maptype="roadmap" mapalign="center" directionhint="false" language="default" poweredby="false" maptypecontrol="true" pancontrol="true" zoomcontrol="true" scalecontrol="true" streetviewcontrol="true" scrollwheelcontrol="false" draggable="true" tiltfourtyfive="false" addmarkermashupbubble="false" addmarkermashupbubble="false" addmarkerlist="409 West Gregory Boulevard, Kansas City, MO{}restaurant.png" bubbleautopan="true" showbike="false" showtraffic="false" showpanoramio="false"]